How to Train Your Dog to Catch Lobster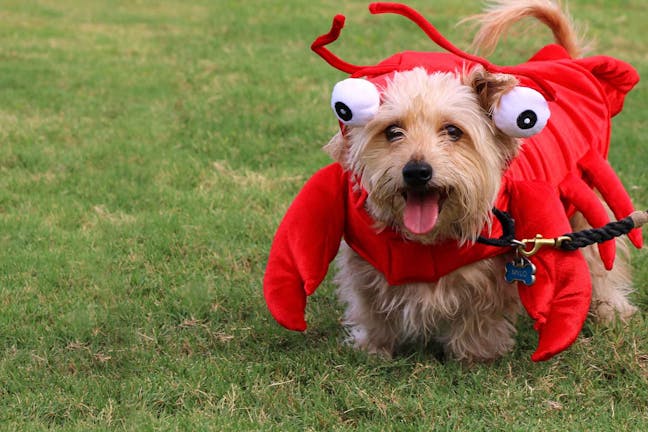 Introduction
The sun is out, the sea is crystal clear and you've got your trusty canine pal on board your boat. While the scenery and the weather might be great, it's the lobster you can see a few feet below that you'd really like to tuck into for dinner. The water is so clear you can see them wandering along the sand, and with a tummy rumbling, there's only one thing on the menu. You're already halfway there if your dog loves swimming in the sea, you just need to bring out the hunter instinct and then you're ready to bring home the lobster.
Apart from the fact catching lobster with your dog is an extremely cost-effective way to eat your favorite seafood, it also makes for an awesome video. With GoPro cameras and waterproof phones, nothing tops a story like a lobster hunting dog.
Top
Defining Tasks
Now you might think training your dog to do something so niche would be really complicated, but it's actually surprisingly straightforward. Training consists mainly of getting him comfortable with retrieving objects from the water. Once he's got to grips with that, directing his attention to lobster will be a walk in the park.
If he's a puppy he will probably be keen to learn and play, and likely to respond to training in just a week or two. If he isn't quite the intellect and athlete he once was, be prepared to invest a few weeks into your training regime.
Getting this training right comes with obvious, tasty rewards. You'll quickly become a regular host as your friends and family flock over for free lobster. It's also a fantastic way to exercise energetic dogs. Diving, swimming, and hunting will all help give him his daily dose of exercise.
Top
Getting Started
Before you dive in you're going to need several things. A swimming pool will be helpful for initial training. If you haven't got access to a swimming pool, a pond or shallow bay will do the trick. You will also need a toy lobster and the real thing to get him familiar with his new prey.
The other thing you'll need is time. Set aside 20 minutes a day for training and bring a swimming suit, you're going to get wet!
Once you have all of that, just come armed with a positive attitude and you'll be ready to start.
Top
The Start in the Pool Method
Decoy
Place a lobster toy on the first step of the pool. Then encourage him to retrieve the toy and give him a treat and praise as soon as he gets it out. It is important you get him excited and give him lots of encouragement, the more he enjoys playing with the toy, the quicker he will learn to retrieve lobster later on.
Deeper
Place the toy on the next step down. Again, encourage him to retrieve the toy and reward him when he does. As he improves, slowly increase the depth you place the toy for him to retrieve. Practice this each day until he can dive to the bottom of the pool to collect it.
Distractions
Introduce distractions into the pool. You now need to ensure he retrieves the lobster toy even when there are stones and other objects at the bottom of the pool. If he retrieves something else, don't give him a reward just remove the object and try again. Continue with this until he retrieves the lobster ONLY each time.
Hit the waves
It is now time to head out to sea and put your training to the test. When you spot a lobster encourage him to dive in and get it by pointing to it. As a result of the above steps he will naturally want to jump in and search for the toy, but if he doesn't to start with, jump in yourself and guide him to the lobster.
Reward!
When he does retrieve a lobster give him a generous reward and lots of praise. The greater the reward the more eager he will be to please and do it again. Once he really gets the hang of it you can reduce the frequency of treats until the thrill alone is enough.
Inland start
Head to the pool with your lobster decoy and some treats. If you haven't got a pool to use, try and find a clear pond or a shallow bay free from distractions. Also make sure you play with the lobster toy throughout the day so he is familiar with it and keen to play with it.
Decoy
Place the lobster on the first step of the pool. Keep it shallow to start with and then later you can increase the depth. If you are in the sea, start as shallow as you possibly can.
Add command
Issue the 'dive' command as soon as you place the toy in the water. Use a warm and friendly voice, you want this to be all one big game to him. With practice he will soon associate the command with the action of finding and fetching the toy. When he does retrieve the toy and brings it to you, be sure to give him a treat and lots of praise.
Get sneaky
Place the toy in the water when he isn't looking and then issue the 'dive' command. As he gets better you can also place it deeper in the water. The point of hiding it from him is so he learns not just to fetch the lobster but also to search for it too. Practice this each day until you can hide the toy in the deep end of the pool and he still retrieves it each time.
The real deal
Time to meet the lobster. Once you're comfortable that he understands the command and has mastered the pool, take him out to hunt real lobster. When you spot one, issue the command and point to the lobster. The first couple of times you may need to dive in with him to lead him to the lobster but he will soon make the transition himself. After many successful hunts you can slowly reduce the frequency of treats until the verbal command alone is enough.
The Up Close & Personal Method
Get acquainted
Purchase or catch a live lobster and put it in a water tank. Then take your dog out to the lobster on a leash and encourage him to sniff around it. Give him words of encouragement and treats when he tries to get to it.
Practice
Do this for 10 minutes a day for a couple of days. This will help familiarize him with his prey and help build his confidence. Some dogs can be intimidated by lobster initially so this will help him realize he is he predator.
Pool time
Release the lobster in a pool and let your canine hunter loose on him. If he doesn't dive in straight away, jump in with him and lead him to the lobster. When he does get the lobster out of the pool, quickly take it from him and reward him with a treat and praise. You may need to use his favorite food to get him to drop the lobster the first couple of times, but he'll soon catch on.
Head out to sea
Now that he knows their sight and smell he's ready to tackle the real thing. When you see a lobster, point him to it and encourage him to jump in. If he is hesitant to begin with, dive in too and show him how it's done.
Encourage
Always reward him with a treat and never punish him for failing. He relies on the food incentive and reward so always be consistent otherwise he may lose interest. Also, make sure you never punish him if he misses one. If you scare him you will just deter him from learning and he won't want to attempt it again.
By Amy Caldwell
Published: 11/20/2017, edited: 01/08/2021
---