How to Train Your Dog to Chase His Tail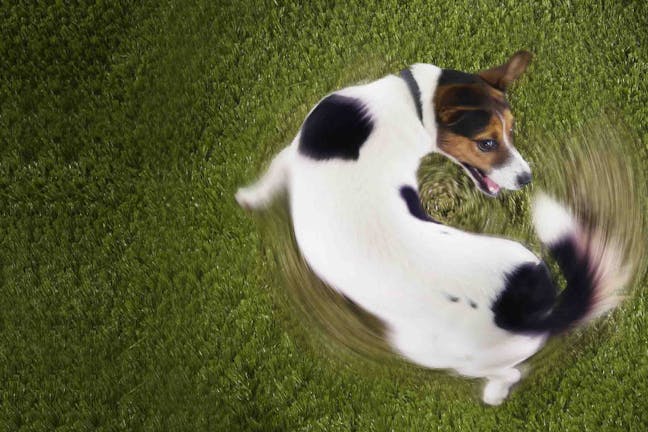 Introduction
Your party is in full swing; Susan has just pulled out her Nixon impression and David has balanced a tea spoon on his nose. Unfortunately, the attention has now turned towards you. You nervously laugh, look around the room and finally your eyes fall on your dog. If only he could do back flips or chase his own tail, then you'd be saved from this awkward part of the evening. Party tricks are great fun if you've got one, but if you don't, any escape is welcome.
Fortunately, if you have a dog you can escape ever having to learn an entertaining trick yourself. Simply train your dog to chase his own tail and he can have all the limelight when these moments come around. There's also the added bonus that this type of training will make it easier to train him to do a range of other things, from 'heel' to 'stay'.
Top
Defining Tasks
The command itself is a straightforward obedience command, using a word of your choice. The complicated part comes from communicating to your canine pal what it is you want him to do. The good news is that if he's a young and enthusiastic puppy, he should be keen to learn and may pick up the trick in just a few days. If he's graying and spends more time lying in doorways then polishing off his circus tricks, then you may need to invest a couple of weeks into your training campaign. Regardless of his age, all dogs are able to learn this trick in a relatively short space of time.
For your investment, you'll get a fun and amusing trick to show family and friends, plus you'll have an effective way to help him blow off steam if he seems to have an unlimited supply of energy.
Top
Getting Started
Before you turn him into an eligible member of the circus you'll need to get several things together. The first thing you'll require is treats or his favorite food broken into small pieces. You'll use this to incentivize and reward him.
You'll also need a quiet space where he won't bring down or break anything valuable. You could use a garage, yard or anywhere else that's suitable.
The only other things you'll need are time, patience and a proactive attitude. Once you've armed yourself with the above you'll be ready to get training!
Top

Set the stage
Secure your dog to a leash and fill a pocket full of treats. You are going to use the leash to help show him what it is you want him to do. Make sure you have plenty of space around you both.
Lead with a treat
Hold a treat in front of his nose and then lead him round in a circle. You can use the leash hand to gently encourage him to do a 360. At this point you are not going to use a verbal command, you need to get him comfortable with spinning first.
Reward!
When he does a full 360, give him a treat and lots of praise. It is vital you reward him as soon as he shows signs that he is getting the hang of it. The greater the reward and praise the quicker he will respond to training. Once he has done one 360, encourage him to do another one straight away and again give him a treat.
Introduce the command
After a couple of days, give the command 'chase' as you lead him around in a circle with your hands. Now he will start to associate the verbal command with the behavior too. Now that he is getting the hang of it, have him do two or three spins before you give him a treat and reward him.
Lose the leash
As he improves, you can lose the leash and use the verbal command alone to get him to chase his tail. Once the command itself kick starts the behavior you can reduce the frequency of treats. It is important you don't let him spin around too many times, you don't want doggie sick on your clean floors!

Get ready
Secure him to a leash and head to your training space with a clicker and treats. For this method, the hand gesture alone is going to be the cue, so try to be consistent with your physical cue.
Lead with a treat
Holding a treat in your hand lead him in an arc around his body. You can also use your hand holding the leash to slowly guide him. Don't rush the movement to start with, otherwise you will confuse him. You will slowly build up the speed later.
Reward!
Once he does a full turn, click and give him a treat. It is important you click and treat as soon as he does a full turn as this will be the signal to him that he has performed the correct behavior. If he doesn't do a full 360, get his attention and start the behavior again. Never punish him, he won't learn quickly through fear. Practice this for 10 minutes a day for the first couple of days.
Refine your signal
Now use a less exaggerated arm gesture, instead of doing an arc with your whole arm, just use your hand. Also lose the leash and just guide him by holding onto his collar. Don't move onto this stage until you are confident that he is getting the hang of it. Continue to click and reward each time he does a full turn.
The final cue
Use just a small 360 gesture with your hand. This will be the final cue so ensure he understands it means the same as the other more exaggerated movements. Now reduce the frequency of treats, so that he has to do several full turns before he gets a reward. After a week or so you can lose the clicker and cut down the frequency of treats until he performs the trick in response to the hand gesture alone.
The Lead With the Tail Method

Treat & tail
With the same hand hold onto his tail and a treat. You are going to show him what you want him to do by gently leading him with his tail.
Introduce command
Before you start leading him round issue the 'spin' command. You don't have to use the word 'spin', you can use any word you like as long as it is relatively short and not already used in relation to another command.
Lead with the tail
Once you've given the command, lead him around with his tail. As you are pulling him, give him words of encouragement and act in a playful manner. Dogs respond best when they think they are playing a game, so keep it upbeat and jolly.
Reward!
As soon as he does a full turn, give him a treat and lots of praise. Make sure you hammer home that he's done the correct action every time. As he slowly understands what you're asking of him, stop leading him around with his tail, just hold the treat close to his tail.
Command only
As he improves stop leading him with a treat and just give the verbal command. Make sure you still reward him regularly, but start to wait until he's done several turns before you give him a treat. After a couple of weeks when he's getting pretty darn acrobatic, stop giving him treats altogether and rely on just the command.
By Amy Caldwell
Published: 10/16/2017, edited: 01/08/2021
---