How to Train Your Dog to Come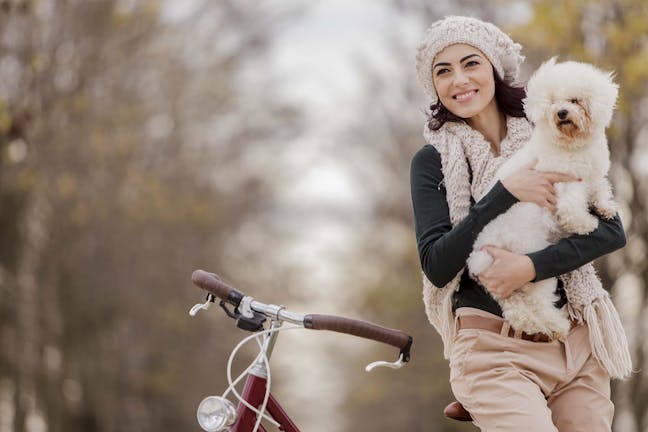 Introduction
You're out on a walk when your canine friend sees another dog in the distance. Your dog is big, strong, and if you don't know his gentle nature, rather intimidating. But unfortunately, you have no way of calling him over to you when he's not on his leash so he bounds over to this nervous looking dog who lies there shaking like a leaf. By the time you catch up with him, the other owner has pulled his nervous wreck from off the sidewalk and they're back on their way. You only just have time to apologize before they disappear around the corner.
He's the same when there are young children around, he just doesn't realize his size and strength can be quite scary! If you could call him back to your feet at the first sign of trouble you'd avoid these encounters altogether.
Top
Defining Tasks
Luckily, you can get a handle on this behavior by utilizing obedience commands to regain some control. Training your dog to respond to a simple phrase is relatively straightforward and if he's a young puppy, eager to learn, he should respond to training in just a week. If he's spent years running wild then kicking the habit may take a little while longer, but you can still expect to see results in a couple of weeks.
Don't let the time put you off though, this training will help you get out of any number of potentially troublesome situations. From busy roads to terrified pets, having this level of control over your pal will only prove useful. Not to mention it will make teaching him other obedience commands a whole load easier too. It also serves as a pretty cool party trick if you can call him away from even the tastiest of food.
Top
Getting Started
Before you break the cycle of wandering behavior you will need to get several things together. Treats or his favorite food will be the most important component, so ensure you have them in abundance. You will also need a quiet outside space to train in, free from the distractions of noisy kids and other pets.
You will also need to find 10 minutes a day for the next week or two until he's mastered the training. Once you have all of the above, just bring patience and an optimistic attitude and you're ready to get to work!
Top
The Utilize the Leash Method
Get ready
Put him on a leash and head to a quiet space. It could be inside if you have a big room, alternatively make your way to a quiet field. Also be sure you go armed with a pocket full of treats or his favorite food broken into small chunks.
Introduce command
Stand 3 feet away from him and issue the 'come' command. Give the command in a firm but jolly voice. He will respond swiftly if he thinks it is all a big game.
Move back
As you give the command, start to slowly walk backwards. If he doesn't move straightaway, try encouraging him with playful talk or by luring him over with a treat. Most dogs will naturally make their way towards their owner.
Reward
As soon as he reaches you, give him a treat and plenty of praise. It is important you reinforce the positive behaviour with lots of praise. He needs to understand that it was the right thing to do to come straight to your feet.
Increase distance
Gradually increase the distance between you both before you give the 'come' command. After a few days, when you think he understands the command, you can slowly make it harder by starting farther away. At this point, you may need to lose the leash. Keep gradually increasing the distance until you can call him over from 20 or 30 feet away.
Add distractions
At this point you can introduce distractions like other family members or pets he is already familiar with. When you can still call him over even with distractions around, you can slowly reduce the frequency of treats until the verbal command alone is enough.
The Restrain and Release Method
Recruit a helper
Have a friend gently restrain your canine pal. Then sit yourself several feet away from him and hold his favorite toy. You are going to lure him over with the promise of some play time with his owner.
Call your dog
Call him over excitedly in a warm and friendly voice. You can also dangle the toy out in front of him. When he starts trying to run towards you, have your friend release him so he can bound over to you.
Reward
As soon as he reaches you praise him and use the toy to play with him for 60 seconds. It is important you really make the reward fun for him. The more enjoyable it is when he reaches you the quicker he will learn and respond to training.
Add command
Now repeat the same process as before, but issue a command to him to call him over. You don't have to use 'come'. If you have tried using that in the past and it never really worked then it is often easier to teach him a brand new command. It can be anything you want as long as it is short and you say it in a playful voice. After you've given the command, have your friend release him and then praise and play with him.
Increase distance
Gradually increase the distance between you both and lose the initial restraint. After several days you can practice on walks, just have his toy in hand and call him over with the command. Once he responds to your call every time you can lose the toy and he should respond to the verbal command alone, as it will now be habit.
The Just You and a Treat Method
Find a good spot
Take him into a quiet fenced yard or a field where he won't be distracted. You don't need a leash for this method, just a handful of treats and some patience.
Get a little distance
Ignore him to start with so he wanders off and does his own thing. Then get within a few feet of him, squat down and call him over with a command, such as 'here'. While doing this, hold out a treat to entice him over. You may need to really get high-pitched and playful to call him over, but once he notices the treat you should catch his attention.
Encourage
Praise him as soon he makes his way towards you. You need to show him making his way towards you is the right behavior, so continuously give him verbal praise until he reaches you. As soon as he does reach you, give him the treat and play with him for a minute or so.
Be patient
If he stops heading towards you and starts to wander off, stop the praise immediately. It is important he only gets praise when he's behaving correctly so as soon as he loses interest stop verbal communication and just hold the treat in sight. You don't want to punish him for not coming towards you, as training through fear never proves fruitful. You just want to emphasise that steps towards you come with verbal praise and treats and that deviating from you is met with silence and no attention.
Increase distance
Increase the distance between you both before you call him over and slowly reduce the frequency of treats. As he responds to the training, make it more challenging by starting farther away and introducing distractions like other household pets and family members into the yard. When he still comes over to you, gradually decrease the frequency of treats until the verbal command alone is enough.
By Amy Caldwell
Published: 11/08/2017, edited: 01/08/2021
---