How to Train Your Boxer Dog to Come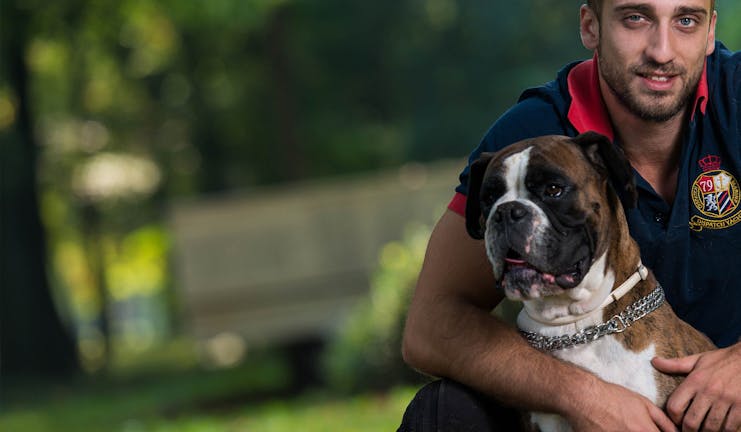 Introduction
Trusting your Boxer to come when called is a great step to knowing your energetic dog can listen and obey when you ask. Setting expectations with your Boxer will help keep him safe and build trust between you both. Your Boxer is friendly and eager to meet new people. He'd love to play with children and entertain guests. This could potentially also put him in a  position of curiosity and trouble. Though this is a behavior-based training, you'll want to keep your precious Boxer safe and secure while you are out and about. Should your Boxer get away from you because he's curious about the world and things around him like little rabbits who run across his path, he needs to know the importance of coming back to you when called. Training your dog to come is a recall command which should bring your Boxer back to your side as you expect. 
Top
Defining Tasks
You do not want to train your Boxer that saying the command word over and over is what he should expect, so be sure you focus your training on getting him to recall back to you without repeating your command several times. Before you train your Boxer to come, he should have basic obedience commands down and know his name. You do not have to use the 'come' command. You can use his name with an expectation he should return to your side as well. 
A puppy going through obedience training will be more eager to learn this command than an older Boxer being retrained, but both ages can be taught to come on command. Have patience with your Boxer during this training. Be sure to go get your dog when and if it's necessary during training to avoid repeating the command word over and over. This repetition will only train him that he needs to hear the word several times before he needs to bother moving toward you. 
Top
Getting Started
To get started on training your Boxer to come, have your leash and lots of treats handy. You may want to have the leash on your Boxer for some of these methods so you can grab him easily if necessary. Keep your training sessions short and motivations high when training your Boxer to come to you. Treats he will want to work for might include meat and cheese. 
Top
The Enticing Reward Method
Treat
Start your training session with your Boxer off with a treat. Give him a treat and show him you have a second one that he can earn.
Sit
Have your Boxer sit. This is basic obedience and should be taught before you teach him to come or recall.
Step back
Take a giant step back from your dog and ask him to come.
Entice
Hold your hand down low near your thigh and show him that you have a treat he can earn.
Towards you
When your boxer moves towards you, closing that gap in the giant step you took, give him his reward and verbal praise.
Repeat
Continue to repeat the steps above. Only, as your Boxer comes closer to you each time you ask him to come, take further steps away from him increasing the distance between you two. Don't forget to show him the reward before you take your steps back and reward him when he comes to you.
Practice
Once your boxer is coming to you when you are several steps away from him, continue this training from a different room in your home or from the opposite side of your backyard. As he gets used to training to come, take this command out on walks, in dog parks, off leash or wherever you would like your Boxer to come when called.
The Clicker Training Method
Clicker and treats
Have your clicker and your treats handy. If you've been clicker training your Boxer up till now he should be excited because he knows rewards are coming for good behavior and learning new tricks.
Practice
Practice a few obedience commands your Boxer is already very familiar with such a 'sit,' 'down,' and 'stay.' Each time he obeys and is successful, be sure to click and treat.
Walk away
Walk away from your Boxer as if training is over. Don't go far and don't be gone long. Call him by his name and ask him to come.
Continue training
An eager Boxer who wants nothing more than to please you will come to you, knowing you are going to continue additional training and he has more treats to earn. When he comes to you, click and treat.
Repeat
Continue to repeat these steps, taking yourself farther away from your Boxer as you are training the command to come. Practice this command with various distances in different situations within rooms in your house as well as in your yard or outside off-leash. Always reward your Boxer for a job well done.
The Behavior Based Method
Obedience commands
Train your Boxer basic obedience commands starting with 'sit' and 'down.' Once your Boxer is confident with basic commands, move on to 'stay' and 'come.'
Sit
Put your Boxer in a 'sit' position and offer him a treat.
Stay
Ask your Boxer to stay once he's in this position. If he understands the command 'stay' you can move away from him and he should not follow you. If he does follow you, go back and work on staying before you work on the command to have your Boxer come or recalled back to you.
Walk Away
Once your Boxer is sitting and staying, walk away from him and face him. He should be looking you in the eye waiting for you to release him from the stay position.
Come
Hold up a treat and tell your Boxer to 'come'. If you choose to use a different command, such as his name, use this instead. Some Boxer owners use the word 'release' to release their dogs from a stay position before using the 'come' commands so the Boxer knows to go to you rather than go play somewhere else.
Treat
Because your Boxer has earned a couple of treats just by sitting and staying in place by command, when he sees the treat in your hand he will want to come and get it. Once you release him from his 'stay' position and ask him to 'come', he should come and get the treat. When he does, reward him with verbal praise and the treat.
Repeat
Repeat this command as you have repeated all of the basic obedience commands such as 'sit,' 'down,' and 'stay' so that he understands your command word 'come' is another command he needs to get to know and obey. Practice this often and always reward your Boxer when he does well.
By Stephanie Plummer
Published: 01/04/2018, edited: 01/08/2021
---