How to Crate Train a Brittany Dog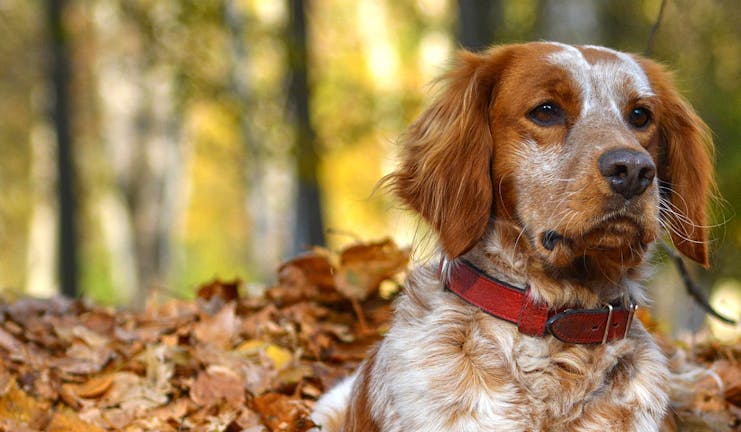 Introduction
If you leave the house and leave your Brittany Spaniel to his own resources, you might be in for a big surprise when you come home. You may find piles of poop on the carpet, chewed shoes, trash scattered from one end to the other, and more. This is why is so important to start crate training your Brit. 
In the wild, canines make their homes in caves or "dens", giving them a place to sleep, shelter from the storms, a place to raise pups, and when needed, a place to recover from an injury or illness. Giving your pup his very own "den", is a great way to help him feel more comfortable and secure in your home. 
Top
Defining Tasks
There is more to crate training your Brit than teaching him to stay inside a wire cage. The task at hand is far more complicated than this. Your job is to teach your pup that this wire crate is his own den or personal space. One that he can call his domain, protect, relax in, and stay in while you are gone or at night if he prefers to sleep there.
Bear in mind you cannot leave a puppy in his crate all day, he will need to get out to go potty several times. You can only expect an older dog to be able to hold himself this long. Your dog will do everything he can not to soil his home, but if you leave him in there too long, he may not be able to help himself. One last thing, never use his "den" as a form of punishment, he should always see his home as his castle, a place to relax, his "happy place." 
Top
Getting Started
The most important part of crate training your Brittany is to make sure you get the right one for him. Since the crate is to be like a den to him, you need to get the right size. If you get one that is too small, your pup will not have enough room. On the other hand, if you buy one that is too large, it might make him feel overwhelmed and uncomfortable. Along with a crate, you need a piece of carpet cut to fit the bottom of the crate, a cushy puppy bed, a few toys, and a nice supply of treats. 
Top
Start with his crate
Find a spot for your dog's crate that is out of traffic, but in the line of sight. Put the crate together, place the carpet, add the bed, and toss in the toys. Make it as homey as possible.
Pup meets den
Place your pup in the center of his crate using a cue word you plan to use when it's time for him to go in. Show him the toys and then close the door. Give him time to get used to his new surroundings. Start short at five minutes and work your way up in five-minute intervals.
Bark, bark
What if your pup starts to bark and whine? Most dogs do, it's a natural reaction to finding themselves trapped. Give him time, he will eventually settle down. When he does, praise him and give him a treat.
Potty break
After the treat has been eaten, let your pup out and then take him out to pee right away.
And further on
From here simply keep working with your training, extending the time between when he stops fussing and when he gets the treat. In time, he will learn to stay in his crate while you are at work or asleep. You may even find him going there on his own.
Locate his new den carefully
Choose a location for the crate that lets both of you see each other, but is also out of the main flow of traffic. He needs a nice quiet place for his den.
Prepare the floor
Prepare the floor of the crate with carpet and then put down a layer of pee pads. Put a nice cushy bed in the back of the crate for your pup to nap on.
Bring his dishes
Bring your pup's food and water bowls over and put them in front of the crate and then walk away, leaving the door open. Give your pup plenty of time to wander in and out of the crate. Praise him when you see him go into the crate and give him a treat.
Close the gate
When he has become used to the crate, let him enter and then close the gate. If he fusses, ignore him and let him say what he has to say. He will soon get tired of hearing his own voice. When he does, give him the treat.
The potty break
Each time you take your pup out of his crate, be sure to take him outside so he can do his business and run around a bit.
Keep it up
Keep working on this training, extending the time he stays in his den until he will stay there whenever you need him to. This may take a little time, but be patient and he will learn.
Build your pup's den
Place your pup's crate in a convenient spot in your home out of the main flow of traffic. Now go to town creating a comfortable den replete with wall-to-wall carpeting, a comfy bed, his own personal collection of toys, even a blanket over the top to give him some semblance of privacy.
Enter your den
Start out by using one of your Brit's favorite treats to lure him into his new den by tossing it in the center of the crate. Give him time to explore. He might not stay in for long the first few times, but eventually, he will stay in to explore.
Choose a command
At this time, you need to decide on your command word that you and everyone else will use.
Start using the command
Using the above training method, start using your command word each time you toss a treat in the crate. Your pup will learn to associate the word with the action.
Over the long haul
Continue working with your pup and using this training method. Start slowly increasing the time he stays in the crate in tiny steps at first and in ever-growing intervals until he will happily stay there as long as you need him to.
By PB Getz
Published: 01/24/2018, edited: 01/08/2021
---