How to Train Your Dog to Detect Explosives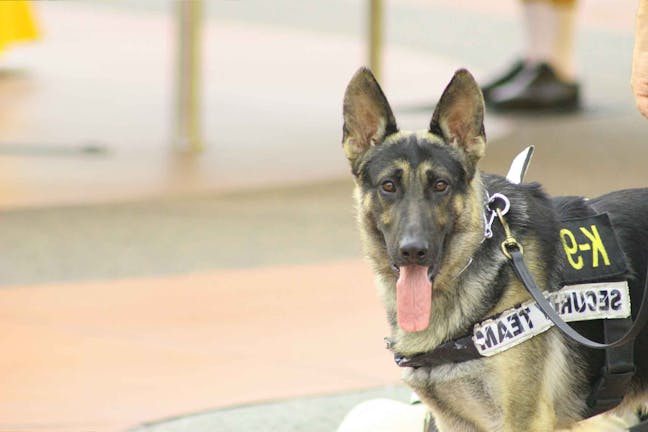 Introduction
During the Afghanistan and Iraq wars, American and allied troops were constantly in danger from improvised explosive devices (IEDs). However, dogs like Lucca, a German Shepherd cross, were instrumental in identifying IEDs and warning their handers by alerting to the presence of explosives, resulting in the avoidance of both military and civilian casualties. How did Lucca do it? Simple: she searched for and smelled the explosives and gave her handler a prearranged signal or "alert", to indicate that she had located an explosive. With all the technology available to the US Department of Defense and billions of dollars spent to determine the best way to protect lives from bombs, it turns out an "old" technology, a dog's nose, is the most effective way to identify the presence of explosives.
Dogs like Lucca routinely work in hazardous, and dangerous situations to save lives. In fact, Lucca eventually lost her leg to an explosive. She was then retired and sent to live as a pet with her original handler. As the danger of IEDs at home and abroad becomes more prevalent, the use of dogs to locate explosives at public events, transportation hubs, and in military settings has increased greatly in recent years. Who knew that a dog's sniffer would end up being such a valuable source of protection, for saving lives?
Top
Defining Tasks
Explosive dogs are trained to search an area, often a public area, where an event such as a concert, sporting event or rally is scheduled to take place, or in a law enforcement or military setting. The dog scans the area and is trained to alert their handler through the use of a predetermined signal, such as a 'sit and look at me' alert, if they locate the scent of explosives. Dogs are usually rewarded for their locating skills with play with a toy. Dogs with a high motivation for toy playing are selected for these jobs. If your dog is obsessed with a ball or toy, then he may have the right stuff for an explosive locating job. Because explosives contain common ingredients that give off a distinctive odor, much like the ingredients in a recipe, and these ingredients have identifiable scents, explosive scent can be picked up by dogs, which have the ability to detect and distinguish odor thousands of times more accurately than we do. An explosive detection dog must have a strong work ethic, be calm and focused, and highly reward motivated to make them appropriate for this type of work.
Top
Getting Started
Start with a calm, confident dog that can focus on the job at hand and is highly motivated to work for the reward of play with a toy. Some dogs are food motivated, and in these cases, food treats may be used to provide positive reinforcement. Training should be fun and positive reinforcement is the key, not punishment. To train for explosive detection you may start with alternate strong scents like vanilla or peanut butter, and then transfer to the scent of explosives. This will require access to explosive scents from ingredients used to make explosives. Careful handling of materials will be required, and certification and access to materials from law enforcement organizations may be required. Make sure that dogs being trained to perform high-intensity jobs, like explosive detection, also have time for natural activity and unstructured play, so they do not become overstressed by their job. Provide breaks from training when necessary. You will need to set aside significant time to train an explosive detection dog; consistency is key. Certification for detection dogs working at airports, borders and other locations is available. Contact law enforcement in your area to find out details regarding appropriate governing bodies for explosive detection dogs in your area.
Top
Play
Provide a toy and play with your dog often, use play with the toy as a reward for basic obedience commands.
Hide toy
Start hiding the toy in a box and teach your dog the game 'find it'. Start with fairly easy locations, let your dog see you hide the toy. Gradually make hiding spots more complex.
Add signal
Teach your dog an alert of signal such as 'sit and look at me'. When your dog locates the toy, command the dog to 'sit and look at me' then reward. Practice until the dog performs the alert without being commanded.
Hide scented toy
Start hiding the toy along with the explosive scent to be targeted. Either cover the toy in the scent, wrap the toy in the substance, or hide the substance with the toy. Command your dog to 'find it'. Your dog will learn to associate the smell of the explosive with the toy. When your dog finds the toy and explosive, and signals you, play with your dog and the toy as a reward. Ignore false positives.
Vary hiding
Start hiding the toy and scent in more complex locations
Substitute scent
Gradually move to just hiding the explosive scent and command 'find it'. When your dog locates the explosive, produce his toy and play with the dog.
Make complex
Find more complicated hiding places and introduce distractions. Reward locating the explosive scent and alerting appropriately with play with the favorite toy.
Teach signal
Teach your dog a signal, such as 'sit and look at me', or 'bow', that will be used to indicate the presence of the explosive scent. Use a hand signal to command and capture the behavior with a clicker.
Add scent
Now use the hand signal and provide the explosive scent in a small open container. When the dog performs the signal in response to the presence of the scent and hand signal, click and reward with food or toy play. Practice several times a day for a few weeks. You may start with an explosive scent, or start with another strong scent like peanut butter, tea, vanilla or cheese and later transfer the behavior to a explosive scent.
Remove command
Gradually remove the hand signal, continue to present the scent and use the clicker and reward the dog performing the signal such as a 'sit'.
Hide
Now hide the scent in a small container, such as a small open box. Let your dog find the scented object, click and reward.
Make complex
Move to larger containers and and hide the scent in more difficult places. Click and reward. The dog will eventually learn to locate the scent in large containers in various locations.
Remove clicker
Gradually remove the clicker, Reward the dog for locating explosive scent in complex, varying locations and performing their alert.
The Match to Sample Method
Establish alert
Teach your dog a signal such as 'sit and look at me'.
Plant scent
Provide two articles, one that is scented with a strong scent such as vanilla and one that is not. Put the objects in two different spots on floor of the room.
Provide scent
Provide your dog with the vanilla scent on a separate object.
Shape and reward match
Let your dog loose in the room. When your dog approaches the unscented object, ignore, when he approaches the scented object, click and reward. Gradually click and reward as your dog gets closer and closer to the scented target object. Repeat the exercise multiple times a day for several weeks.
Add signal
Now give your dog the command for his signal, such as 'sit and look at me' command when your dog locates and matches the scented object. Continue to click and reward when your dog successfully matches the scent and signals you by sitting.
Substitute scent
Now substitute the strong scent for the explosive scent, repeat steps 2-5 with the explosive scent.
Remove command and click
Gradually remove the sit command. Gradually remove the click.
Reward match
When the dog matches the explosive scent and alerts, provide a food or play reward.
By Amy Caldwell
Published: 12/12/2017, edited: 01/08/2021
---