How to Train Your Small Dog to Do the Broad Jump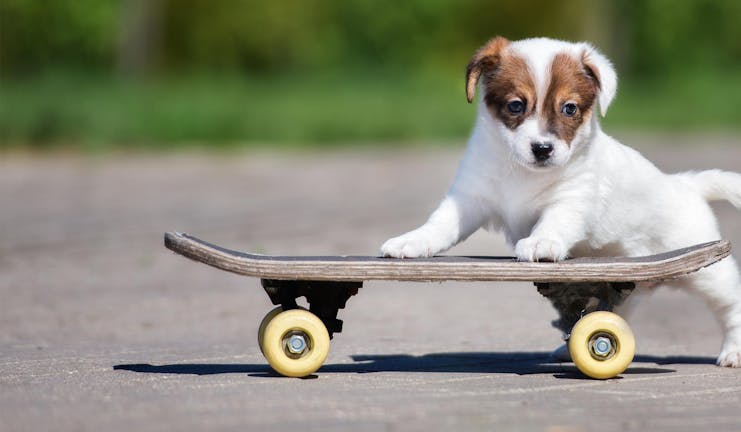 Introduction
Can small dogs do big jumps? You bet they can! Jumps for small dogs may not be quite as big as for their larger canine counterparts, but an athletic small dog may be able to jump better than a larger dog, if you take into account relative size to jumping distance. 
The broad jump is an obstacle common to agility courses that requires a dog to jump several horizontal units or risers at once to cover a long distance, or "broad" jump. Some dogs are better at this than others. Since the length of the broad jump is adjusted for the size of the dog, small dogs can excel at this, just as well as large breeds. Because jumping can be stressful on a dog's joints, however, make sure your small dog is up to the task and does not have any impediments to jumping before initiating broad jump training. Once your dog has mastered this jump, along with other agility obstacles, you are ready to start participating in fun or competitive agility courses.
Top
Defining Tasks
Because jumping can be hard on a developing dog's joints, usually it is taught to dogs when they have reached maturity. Small dogs tend to mature faster than large dogs, so a small dog may be ready to start broad jump training sooner than a large dog. Check with your veterinarian to determine when your little guy start training for the broad jump.  
Broad jumps are made of a series of risers that are set to twice the length of the associated height for the high jump in your dog's class. Small dogs are only required to jump heights and length appropriate to their size. Usually, a small dog broad jump consists of 2 or 3 units that are 1 ft 3 in to 1 ft 7.7 in long. The height of the front riser is about 5 inches and the rear unit is 9 inches in height. Your dog will be required to jump all the units in one smooth, long, jump.  This can be confusing for dogs to learn as they tend to see the units as separate obstacles and may try to jump each a unit individually or climb on top of them rather than jump over them. Changing the position of the units so they are vertical, rather than horizontal during training to avoid this, and working to introduce the concept of jumping all units not jumping between or on them will be necessary. Eventually, your small dog will understand that he is to jump all broad jump units, launching before the first and landing after the last in one long graceful jump... hopefully!
Top
Getting Started
Usually, small dogs learn to be proficient at the high jump before learning to do the broad jump as an introduction to jumping. Many owners use treats or a toy to guide and reinforce their dogs for successful jumping. Broad jump obstacles for small dogs consist of 1-3 units which may be 4 feet wide and next to each other make up a span of 1 to 2 feet that your small dog will clear in one jump. The obstacles themselves are not high; usually, the tallest is only 9 inches and positioned at the rear of the jump. You may want to use a verbal command like "jump" or "over" to indicate to your small dog to jump.  Be consistent and patient, remember this is supposed to be a fun activity for you and your dog.
Top
The Jump Don't Climb Method
Tip broad jump units
Tip the broad jump panels, so they are vertical, not horizontal .This will discourage your small dog from stepping on them or launching off of them. Start with one board.
Set your dog up
Have your dog sit in front of the obstacle and ask him to stay. Stand on the opposite side of the jump. If your dog has previously been trained to approach and 'wrap' around or touch a wrap obstacle, position that on the opposite side of the jump.
Ask for jump
Call your dog or give the 'jump' command and encourage your dog towards the jump and the target or to come to you.
Reinforce sucess
If the small dog successfully jumps the obstacle, followed by wrapping or targeting, give him a treat or toy.
Make it harder
Add more units on successive attempts and gradually re-position the boards so they are horizontal. If your dog does not correctly jump the obstacle, modify the jump by placing boards closer together, tilting or removing a few, to make the jump shorter. Try again. When your dog successfully completes a simpler version of the broad jump, you can re-position boards so they are farther apart and horizontal.
Put high jump bar on highest unit
Place a high jump bar over the highest horizontal panel, to act as a jump cue for your dog. Start with just the tallest unit.
Get your dog ready
Place your small dog several feet in front of the obstacle and ask him to stay.
Ask for jump
Give the 'jump' command and encourage your dog towards the jump.
Reinforce success, adjust if necessary
If your dog successfully jumps the horizontal board and the bar, you can then add another horizontal jump unit. Leave the high jump bar in place and repeat. If your dog steps on horizontal unit, add high jump bars for guidance.
Remove bars
Once your dog is jumping the high jump bar and the horizontal unit and recognizes the obstacle as a jump, you can start to phase out the bars so that your dog is jumping only the horizontal panels.
The Deter Mistakes Method
Place deterrant
Set up the horizontal broad jump units and put chicken wire or a plastic tarp slightly in front of the first board and between the units where you do not want your dog to step.
Set up your dog
Place your small dog several feet in front of the obstacle and ask him to stay.
Command jump
Go to the other side of the jump and call your small dog or run alongside him, Give the 'jump' command and encourage your dog over the jump.
Adjust as neccessary
If your dog steps on the deterrent, try adjusting obstacles to discourage this and try again.
Reward success
When your small dog successfully jumps all broad jump units as one, reward him with a toy, treats and praise.
By Laurie Haggart
Published: 02/01/2018, edited: 01/08/2021
---