How to Train Your Small Dog to Do the 'Circle Me' Trick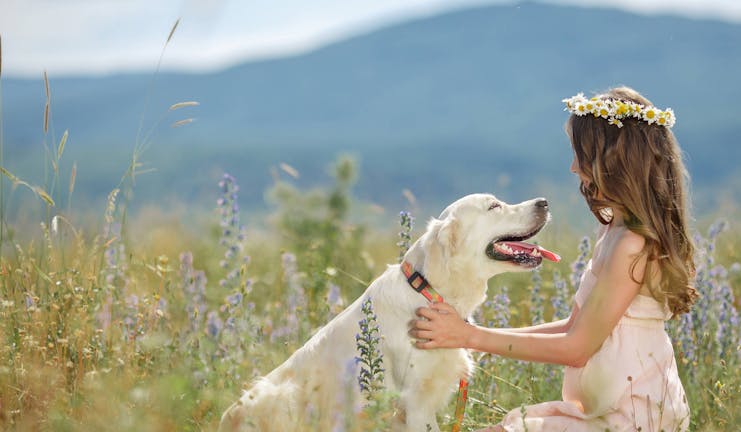 Introduction
Maybe your little dog is overwhelmed with energy, running frantically from one thing to another, never calming down enough to look at you. Your friends joke that your dog is the Tasmanian devil while laughing at your attempts to calm her. You would love to work with your little dog on obedience training, but you can't get her attention long enough to procure even a 'sit'! Honestly, you wonder if that little butt is even able to sit, it's wiggling so fast. 
Perhaps you and your little dog already have a good foundation of obedience training, and you are trying to take it to the next level by teaching your dog fun tricks that are safe for a little body. Sometimes it seems that our little dogs are always under our feet on walks, and we worry we will kick or trip over them. The 'circle me' trick allows for you to ask your dog to walk on your other side without pulling her around by her leash.
Whatever your reason, or your little dog's age or attention span, 'circle me' is a fun trick to learn and teach. Most little dogs catch onto this trick easily and have fun doing it. It is one of the easier behaviors to bring from the initial training situation to areas with increased distractions. It can be done on or off-leash, with experienced canines or little pups just learning the ropes.
Top
Defining Tasks
'Circle me' is a fun trick best performed when your little dog is enjoying the trick. Unlike relax commands like 'sit' and 'down', dogs perform this trick well when they are feeling crazy, and, with a little practice, can even do it when distracted. This makes it a great trick to get your little dog's attention for more boring (and important) behaviors.
This is a useful trick on walks, either on-leash or off. For little dogs who are learning to heel, "circle me" is a reminder to stick to the leg in a fun way. Dogs trained to circle in either direction and stop can be moved easily to the left or right of your body. This is great for little dogs that you don't want to jerk around with the leash, or for small dogs that have anxiety or aggression, so that you can get yourself between them and an upcoming antagonist.
Top
Getting Started
This is a great trick for when your little dog is jumping off your knees with energy. If your dog is motivated best by food rewards, it is ideal that she be somewhat hungry, so that treats will be more enticing to lure her to follow. Remember that little dogs gain weight easily, so use the lowest calorie treats that your dog will get excited about. If your dog likes toys best, tug toys work well for this training, but make sure your little dog will 'drop it' so that you can keep working. Use a good long tug so that you won't get a sore back bending over to play with your little dog. This is also important to ensure that she isn't jumping up too much to pull, which can put strain on little hips and knees. If using a method involving a leash, it is helpful if your leash has some elasticity, so that you don't accidentally yank your little dog abruptly.
Top
The Follow a Good Thing Method
Choose a lure and a spot
Choose something good that your little dog will chase after. Pick a location that has soft ground, as you may get dizzy and fall!
Teach 'follow'
Encourage your little dog to follow the reward, giving it to her when she does so. Start in very short bursts, then go longer stretches before rewarding. A verbal command will only confuse at this stage, as your dog is doing what she wants to do anyway, by following the toy. There is no need for a command yet.
Follow around
Lead your little dog around you, rewarding frequently, then increasing to full circles before rewarding. Use the command at each full circle.
Teach directions
Lead left or right while saying "circle left" or "circle right". Teach 'stop' by stopping suddenly and saying "stop".
Practice without a lure
Remove the lure that you were using to lead and use the voice command and your hand alone, rewarding periodically.
The Lead with a Leash Method
Teach 'follow'
Encourage your little dog to follow a lure, using the leash to gently correct her if she is distracted. Never use your strength to drag your little dog, only gently suggest direction.
Follow around
Lead your little dog around you with an enticing treat or toy and using the leash to gently pull if she wanders off the circle or tries to go the the other way. Use the command word for each full circle.
Teach directions
Teach left and right by leading your little dog and using the leash to reinforce the direction while saying the command. Teach 'stop' by pulling gently up on the leash while using the command.
Remove the lure
Remove the lure and use just the leash to direct behavior. Reward frequently at first and then less frequently. You should find that your little dog runs up against the leash less and less frequently.
Unleash your little dog
Once your little dog understands the commands and behavior, try practicing without the leash. Reward frequently at first.
Tie your little dog to you
Tie your little dog to a secure belt or dog walking device, using an elastic leash and ensuring that your little dog is wearing a well fitted harness.
Teach 'follow'
Teach your little dog to stay near you by luring her with a treat and toy and allowing her to gently bounce against the leash naturally as she strays away from you.
Teach 'circle'
Turn, enticing with the treat or toy and allowing the leash to gently correct your little dog as she moves away from you. Use a command word at each full circle.
Teach directions
Teach right and left by turning while using commands words. Teach 'stop' by stopping abruptly while saying the command. You may need to grasp the leash to pull up gently if your little dog doesn't catch on.
Remove incentive
Remove the toy or treat that you were using as a lure and practice using rewards alone, allowing the leash to correct behavior.
Unleash
Once your little dog is rarely pulling against the leash and is obeying your commands, practice without the leash, remembering to reward frequently.
By Coral Drake
Published: 01/10/2018, edited: 01/08/2021
---