How to Train Your Dog to Do the Open Tunnel Trick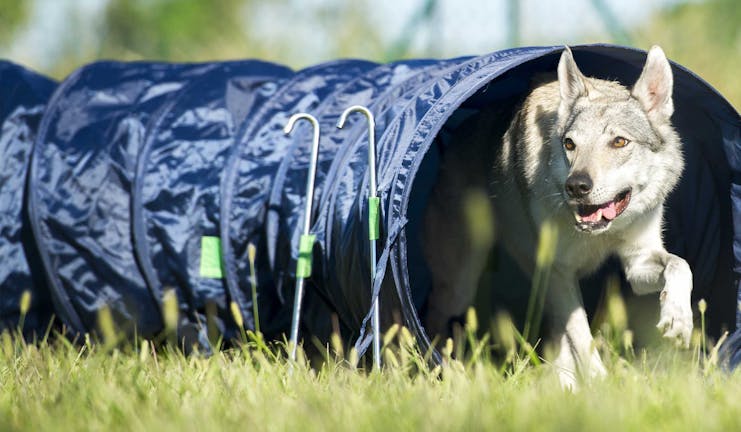 Introduction
The world of dog sports has a long history of been championed by the sport of agility. Open to dogs of all breeds and sizes, agility offers a fantastic opportunity for training, exercise, and even a healthy dose of competition for both dog and handler alike. Comprised of several obstacles within a typical agility course, there are some that are instantly recognizable such as the jumps, weaves, and especially tunnels.

Of the two types of tunnels, both open and collapsed, the open tunnel presents less of a challenge, though it too can be a bit daunting for a dog new to the sport. The open tunnels may often be curved and a curved tunnel is scary when your dog can't see the exit. But for any agility hopeful, the open tunnel is a necessity to learn and master in order to compete.
Top
Defining Tasks
Consisting of about 10 to 20 feet of flexible, free-standing material and with an opening of about 24 inches in diameter, the open tunnel obstacle is generally one of the easier obstacles to learn. However, it can be challenging for a dog who is a little timid or fearful and can also present some difficulty to larger dogs in general. With enough practice and cooperation with your dog, he can overcome these challenges and be diving through the tunnel and out the other end in no time. After your dog learns the tunnel, you might actually discover that he enjoys it! 

Open tunnel training is recommended for dogs four months of age and up, unless otherwise recommended by your veterinarian. It's always important to get a full health check before starting any kind of physical training, so keep that in mind. Otherwise, as long as your dog can reasonably fit through the tunnel without struggling, he can start training any time.
Top
Getting Started
To start, you'll either need to purchase a tunnel specifically for agility, or you can create one yourself out of cardboard or foam. Ensure that any tunnel you make or purchase is collapsable lengthwise and is rigid when sitting upright so it doesn't cave in while your dog is running through it. Make sure you have enough space for your dog to reasonably run into and out of the tunnel without running into anything.

You'll also need some treats or a toy to entice your dog through the tunnel. Try to choose something he really values and you'll have a much easier time getting him to pursue it. Put aside some time for training every day, and your dog will easily pick up the tunnel in as little as a week!
Top
Compress the tunnel
The flexibility in tunnel length is important for learning the open tunnel obstacle, as it makes training much easier. Start with a very short tunnel length where your dog can see through to the other side clearly.
Place your dog at one end
With a treat, encourage your dog to sit or stand at one end of the tunnel while you go to the other end. Make sure he can clearly see you at the exit.
Coax your dog through
With treat or toy in hand, offer it to him through the exit of the tunnel and let him crawl through.
Reward only when exiting
Don't set the toy or treat down inside the tunnel, as it can encourage him to stop and search for more. You want him to make a full entrance and exit before receiving his reward.
Increase the length
Each time you practice, extend the tunnel by just a few inches, creating a larger and larger pathway for your dog to go through before being rewarded. If he struggles, it's always okay to shorten the tunnel to when he was last successful and try again.
Be encouraging
Offer a lot of verbal praise and even some playtime each time he comes out of the tunnel. You want the act of going through to be a positive and fun experience for your dog!
Throw in some curves
Many agility courses have curved tunnels. Get your dog used to curves by starting with a very slight curve and progressing to something sharper. Curves can be intimidating, so expect curves to take longer than the tunnel itself did.
Practice speed
Once your dog can reliably get through any tunnel, encourage him to go faster! Be exciting and high energy as you coach your dog through and be prepared to run alongside the tunnel as he rockets through it so you can meet him at the exit.
Find a good fetch toy
Using the tunnel as part of a game for your dog is easier when you can find a toy she really enjoys going after. Tug ropes or tennis balls work well for this purpose.
Get your dog excited
Your dog will be much more likely to bolt through the tunnel after her toy if she's already revved up and ready to go. Have some playtime before introducing the tunnel to her to work off of that momentum.
Run towards the tunnel
With her toy in hand, let your dog follow you towards the tunnel that should be set up and ready to go. Try to shorten its length at first so it's not so intimidating.
Toss the toy through the tunnel
Try to ensure that it lands on the other side without going too far away from the actual tunnel. If it rolls too far away, your dog may be more likely to run around the tunnel instead of through it.
Use the toy as a lure if necessary
You may need to go to the exit and wave the toy around for her to encourage her through the tunnel. Treat it as part of the game and keep your energy high.
Use a verbal command
When you first toss the toy through, use a command like 'tunnel' to get her familiar with the name of the obstacle.
Immediately allow playtime afterwards
The second your dog makes it through, get right back into playtime. The tunnel was part of the game and will stay part of the game throughout her training. It will encourage her to see it as a fun activity whenever it's time to do tunnel training.
Find a partner to assist with training
This can be a family member or a friend who can be focused on training. Children can also assist with this type of training under adult supervision.
Sit your partner at the entrance
Your partner should be situated at the entrance of the tunnel with your dog while you wait at the exit with a treat or toy in hand. Your dog is more likely to go through if he can see you waiting for him at the end.
Use a verbal command
Allow your partner to use a command like 'tunnel' or 'through' to encourage your dog to familiarize the command with the obstacle.
Encourage your dog through
Use the treat or toy to lure your dog towards you at the exit while your partner continues to use the verbal command with each practice attempt.
Reward
Offer the treat or toy to your dog for successfully getting through the tunnel.
Turn around and go again
Now send your dog back through the tunnel to your partner waiting on the other side. They should also have treats to offer your dog for successfully getting through. Remember to wait to treat until your dog leaves the tunnel entirely.
Practice
Continue practicing with various tunnel lengths and curves. Practice with various people to get your dog adjusted to being consistent with the behavior regardless of who is giving him the command.
By TJ Trevino
Published: 12/27/2017, edited: 01/08/2021
---