How to Train Your Small Dog to Do the Tire Jump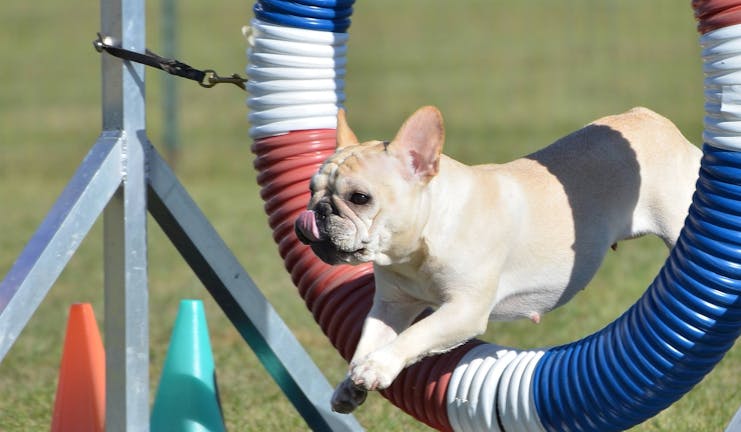 Introduction
There is truly something cool about watching a small dog leap through a tire. It's a little like watching the lions at the circus jumping through the hoops. They make it look so easy, and with plenty of the right training, you can teach your small dog to jump through a tire.  This ability is less about physical strength than it is about training your pup to perform the task properly. Some dogs take to this trick like they have been doing it all their lives, others will try to go under it or around it.
Keep in mind that this trick is all about having fun. Your dog may not pick this trick in a hurry, but as long as you are ready to put in the time and effort, he will get it. Then the two of you can have a blast showing off your new trick every chance you get. 
Top
Defining Tasks
The trick in and of itself is pretty simple. After you give your pup the cue word, it is his job to run up and jump through the tire being held aloft in front of him. He needs to learn to jump through the tire coming in from a range of distances and angles. No one could blame you for thinking this is nothing but a fancy trick for your pup to learn. In reality, once he has mastered this skill, you can teach him to jump on the couch or bed, even into your car.
However, there is really nothing like being able to share this amazing trick with your friends and family. It is sure to impress them, while at the same time helping your pup to get some much-needed exercise. Take your time during the training sessions, make it fun for both of you and as they say, "laissez les bon temps rouler."
Top
Getting Started
Since this involves training your pup to jump and puts him at risk of injury, you need to wait until your pup's musculoskeletal structure has matured enough to reduce this risk. Most trainers recommend waiting until your pup is two years of age and has passed a physical by his veterinarian. You will also need a few supplies to use during your training sessions. These include:
A tire: Choose one that is large enough for your pup to fit through easily.

Treats: For use as a lure and as rewards for getting things right.

A hula hoop: For use during training.

A frame: To support the tire and allow you to set it at different heights.

Room to work: Your pup will need plenty of run-up space in order to get the momentum he needs to jump through the suspended tire.
Along with all of this, you need time to spend working with your pup every day in short sessions until he masters the skill. You will also need plenty of patience while working with your dog to make sure the training sessions are fun. 
Top
Start in the 'sit' position
Call your dog over to where you are and have him sit. Place one of his favorite treats on the floor about 3 to 4 feet away from him where he can easily see it.
Set up the tire
Take the tire and set it upright about halfway between your pup and the treat. The idea is for your dog to see the treat and to have to walk through the tire to get it.
Keep working it
Keep repeating this step until your dog understands he must pass through the tire in order to get the treat.
The cue
Next start adding your cue word such as "jump through" or simply "tire", just remain consistent. Make sure to praise him when he does what is expected of him.
Adding height
The only thing left is to start lifting the tire off the ground in six-inch increments and working with your pup, to get him to jump through the tire each time you give him the cue. It may take a while for him to master this trick, but the fun you will have with your pup is more than worth the effort.
Set the tire
Set up the tire by placing it upright on the ground, then call your dog over and make him sit about 2 feet away from the tire.
Come to the treat side
Using a treat or your pup's favorite toy, try to lure him through the tire. If he comes through, be sure to praise him and give him a treat.
Repeat the step
Keep working this step until your pup will come through the tire without fussing, every time--without the need for any kind of lure.
Working your way up
The next step is to start slowly raising the tire off the ground while working with your pup, to keep him happily jumping through it. You may need to use a lure the first few times after increasing the height until he will jump through.
Room to build up speed
There is going to come a point at which your pup will need to get a run-up in order to clear the tire. Be sure to work with your pup and give him plenty of room to build up his jump speed and try him coming in from different angles. Before long, you and your pup will be performing for audiences every chance you get.
Better known as using a hula hoop
Run out to your nearest toy store and pick up a cheap hula hoop like those that were so popular back in the 50s and 60s. Bring into the house and place it where your pup can see it, sniff it, taste it, and get used to it. Once he seems to be comfortable with it, you can move on to the next step.
First steps
Place the hula hoop on the ground in an upright position and try to coax your pup to walk through it. Some will go right through, others may balk at first. You can use a treat along with your cue word to convince him to walk through if necessary. Give praise and treats for success.
Once he clears the tire
Once your pup has learned to walk through the tire, try introducing the cue each time he goes to walk through the tire. Be consistent and practice frequently until he will go through every time you hold the hoop up and give him the cue.
Getting higher
Slowly start lifting the hoop off the ground to the point at which your pup must jump to get through the tire. Be sure to praise him and give him treats for his successes.
Say 'hello' to the tire
Swap out the hoop for the right size tire and give your pup plenty of time to get used to it before working with him to perform the trick. Go back to the early training steps by placing the tire on the ground first and working with your pup again until he will jump through the tire on command.
Set the maximum height
Slowly raise the tire off the ground, giving your pup plenty of time to master each new height until you find his maximum height, then go out and show off his new skills to your family and friends. Always be ready with lots of praise and a few of his favorite treats.
By PB Getz
Published: 01/15/2018, edited: 01/08/2021
---