How to Train Your Dog to Drop Dead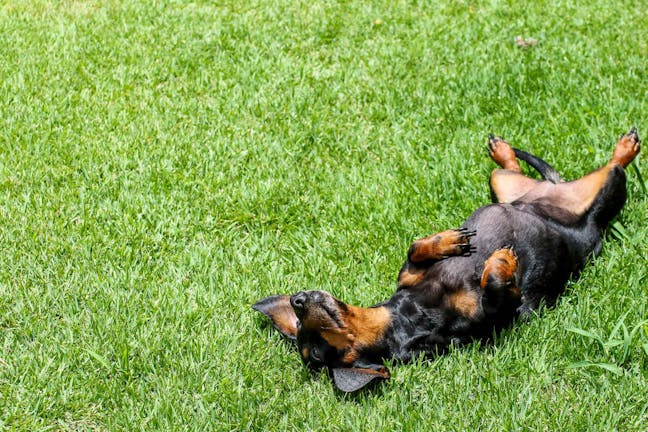 Introduction
There is something both cute and funny watching a dog drop "dead" on command. Not only is this a fantastic game for your dog to play, it can be a lot of fun to show off to your friends and family, especially if you use a cool command such as "bang bang!" or "Gotcha!" while making a "gun" out of your fingers. At the same time, it can also be useful as it teaches your dog to settle down lying on his side when he is getting restless.
Whether you simply want your dog to learn a new trick or want him to be the life of the party, it doesn't take long to train your dog to 'drop dead'. It simply takes a bit of dedication, time, and, of course, plenty of treats. Like most forms of advanced skill training, your dog needs to have mastered the basic skills and be able to perform them successfully each time you ask him.
Top
Defining Tasks
The concept of 'dropping dead' is very simple; your goal is to be able to give your dog the chosen command at which point your furry friend will either lay down on his side or back and pretend to be dead. It would be helpful if your dog already knows the 'down' command, as you are going to be asking him to behave in a similar way using a different command but with further expectations.
You can teach this trick to most dogs, no matter how old or young, as long as they have mastered the basic commands. The big thing to remember is that you must always use the same command and have the same expectations each time he performs the trick. It will take a while before he fully comprehends what is expected of him and learns to do so each time you ask him to play dead.
Top
Getting Started
No matter what type of training exercises you have planned for your dog, there are a few things you need to have on hand before getting started. These include:
Yummy treats: Your dog will always learn new tricks faster when he knows there is a tasty treat waiting when he does what is expected of him.

A quiet place: Any type of training will always go faster and better when you have a nice quiet place to work in. The fewer distractions such as kids playing, television, or loud music, the more focused your dog will be.

Time: Training your dog takes time, it is not going to happen overnight.

Patience: Above everything else, you must be patient. Getting frustrated will only result in your dog getting frustrated and struggling to learn.

Top
Down
Start out by giving your dog the "down" command.
Roll
Hold one of his favorite treats by his nose and use it to encourage your pup to roll over on his side. When he does, give him the treat and plenty of praise.
Repeat
Rinse and repeat the process until he has it down pat.
Add command
Now introduce your chosen command and/or hand signal while performing the same process. Treat him when he gets it right.
Practice
Practice this several times each day for a few minutes at a time until he masters it. Slowly reduce the number of treats and replace them with verbal praise until you and your furry friend are entertaining your guests at every opportunity.
Down
Start out with your dog in the down position by using the 'down' command and pointing to the ground.
Roll
Sit in front of your dog and encourage him to roll over on his back. When he does, scratch his belly and tell him what a "good boy" he is.
Use command and hand signal
At the same time, use your chosen command and a hand signal to encourage your pup to do as asked. When he does as asked, be sure to give him lots of praise and treats.
Praise
While he is on his back, rub his belly and encourage him to remain focused on the task at hand.
Release
Release your pup from his position using an "up" command such as "release" or simply "up."
Reward
Once he is in the standing position, be sure to give him lots of praise and treats to let him know he is doing this trick right.
Down
Give your dog the 'down' command and rub his belly once he complies.
Repeat
Do this for several days until he is comfortable with this command.
Stay
Give your pup the 'stay' command and reward him for complying.
Add command
Extend the time your dog stays in this position, use your 'play dead' command and step back from him.
Practice
Repeat this training multiple times over the course several 15-minute training sessions each day until your pup will lay down and play dead each time you give the command. Be sure you have plenty of treats on hand and always be ready with lots of praise.
By Amy Caldwell
Published: 11/27/2017, edited: 01/08/2021
---