How to Train Your Dog to Drop It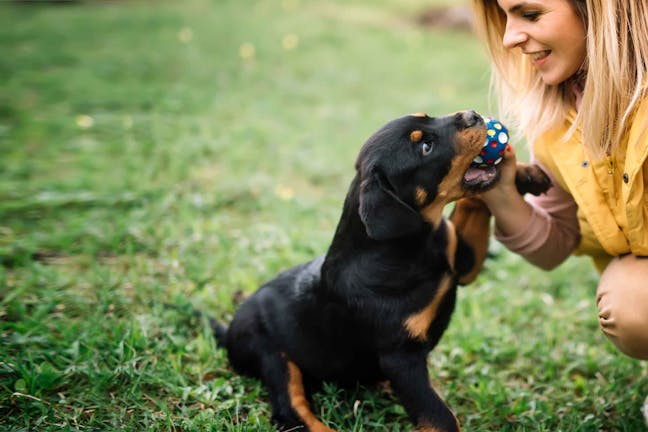 Introduction
There are several very good ways you can go about teaching your dog the 'drop' command, each of which can be used quite successfully. The intent of this command is to teach your dog to instantly drop whatever it is he has in his mouth, whether it's a bone, a toy, or something he should not be trying to chew on or eat, such as a shoe. Teaching him this is also a good way to put an end to any ideas of possessiveness he might have.
If there is one thing you can count on, it's that your dog, like most dogs, is going to be amazing at finding things around the house or outside that he probably shouldn't have in his mouth. It could be one of your shoes, a dirty sock, people food, or something that could cause him harm. This is nothing more than natural behavior, especially in young puppies. However, if you can't teach him to 'drop it' on command, your pup might swallow the item, causing serious harm to himself. 
Top
Defining Tasks
The command itself can be simply "Drop", "Drop it", "Leave it", or any other word combination you prefer to use. But no matter what command you decide to use, be sure everyone else uses the same phrase to ensure your dog doesn't become confused and unable to comply.
As with most new commands, you must be patient if you want your pup to master this one successfully. Be prepared to praise your dog each time he gets it right and have plenty of treats on hand to reward him. You can teach this trick to most dogs, regardless of their age, but the sooner you train this the better. Teaching your dog how to drop items on command could potentially save his life. 
Top
Getting Started
Getting started is relatively easy and you really don't need much in the way of supplies. Most trainers recommend using a combination of commands, toys, and treats to get your dog to understand what you expect of him.
As with most forms of training, this is best practiced in a quiet setting with minimal distractions, including other pets, people, traffic, or anything else that might cause his attention to wander.
You will need plenty of patience and a good attitude during the entire training process. If your dog thinks you are enjoying teaching him, he is far more likely to comply. Always use a firm commanding voice without yelling to get his attention. Praise him when he gets it right and never punish him for getting it wrong. In most cases, it is better to practice this new "trick" for a few minutes each day rather than trying to do in long training sessions. Your dog loves to learn new tricks and to make you happy. With a little time, effort, and patience, he can be taught to do just about anything you can imagine. 
Top
Give him a toy
Give him one of his toys and let him play with it for a while.
Give the command
Give him the 'drop' command you plan to use and stick to the same command at all times.
Give him time
Give him time to obey but do not attempt to take the toy from him, as this may make him think you are playing and he might run off expecting you to chase him.
Rewards
If he complies, give him a treat and plenty of praise.
Keep working
If not, you may have to find something else for him to hold onto that he will be more willing to part with for a treat. Remember, training your dog to drop things on command is likely to take several sessions. But at the same time, it is important for you to succeed in teaching this vital command as it could save both of you from an emergency trip to the vet.
Drop treats
Drop treats on the floor and teach your dog to eat them as you drop them (this should be easy!). You can start using the command "Drop" during this stage as it will get your dog used to hearing it.
A toy to play with
Now give your dog one of his toys to play with and to hold in his mouth.
On the floor
Drop treats on the floor, give the command and see if your dog drops the toy in order to get the treats.
Eat 'em up
Let him eat all of the treats and then give him back his toy. The idea is to get him familiar with this routine before moving on to the next phase of his training.
New items to practice with
Once he seems to have mastered the 'drop' command with one toy, try using different toys or items so that he realizes it is a general command rather than just associating it with one particular toy.
Out into the world
After he has mastered this skill indoors where it is quiet, you can move to the outside world where there are more distractions. It won't take long before you can start doing away with the treats, but you should always be ready with plenty of verbal praise.
Give your pup a toy
Start by giving your pup a toy to play with and wait until he is holding it in his mouth.
A single treat
Take a single treat and hold it in front of him where he can see and smell it.
Give your pup a treat
If he drops the toy, give him the treat. If not, do not punish him simply repeat the command and offer him the treat in exchange for the toy. It won't take long before your dog understands that if he drops the toy, he will get the treat.
New locations
Try training him in different areas of the yard or house and at different times of the day to achieve the most success.
By PB Getz
Published: 02/21/2018, edited: 01/08/2021
---