How to Train Your Barn Dog to Drop It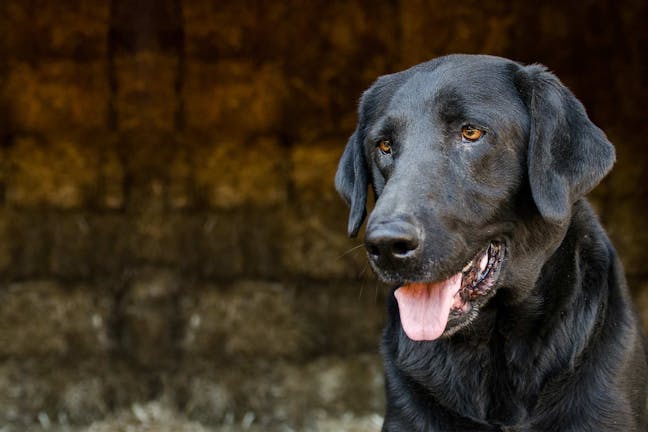 Introduction
Teaching your dog to "drop it," or release an object in her mouth is a vitally important training tool. This command can help protect your dog when she picks up something dangerous with her mouth. It's also a useful skill when playing catch and retrieve or tug-of-war with your pup. For a barn dog, however, this ability is necessary to keep the dog and the other animals on the farm as safe as possible.
The barn environment is one that is rife with heavy equipment, constant activity, and many other animals. A barn dog needs to be disciplined and attentive when her owner gives her a command, especially around larger animals like horses and cows. Barns are also full of fun items that a bored dog can easily find and put in her mouth. Some of those objects can be dangerous, so here are some training methods that can help your dog be safe in and around the barn.
Top
Defining Tasks
Start training your dog to 'drop it' in an enclosed environment, preferably in your home. Let your dog master that part of the training process before moving into or around the barn to train in real time. Barns are full of items that are highly intriguing to dogs, everything from hoof trimmings and manure to chickens and rodents. You want to be able to have your dog in the barn without having to worry about her picking up what she shouldn't have.
Teaching the 'drop it' command at the barn will take some time and practice, particularly with dogs who have a high prey or herding drive or who are easily distracted and unfocused. Remain calm, patient, and consistent with each training step. Never raise your voice or yell at your dog in frustration or anger. Take a break for a short while if you and your dog get annoyed. Keep a positive attitude, and soon your barn dog can be a productive member of your farm.
Top
Getting Started
Have your dog's favorite toy or some treats on hand to help facilitate the training sessions. Consider beginning the training in the living room or family room of your house before moving your dog to practice in the barn. This situation will allow your dog to focus more on you and less on the numerous distractions that can be found in the barn.
Once your dog has mastered the 'drop it' command indoors, gradually move out to the barn. Remember to be patient and calm as the added sights and sounds in the barn are bound to distract your dog at first. Go back to the training, be consistent, and keep trying. Your barn dog will learn to listen and will be all the safer for it.
Top
The Release with Toy Method
Offer your dog a toy
Choose your dog's favorite toy, then offer it to her, saying "take it."
Hold up a treat
While the toy is in the dog's mouth, hold a treat up to her nose.
Release and treat
Once your dog lets go of the toy, immediately give her the treat and praise her.
Repeat
Practice these steps repeatedly until your dog is completely focused on you and your command.
Add the 'drop it' cue
Now add the verbal cue "drop it" when you hold the treat in front of your dog's nose. After success at this distance, try this training process while gradually holding the treat farther away. Continue to increase the distance and eventually dispense with the treat. Praise your dog every time she drops the toy.
The Release with Food Method
Select a hard edible chew and some treats
Be sure to pick a chew that is appropriate for your dog's size. Choose some small treats as well.
Offer the chew to your dog
Hold one end of the chew and offer the other side to your dog. Do not let go of the chew.
Give the 'drop it' command
Let your dog put her mouth on the chew, then tell her "drop it."
Show her the treats
As soon as you give the command "drop it," pretend to show your dog treats from your other hand. Once the dog lets go of the chew, praise her and give her the treats.
Graduate to other objects
Once your dog has this training technique down, move from chews to objects associated with the barn, like straw, hay, or barn tools.
The Nose to the Floor Method
Get some treats
Select some small dog treats that can easily fit in your hand.
Get your dog's attention
Direct your dog's focus toward you and the treat. Showing her the treat or calling her closer to you should do the trick.
Select a tempting object
Have your dog pick up a chew, a favorite toy, or an item from the barn.
Nose to the floor
Take the treat, place it up near your nose, then make a hand motion toward the floor while giving the command "drop it." Once your dog drops the item in her mouth, treat and praise her.
Repeat as needed
Continue to practice the nose to the floor training steps until your dog drops what is in her mouth in anticipation of receiving the treat or a pat on the head.
By Erin Cain
Published: 12/08/2017, edited: 01/08/2021
---