How to Train Your Small Dog to Eat Slower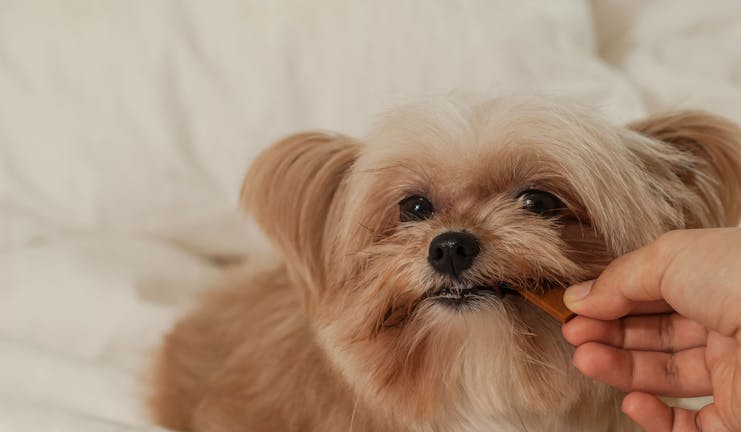 Introduction
When it comes to eating habits, dogs can be just as varied as humans in that some can be much slower or much faster than others. No dog is an exception to the possibility of forming poor eating habits, large or small, no matter the breed. While the act of scarfing food down as if he's never been fed before in his life may fit our perception of a larger dog's eating habits, the same behavior can just as easily be attributed to the Chihuahua that lives next door.

While it may be funny to see a dog eagerly finish a meal and sometimes even ask for more, eating too quickly can become a health hazard. Choking is always a possibility, especially for a smaller dog who may be trying to eat kibbles that are just a little too big for him. There are more serious issues as well, including things like bloat, which can be life-threatening and results from a dog taking in too much air along with his food. These risks can mean that you'll need to take steps to prevent your dog from feeding in a frenzy.
Top
Defining Tasks
While there is no real way to help your smaller dog recognize the risks that come with fast eating, there are plenty of solutions to help him adjust to a much slower pace. Introducing these tactics can put your dog in a much better situation when it comes to his health, and can make feeding time a little less taxing on you. Smaller dogs can also benefit from slower eating habits because they cause them to slow down entirely just to get a meal in, which can be helpful for a hyperactive dog that needs a minute to breathe every now and again.
When it comes to slower eating, consistency is key to getting your dog adjusted to the new pace and speed. These methods can also be used with puppies before they even have a chance to develop poor eating habits and will begin showing results for any age of dog within just a day or two.
Top
Getting Started
The tools necessary to help your small dog to eat slower is heavily dependent on which method you'd like to try. However, you'll need to either create or purchase these tools beforehand, that way you can quickly shift into the new setup to form the new habit.
In addition, ensure that your dog is getting the right food for his age and size, and take into account any other health conditions he may have that could affect which type of food he eats. Small dogs benefit from smaller kibble sizes to prevent choking. Always read the ingredients in your dog's food to make sure they're getting the nutrition they need.
Top
Find the right size of bowl
A smaller dog does not typically need a bowl that is larger than they are. Consider purchasing a smaller bowl to prevent your dog from sticking his whole face into it.
Create your own slow feeder
This can be done by placing a smaller bowl upside down into your dog's bowl and pouring the food over it. This will create a thinner ring of food rather than one large portion.
Purchase a slow feeder
There are multiple kinds of slow feeding bowls at pet stores and available online. Look into purchasing one that may help your dog eat slower.
Adjust your dog to the new bowl
Sometimes, your small dog may be hesitant to try something new. Entice him to use his new bowl by sticking a special treat in it that he doesn't get to have often.
Regulate mealtimes
Keep your dog on a regular schedule so that he becomes familiar with meal time and when it happens and when it is over. This will help him recognize that food is coming regularly every day and that he does not need to eat so quickly.
Learn your dog's favorite toy
Determine if your dog is more fond of balls, ropes, puzzle toys, rolling things, or any combination. This can help you figure out what toy will be the best to help keep her attention and regulate meal time.
Create your own feed toy
Feeding toys can be created by cutting holes into small plastic bottles and placing your dog's food inside. As your dog rolls the bottle around, the food will be released. This can provide great mental stimulation in addition to slowing down feeding time.
Purchase a feed toy
Puzzle toys are generally very popular for feeding time, as your dog will have to work in order to get her food. While smaller dogs are a little bit more shy around these items, they can easily adjust by making the food enticing. Toys like Kong toys also work very well for feeding time. Be sure to purchase a toy that can be operated by your small dog without trouble.
Hide your dog's food
Find different areas around your home or the yard to hide your dog's food in different little containers. She will have to search for the food and eat in much smaller portions as she does. This also helps with mental exercise.
Play a game
Hide little bits of food underneath a cup and mix it up with two other cups. Your dog will then have to guess which cup the food is underneath and will be rewarded when he chooses correctly. This can add some much needed small breaks between mouthfuls during meal time.
Work on obedience
Use your dog's meal as a reward for learning different obedience tricks and commands. This gets him fed while also teaching him new things and strengthening his mind.
Teach restraint
Allow your dog to eat from your hand until he starts getting too fast or pushy with it. Then you can take the food away until he is calm once again. Offer it again when he has calmed down. This helps your dog understand that he will only get food if he is calm about eating.
Learn agility
Many dogs who perform in agility are hand fed, using the dog's meal as a reward. Consider getting your dog involved in agility, which can help regulate feeding time and also provide exercise at the same time. Keep training short and simple and try not to ask for too much vigorous exercise all at once. Be sure your dog has been approved by a vet to start agility training.
Use hand feeding as bonding time
Even simply sitting and watching TV while slowly feeding your dog from your hand can be a great method to get him to slow down. This can help strengthen your relationship and make mealtime nice and relaxing.
Feed smaller meals more often
Hand feeding is a good way to offer smaller portions throughout the day rather than one or two large portions all at once. This will help regulate your dog's food intake in a much healthier way.
By TJ Trevino
Published: 01/11/2018, edited: 01/08/2021
---