How to Train Your Small Dog to Exercise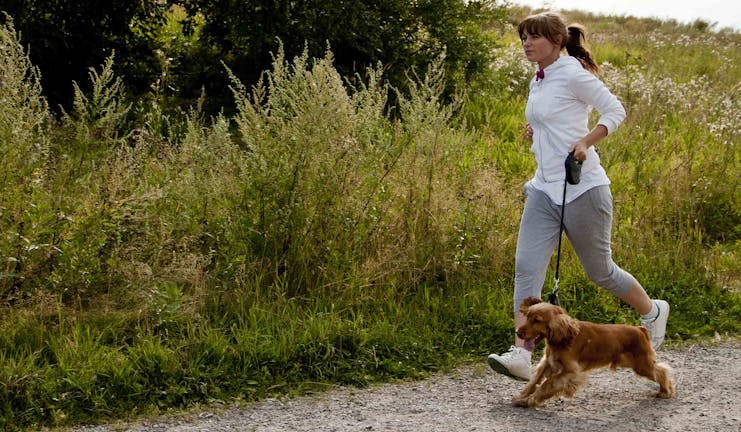 Introduction
There are several ways to get your small dog to exercise. Luckily, little dogs can get all of their exercise in small spaces, including right in the living room! We have included three different games to teach your dog to make exercise a part of their daily routine while also stimulating their minds and improving focus. 
All the games we show you how to train in this guide can be taught indoors. Once mastered, you can also play them outside for even more exercise! 
If your small dog seems anxious or just acts like a jerk when they are not getting enough exercise, these games give them a fun way to burn off some energy while you watch TV on the couch. Enjoy!
Top
Defining Tasks
Keep it Fun!
Remember that these are games and your dog should enjoy playing them. This will ensure that they learn quickly and also look forward to time spent playing with you.
No Corrections.
If you correct your dog while trying to teach them these fun activities, you are spoiling the fun. Instead, ignore behavior that is not on the mark, and liberally reward the good stuff with praise and/or treats.
End Games Before Your Dog is Ready.
Professional trainers know that ending a game before your dog is bored is critical to keeping them really motivated to play. Keep them wanting more and you will find their enthusiasm to play goes through the roof!
Top
Getting Started
Our methods take advantage of rewards to let your dog know they are on the right track. Not all dogs are motivated by the same rewards. For example, many dogs are food motivated, but some would rather work for excited praise and pets. In fact, these games are all so fun that they are eventually "self-rewarding."
For example, once your dog knows fetch, they may be simply motivated by you throwing that ball or toy again – and no additional rewards will be necessary to keep them motivated to play this game until they are totally tuckered.
Choose motivators that work for your dog, and use them when the instructions say to reward your dog. If you find progress slow, food is a great motivator for most dogs. Use tiny pieces of treats that they really love. Once they know the behavior you are looking for, you can start to decrease the frequency you reward with food, or substitute other motivators like praise.
Clicker:
Not all people choose to use a clicker when training. If you prefer not to, just use a word of your choice that you will use only in training contexts to "mark" the instant your dog does it right, always followed immediately by a reward. 
Top
Choose a motivator
Every dog should learn fetch. It is such an easy trick to train and it will afford your dog a lifetime go-to exercise that can wear them out in a hurry. We will describe how to use a reward system to teach this trick, however, note that some dogs are highly motivated by food and others will work for praise. Decide on what motivates your dog best and use that for rewards.
Choose a toy
Some dogs take well to tennis balls. They even make tiny balls that work great in little dog mouths. Others will prefer small stuffed toys. Find a toy that your dog seems to like to mouth and play with and use that to teach this trick. You will find that once your canine "gets" this game, you can toss just about anything and they will go for it.
Charge the toy
Start your session by sitting on the floor near your pup and being exciting about the toy you plan to play fetch with. Wave it around, play a little game of tug, and just be fun and playful. This will relax your dog and give them the confidence they need to go for it!
Toss the toy nearby
Start by tossing the toy within a foot or two of your dog's location. See what happens. Whatever your dog does that is "on the way" to a fetch, click/reward. Notice that this could be going over to sniff the toy, or actually picking it up. Wherever your dog starts, take it and click/reward. Repeat 10-15 times.
Raise the bar
Now you are ready to start raising the bar. In your mind, decide what criteria you are using to click/reward. This will vary depending on where your dog started off. Start to raise the criteria, after repeating click/rewards at least 10 times for each step. For example, first the criteria may be touching the ball, then picking it up, then picking it up and taking a step towards you. Continue raising the bar such that your dog has lots of success, and you are getting closer and closer to a full fetch.
Extend the distance
Once your dog is fully fetching with the toy close to you, start to toss a little farther each time, progressing at a pace that keeps your dog interested. Be sure to keep the tone exciting! This should be a fun game, not a boring drill.
Tug is a great game
There is a rumor out there that tug might make your dog aggressive or dominant. This fallacy is based on outdated perspectives on dog learning and behavior, and is simply not true. In fact, tug is a great game to give small dogs another avenue for exercise that you can use inside or outdoors.
Rules of tug
Throughout the process of teaching tug, be sure to enforce the following rules of the game. 1. No teeth touching skin. 2. "Drop it!" on command, every time. If either of these rules are broken, don't scold your dog, just end the game, ignore your dog, and put the tug toy out of reach. You can say "too bad" in a disappointed, but not angry, tone to give your dog a cue that they just ruined the game.
Charge the tug
In an excited tone of voice that does not startle your little guy, invite them to play a game with the toy saying "Tug it!" and waving the toy to get them interested.
Reward the tug
Some dogs will just automatically start tugging and have so much fun that you don't even really need to reward. If, however, your dog seems skittish, start click/rewarding for every effort towards a tug, raising the bar at a pace that works for your dog over time. This may start with just sniffing the toy, then nosing the toy, then mouthing the toy, then tugging the toy. Use praise AND click/rewards to let your dog know it is okay to get excited about this game!
Let them win!
Again, training methods developed over a century ago insist that letting your dog win at tug will ruin them. Hogwash! No one wants to play a game that they always lose! Let your dog win at the tug game often so they develop confidence. Even a little growling and vigorous shaking is fine – your dog is perfectly capable of understanding that it is okay to get vicious with a tug, but not people or other dogs.
Teach "drop it!"
Once you have your dog reliably enjoying the tug, it is time to teach them to 'drop it' on command. Say "Drop it!" and then hold the tug but stop moving it in any way. Most dogs will just naturally drop the tug when you go totally limp. If so, click/reward then resume the game with the "Tug it!" command. If they do not automatically drop it, then lure them off the tug toy with a treat, eventually shifting to expecting them to drop it before rewarding.
Continue to practice and enforce the rules
After your dog knows the two commands "Tug it!" and "Drop it!" you can increase the intensity of the game to your own comfort levels. Remember to always immediately end the game if a single tooth grazes your skin, or they refuse to 'drop it' on command.
Caution
Never lift your dog off of the ground during tug games. This can cause serious injury to the mouth, neck or spine!
What is targeting?
Targeting is when you train your dog to put their nose or paw on a marker of your choice. It can be used quite well as a building block for other complex tricks such as teaching your small dog to close a door, open a curtain, or for various obstacle training. It is also a great trick to give your small dog exercise, inside or out.
Choose a target
Chose something to use as a target that is easy for you to move and position in different locations. Great examples include sticky notes or painter's tape.
Start close
Sit on the floor next to your small dog and put the target in your hand. Offer it up to your dog in a way that invites them to check it out. As soon as they go in to investigate, click/reward. Repeat 10-15 times or until your dog really seems to understand touching that target gets them a treat.
Add the cue
As soon as your dog seems to "get it," start using the cue "Target!" as soon as you sense they will be going in for a touch. Repeat 10-15 times.
Move the target
Now stick the target to something at nose level near your dog and you. Say the command "Target!" and give your dog a few seconds to think it through. If they nose the target, click/reward. If not, put your hand near the target and this should be enough to get a nose. Click/reward.
Add distance
Over time you can add distance to the target game by gradually moving the target around, selecting farther places from your location. Eventually, your little dog will gladly cross the room to get to that target and come racing back for their reward.
Get selective
After your dog is reliably going for that target across the room, or even in another room, start to be selective about the targets that will earn them a reward. Reduce your reward rate to the fastest 50% of the targets so that eventually your dog only gets a reward for an enthusiastic sprint to the target and back.
By Sharon Elber
Published: 01/08/2018, edited: 01/08/2021
---