How to Train Your Dog to Find Ginseng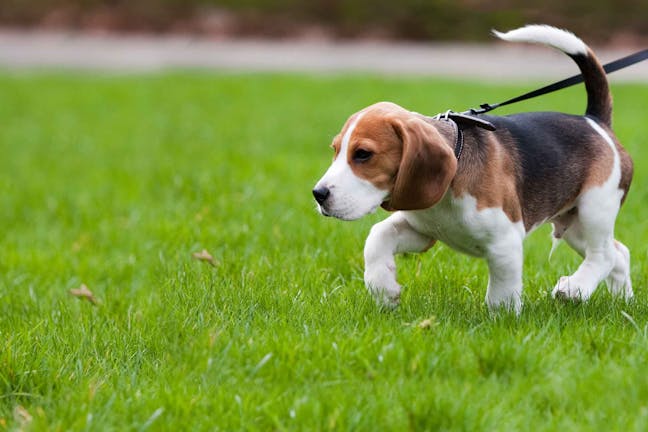 Introduction
Searching for ginseng can be a lucrative business. Ginseng typically grows in the eastern part of the United States to the central Midwest. Ginseng is also only found in the northern hemisphere. Other countries around the world grow ginseng, but it is not naturally found in the wild in other places. This makes ginseng a highly sought-after root. If you could teach your dog to find ginseng with you, it could potentially create a lucrative business selling ginseng to restaurants and compounding pharmacies or health food companies. Ginseng is so incredibly sought after, you could train your dog to search for ginseng with you increasing your profits and your availability to find it faster.
Top
Defining Tasks
Teaching your dog to search for ginseng is much like teaching him an object and asking him to find it. Your dog will need to be well-versed in obedience commands. He will need to be able to be off leash and well-mannered to keep you both safe as you are searching. You will need to be aware of what ginseng looks like and in what areas it typically grows. Be sure to follow and be respectful of all local, state, and national park rules. Also, be sure to do your research and understand which plant is a ginseng plant and which plants may be poisonous to you or your dog, such as water hemlock.
Top
Getting Started
To train your dog to find ginseng you will need ginseng root, so he understands what it smells like and what it is. Be prepared to offer him rewards as he guides you to the ginseng plants in your area. Highly successful ginseng searching dogs are trained from puppyhood, so if you are new to this, you may want to consider starting with a puppy, though, it is certainly not required. With a puppy, you will need to begin teaching basic commands so have some toys and extra treats on hand.
Top
Play
From an early age, teach your dog you are her leader and bond with her early on with outdoor playtime in areas where ginseng can be found.
Basic commands
Teach your puppy basic commands, so she is obedient and understands 'sit', 'stay', 'come', and 'heel'. Always reward when your pup does well with these commands.
Teach fetch
Using toys, teach your dog to fetch. Show her a toy, toss it, ask her to bring it back. Offer a treat for bringing the toy back to you. Repeat this several times until she can bring it back on her own.
Introduce ginseng
Show your dog some ginseng and let her sniff it. Toss it and play with it before building up to fetching the ginseng.
Outdoor search
Take your dog outside where ginseng grows and ask your dog to find it. To do this, you can show her the ginseng root she has been playing with and pretend to toss it so she sniffs the ground for her ginseng root, hopefully finding the scent of other ginseng plants along the way.
Reward
Be sure to reward your dog, especially during training, for her positive behaviors while in the field. When she has found her treasure, say the word "ginseng" and show excitement and enthusiasm while rewarding her with an extra special treat.
Hide
Hide ginseng in one hand and hold both hands behind your back. Ask your dog the question, "Where is it?"
Find
Because your dog will choose the hand that has something with a scent over the hand that has nothing, she should automatically find the ginseng root hidden in your hand.
Reward
Be sure to reward her when she touches your hand.
Name it
After you have given her a treat, show her the ginseng root and name it. This is so she understands what it is called and will, over time, understand why it is important.
Challenge
As your dog gets used to the smell of ginseng and can find it in your hand, challenge her to find it elsewhere. Using the name you have given it, probably 'ginseng', hide it somewhere where she can easily find it and ask her to find the ginseng.
Practice
Practice this every day for a few weeks, making her search more challenging. Once she can find it in simple places such as on your couch or behind the curtain, take a ginseng root outside and hide it within your yard, challenging her to find it.
Real search
Once your dog is used to the name ginseng and the smell of the ginseng, take her out where ginseng really grows and ask her to find ginseng. You may need to guide her to the plants and help her dig, but she should recognize the scent.
Reward
Always reward your dog for a job well done.
Tennis ball
Cut open a tennis ball and place a fresh ginseng root inside. Let your dog sniff the ball.
Fetch
Using the word 'ginseng' instead of ball, ask your dog to fetch the ginseng. Toss it and let her see where it goes.
Reward
Offer your dog a reward when she brings it back. Show excitement and enthusiasm and continue to use the word 'ginseng' as you let her sniff the ball.
Practice
Continue to practice this using fresh ginseng. Show excitement each time your dog brings the ginseng back to you.
Cut the ball
Open the ball even more so your dog can dig out the ginseng. Continue to play toss and fetch, encouraging your dog to dig the ginseng out of the ball once she finds it.
Search
Take the ball on a ginseng search with your dog and play your fetch game a few times. After a few games of fetch with the ginseng ball, pretend to toss it and ask your dog to fetch the ginseng in hopes that he will lead you to a ginseng plant.
Show and tell
Whether you or your dog find a ginseng plant first, be sure to show your dog what the plant looks like, how it smells, and dig up the root together so she can find the treasure she's been searching for. Be sure to show excitement and offer your dog a reward.
Repeat
Repeat these steps until your dog no longer needs the lure of a tennis ball and can search for ginseng on command.
By Amy Caldwell
Published: 11/18/2017, edited: 01/08/2021
---