How to Train Your Dog to Give Kisses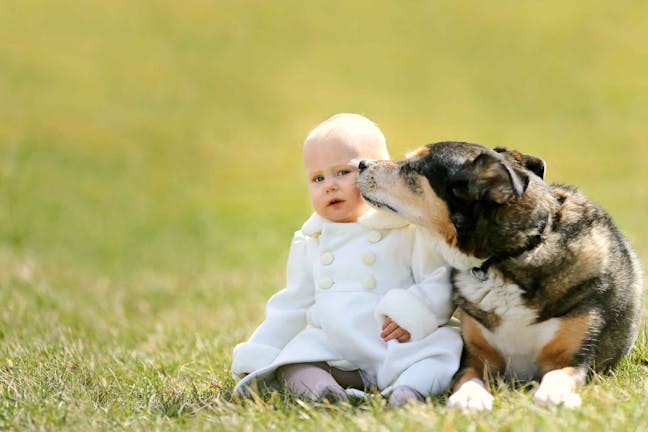 Introduction
Everyone's over and while they love your cute dog, they want to see more than the standard 'sit' and 'down'. You need a new party trick to keep them entertained and since he's so cute and cuddly, training him to give kisses would be a neat new trick. Not to mention, when you come home from work it would be nice if you could give him a cuddle and a kiss.
Admittedly, you don't want him getting too forward with his kisses, as his mouth makes contact with some rather unpleasant things. Too much doggie saliva will either boost your immune system, or give you an unpleasant illness. The gamble is on you! The odd doggie kiss will be just a fun trick though, and it will also make training him to do other things easier too.
Top
Defining Tasks
This trick is well worth teaching because it's nice and straightforward. The main hurdle is conveying to him what you want him to do, but once he understands you'll never struggle to get a kiss on Valentine's day again. If he's a puppy, his brain will be receptive and he should learn the new trick in a matter of days. If he's older and not quite the intellectual he once was, then be prepared to spend a week or two on training. 
Aside from being an awesome party trick and a cute way to show your affection for each other, this training comes with another bonus. The more training and obedience commands you do with him, the quicker he will learn other tricks, from 'roll over' to 'bed'. If you really want to get a giggle, put some doggie lipstick on him and instruct him to kiss your mother-in-law.
Top
Getting Started
Before you begin training, you'll need a few basic things. His favorite food or treats will be the most important component. Peanut butter or cream cheese will also play a big role. You will use them all to motivate and reward him. You'll also need a quiet 5-10 minutes a day to practice for the next week or so.
You'll also need a pad of small colored sticky notes (more on that later). Patience and an upbeat attitude will also make training a more enjoyable experience. 
Once you've got those bits together you're ready to get going!
Top
Up close and personal
Place a small amount of peanut butter or cream cheese on your cheek. Don't worry, he will soon leave your cheek cleaner than ever before! Once you've applied it to your cheek, get down on your knees so you're at his level.
Give him a 'kiss' command
You don't have to use that particular word you can use anything you fancy, just keep it relatively short.
Let his tongue take care of the rest
Simply lean in and let him take care of the rest. If his nose is working he'll quickly make his way to your face and lick off the whole lot.
Praise and reward
As soon as he's licked off the peanut butter or cream cheese, give him another treat as a reward and lots of praise. It's important he thinks the whole thing is one big game. So keep it happy and playful, that way he'll learn quickly. Practice this several times a day for the first couple of days.
Decrease the reward
Once he has the hang of it, you can cut down on the frequency of treats and gradually put less peanut better on your cheek, until none is needed. He will soon associate the word with the action, the action will become habit and the food incentive will no longer be needed.
The Natural Reinforcement Method
'Kisses'
Whenever he licks you naturally, tell him 'kisses' or whichever verbal command you would like. By reinforcing the behavior he does naturally with a verbal cue, you'll be able to trigger a kiss on your terms in the future. Keep this up every time he kisses you or anyone else in the family.
Plenty of praise
Once he's given you a good lick, give him a treat and lots of praise. The better the reward the more eager he will be to repeat the behavior for more treats.
Reinforce with a clicker
If you have a clicker, use it each time he licks you. This will further reinforce the behavior and help him associate the action with the verbal cue.
The verbal cue
After a few days, try giving the verbal command when he isn't already licking you. If you've been practicing, he will understand what you want, and realize there's a treat waiting for him if he puckers up. Be sure to quickly reward him and praise him after he completes the trick successfully.
Reduce the rewards
Once he's got the hang of it, you can slowly reduce the frequency of treats. As the behavior becomes habit, you'll no longer need to rely on a tasty reward to get him to kiss you. The cue alone should be enough.
The sticky note target
Place a sticky note on the end of your forefinger and hold it in front of him. Make sure you've got a pocket full of treats too. Keep the sticky note in front of him and encourage him to touch it with his face.
Give the 'Kisses' command
As you are encouraging, give a 'kisses' command. This will be the verbal cue that will trigger kisses in the future, so say it in a playful but firm voice.
Heavy on the praise
As soon as he touches it with his mouth, give him a treat and lots of praise. The sticky note is going to act as a target. Really hammer home the praise so he knows he has performed the right action. Practice this for the first day or two.
Move the target
Experiment with putting the sticky note in a variety of places around the house. Again use the verbal command and ensure he knows that when he sees the note and hears the command he heads straight over to touch it with his mouth. Each time he does, reward him accordingly.
Up close and personal
Now place the sticky note on your cheek and give the command. You'll need to get down on his level and be accessible. As soon as he kisses you, reinforce the behavior with a treat. As he gets the hang of it, you can lose the sticky note and just use the verbal cue. Once he kisses you without the sticky note you can slowly reduce the frequency of treats until tasting your cheek is enough of a reward.
By James Barra
Published: 10/15/2017, edited: 01/08/2021
---