How to Train Your Dog to Go Out in the Rain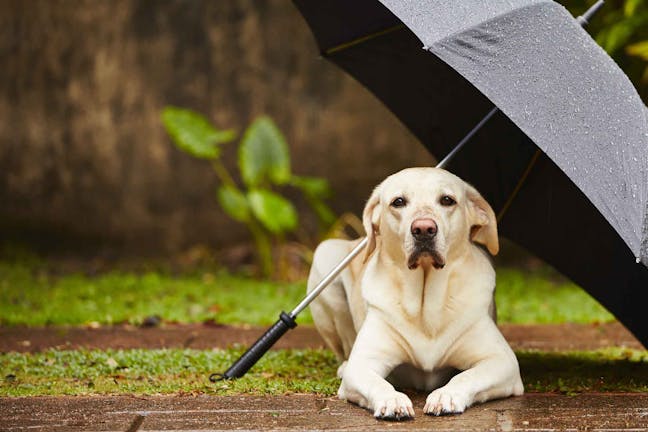 Introduction
You love your dog. He's big, cuddly and full of energy. But with that all that energy comes an inescapable need to be walked regularly. You just can't keep such a larger than life dog cooped up in the house all day. He needs serious exercise. So when you realized he had an aversion to rain you couldn't quite believe it. He simply doesn't want to take a step out the door when the rain is pouring down. While you'd also like to stay in the warm and dry, he'll be charging around the house like a lunatic if he doesn't blow off some of that steam.
Training him to go out in the rain is essential for his health. If you live in a rainy climate it's even more important you train him to go out in it. If he's a large dog he'll quickly gain weight and become unhappy if he doesn't get enough exercise.
Top
Defining Tasks
The good news is, training your dog to go out in the rain is relatively straightforward. You simply need to find the right motivation. If every time it starts raining he knows he's going to get delicious food or his favorite toys, then he may quickly start looking forward to a downpour. Again, if you can reward him with attention, fun and games, then getting him out of the door when it's raining won't be such a challenge. If he's a puppy he should be full of energy anyway and you could see results in just a few days. If he's old, lazy and prefers lying under the warm radiator then you may need a couple of weeks to get him leaping about in the rain.
Training him to go out in the rain isn't just good for him, it's good for you as well. It's quality bonding time, and a good stretch of the legs will be beneficial for both your body and mind.
Top
Getting Started
Before you start training, you'll need to collect a few bits. The most important component will be a leash. There'll be no getting him wet to start with without one. If he's big and strong then you may also want to use a body harness. This will reduce strain on his neck while also giving you more control.
Some mouth-watering treats or his favorite food will be needed. As will some irresistible toys, like a tennis ball. Apart from that, just make sure you have some time to commit to training whenever it's raining.
Once you've got all of that, you're all set!
Top
The Toy Motivation Method
Indoor excitement
Take a toy or two and spend 10 minutes each day playing around with them. When you play, talk in animated voice and really get him excited. Games like tug of war will make it an even more stimulating experience. You'll use these toys to entice him out of the house later when it's raining.
Leave them in his bed
After play time, leave the toys in his bed overnight. If they're in his environment they'll feel like his and also smell like him. This will make him all the more keen to get his mouth around them when they're outside, even if it's wet.
When it rains
As soon as it starts raining, take him to the door and start playing with those favorite toys. Get him really worked up until he's paying zero attention to the rain. Now open the door and continue playing, while still inside. You're gradually exposing him to the elements.
Step outside
Using the toy as a lure, take a step outside so you're in the rain. Keep talking in an animated voice and encourage him to come out and join you. The more high pitched and playful you are, the more likely he'll be to follow you.
Constant attention
You need to keep up the attention and play the entire time he's in the rain. Play tug of war, play fetch, do everything you can to make it the most fun he's ever had. Also stay upbeat yourself--dogs are known to mirror their owners feelings, so be happy. Do this every time it rains until he's comfortable in it and even looks forward to the extra attention he gets on wet walks.
Start light
Wait for it to rain gently. You don't want his first rainy encounter in a while to be when it's absolutely chucking it down. You need to gradually build up his confidence. Once you've got the right degree of rain, secure him to a leash and head for the door.
Reward
Give him a treat as you put the leash on. Give him another one as you head for the door. Then give him another one as soon he takes a step out the door. You can even hold a treat in front of his nose and lure him out like that.
Treat at waist height
Once he's out the door you can start your walk. Keep a treat or two in your hand at his head height while you walk. Make sure he knows it's there and encourage him to try and get it. Every 20 yards, give him one of those treats. The idea is to keep him distracted and make him realize that the rain brings food.
Keep it short
The first few times, only head out for a 10-15 minute walk. You can build up the length later, but for now you want him to associate the rain with a short and tasty walk. You don't want him getting cold and bored too quickly.
Increase the distance
After several short walks, you can gradually increase the time you're out in the elements. You can also start to brave heavier rain. Just always keep it upbeat and full of tasty treats until he's comfortable and relaxed in it. When he no longer seems perplexed by going out in the rain you can slowly cut out the treats.
The Routine & Environment Method
Start early
You should start taking him out in the rain from a very young age. If he's always done it, he won't even think of it as a choice and he'll just get on with it. You can't remember eating carrots when you were a baby, but that's probably why you're eating them today.
Toilet time
Another way to get him used to the rain is to use it to your advantage. If you know he's likely to need the toilet soon and there are dark grey clouds above, wait a little bit and then he'll have no choice to go out if he wants the toilet. Don't make him wait too long though. If the rain doesn't happen relatively quickly, head out anyway.
Doggie raincoat
He may simply dislike getting wet and cold, most of us do. Fortunately, you can get canine raincoats online and from pet stores. This may give him the warmth and protection he needs to venture out.
Start with an umbrella
It may sound crazy, but you can build up his confidence by holding an umbrella above him as you walk. This extra protection may make the weather bearable and him willing to head out in it. Think of it as a happy compromise.
Positive reinforcement
Always encourage and reward him when he does go out in the rain. The more treats and attention he gets from you, the happier he'll be and the less he'll care about the wet. So talk to him in a high pitched and animated voice as you stroll.
By James Barra
Published: 11/16/2017, edited: 01/08/2021
---