How to Train Your Dog to Goose Hunt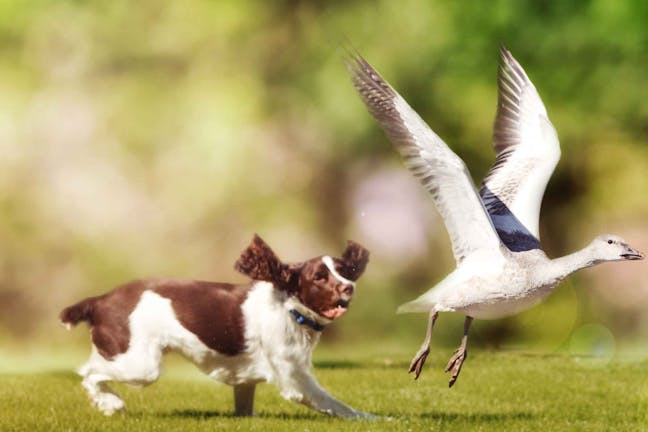 Introduction
Lucy is a black Labrador Retriever. Her owner used her to retrieve ducks last year, but this year they are hunting geese. Should not be a problem right? Shoot the goose, goose lands in the water, tell Lucy to 'fetch', she goes and brings back the dead goose, just like duck hunting right? Except, when Lucy goes to fetch the goose, she realizes a couple of things that throw off her game. One: the goose is much bigger and heavier than a duck. Two: it smells completely different. Lucy finds this confusing and gets anxious, dropping the goose, and swimming back to her frustrated owner solo.  
Some specific training to teach Lucy to aid with the goose hunt is going to be necessary, so she is used to the different smell and weight of a goose. While Lucy may have mastered some of the skills required to hunt waterfowl, like waiting quietly for the command to retrieve, swimming, and returning to her master, ensuring that your dog is used to the specific quarry being targeted is also necessary to ensure success so your dog does not become confused.
Top
Defining Tasks
If your dog does not have previous experience with hunting waterfowl, he will need to learn several skills in order to aid you in goose hunting. A dog must be motivated to retrieve, so getting your dog interested in geese by giving him exposure and initiating a game of retrieving geese needs to be established. Once your dog is motivated to retrieve geese, he needs to learn control, to sit quietly and wait, often behind a hunting blind, for the command to fetch before jumping out to retrieve the goose carcass, either from an open field or by swimming out into a lake or pond to get the goose and bring it back, unmangled, to his handler. It is very important that dogs learn control, as a dog can be easily shot if they launch out onto the hunting range before shooting has ceased. Dogs that have been previously used to hunt ducks may need to get used to the increased weight of a goose, and the different smell, before being used to hunt geese. Many hunters start their hunting dogs young, exposing them to the sights and sounds of hunting and getting them excited about geese at around 6 months to 1 year of age. However, experience is usually recommended before taking a dog out hunting in a group, where control is important to avoid accidents, and a young and overly excited dog may be distracted by sights and sounds.
Top
Getting Started
Because geese are a different size and have a different smell than other waterfowl, getting your dog used to these differences by using geese wings or appropriately scented goose decoys will be required. If your dog is going to be in a boat as part of their hunting experience, training is recommended beforehand, to familiarize your dog with how to enter, exit, and ride in a boat, to ensure safety. Hunting dogs should have a good grasp of off-lead commands prior to starting training for hunting, as you will need a way to control your dogs out in the field. Sometimes, dogs in the field can become disoriented or confused--a good recall is critical to your dog's safety. You will need collars and leads to train your dog to wait for the 'fetch' or 'retrieve' command. Make sure when introducing your dog to hunting geese that the goose is dead before commanding your dog to close in, as geese can be aggressive and injure or frighten a dog.
Top
Restrain dog
Throw out a series of goose sized, scented dummies while you have an assistant hold your dog with a lead and choke collar.
Retrive dummies
Go pick the dummies up yourself, without giving any command. Have your assistant restrain your dog, and give the 'steady' command.
Allow dog to fetch
When your dog is waiting steady, throw out a dummy, and give the 'fetch' command. Have your assistant release the dog to go retrieve the dummy.
Vary
Repeat, varying the number of dummies thrown and whether you give your dog the command to 'fetch' or not.
Try off-lead
When your dog has learned that the 'fetch' command is a reward for sitting patiently, try removing the lead and asking your dog to be steady while you throw out dummies with your dog off-leash. If the dog waits patiently, give the command to fetch. If she lunges forward before being commanded, return to previous steps.
Drop dummy
Walk your dog at a heel and drop a goose scented dummy. Continue to walk in a straight line. A short distance away, stop and ask your dog to sit, facing the dummy.
Direct to fetch
Direct your dog with your hand to go retrieve the dummy. Release your dog and command 'fetch'. Your dog will proceed in a straight line to the dummy.
Increase distance
Gradually, increase the distance. Your dog will learn that when you direct him with your hand he only needs to run in a straight line to get the goose.
Hide dummy
Hide a dummy and direct your dog with the same hand signals to go fetch the goose. Because he has associated hand signals with running in a straight line to retrieve, your dog should proceed in a straight line as directed to retrieve the hidden goose.
Direct in straight line
If your dog cannot find the goose, or veers off path, go back to a shorter distance and allow your dog to see the goose to establish hand signal and straight line retrieving. If your dog retrieves the goose, increase distance and vary direction until your dog has associated your hand direction with running in a straight line to find the goose.
Introduce goose scent
Provide your dog goose wings and show your dog where to grab the wing, at the joint, by presenting this area to your dog. Do not let the dog tear the wings apart, as you do not want that behavior transferring to the field. This gets your dog used to the scent of the goose, and where to grab and carry the goose.
Introduce carrying goose
Practice with life size goose dummies. Teach your dog to retrieve so she gets used to the size and weight of the goose. Have your dog carry a goose dummy for increased distances and swim with the heavier dummies.
Teach 'steady'
Teach your dog to sit quietly behind a blind while you toss dummies out on the field or lake. Only let your dog go fetch dummies when she is waiting quietly.
Introduce gun
From behind a blind, swing your unloaded gun and point in the direction of a hidden helper. Shoot a blank and have the helper toss a goose-sized scented dummy in the air. When it lands, command your dog 'fetch'. Repeat. Your dog will learn to follow the gun barrel, to look for a falling goose, to retrieve, and get used to the sound of the gun.
Encourage return to hand
Have your dog bring the goose dummy to your hand and hold on to the dummy until you take it from her. Give your dog a treat in exchange for the goose dummy.
By Laurie Haggart
Published: 11/17/2017, edited: 01/08/2021
---