How to Train Your Dog to Greet Visitors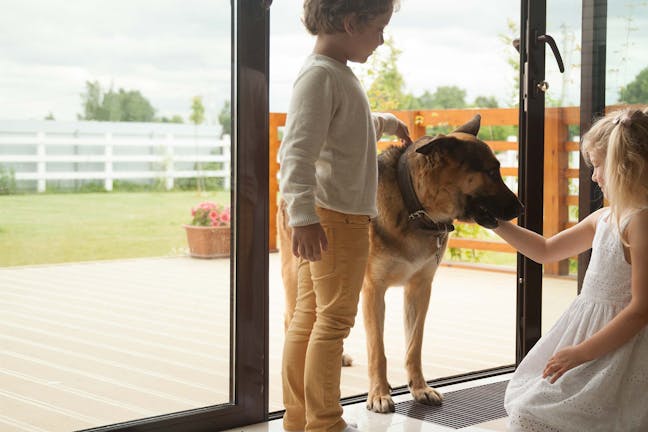 Introduction
No matter how lovable you might think your pup is, not everyone who comes to your front door wants to be greeted by your pooch jumping all over them. Of course, not everyone realizes that jumping and barking is your pup's way of saying "Hi, I am sure happy to see you!" and that it is considered pretty normal behavior for most dogs. Because of this, training is going to take a while and the help of as many friends as you can get to volunteer.
Imagine how much nicer it will be for your guests once your pup learns how to politely greet them. This, instead of jumping up and down like a madman and sticking their noses in inappropriate places--how embarrassing for you and for your guests. Teaching him to behave offers so much relief from this. 
Top
Defining Tasks
If you are tired of having to shoo your pup out of the way to get to the door or you have to put your pup in another room with the door closed each time someone knocks, these training methods may help put a stop to it by teaching your dog that this type of behavior is not acceptable. But, rather than punish your pup for behaving in what he sees as a natural way, this training teaches him that it is far more rewarding for him to behave through positive reinforcement.
While you may need to use a command word like "Bed" or "Place" in the beginning of the training, by the time you are done, your pup should automatically know that he is required to go to his place when the doorbell rings or someone knocks. 
Top
Getting Started
Before you can train your dog to greet people properly, he will need to have mastered the four basic commands, 'sit', 'stay', 'come', and 'down'. You may want to work on "go lie down" as a way to send him to his bed to lie down. This will make training him to be polite when people come to the door go far easier.  You will need a few things along the way:
Treats for rewards and training

A nice comfy bed for your pup, or at the very least, a mat

Friends to help (the more the merrier)

Plenty of time and patience

The biggest and hard thing here is trying to gather up enough friends who are willing to come to your home and knock on the door or ring the bell. Beyond this, all it takes is time and patience. 
Top
The Desensitization Method
Ignore that bell
With your dog on a leash, have a family member or friend knock on the door. Each time he barks at the bell, say "no bark!" When he stops, give him a treat and praise him. Rinse and repeat until he doesn't bark even when he is off the leash.
A place to sit
Place his dog bed (or a mat) in a visible spot where your dog can see the door and go to easily when someone knocks.
Teach your pup where to go
Now that your pup has finally stopped going off the deep end every time someone knocks, it's time to start teaching him where he should go when a visitor knocks on your door. It starts with you: each time you come through the door and your pup starts jumping around you, ignore him until he stops. Then take him to his bed or mat and give him a treat.
Repetition
Keep repeating this training until your pup will go straight to his "spot" every time you come through the door. Plenty of praise and treats will help make this part go faster.
More people, please
Have a friend who likes dogs come to the door. When he comes in, he needs to ignore your dog as well. When your pup calms down and goes to his spot, have your friend give him a treat and praise him. After everyone is sitting down, call your dog over and give him a few minutes to say "hi" before sending him to lie down. The rest is all about patience and slowly increasing the number of guests while fading out the treats. Be patient, your pup will figure it out relatively quickly.
Place a mat
Place a "greeting" mat on the floor in front of the door, leaving enough room for the door to open and for a guest to come through.
Teach 'sit'
Your dog should already know the 'sit' command, now you need to take him to the mat and make him sit on it. When he does, give him a treat and praise him. For this, you may want to use another command word like "Place!" to help your pup connect this command and the mat with the doorbell.
Here comes the friend
Have a friend come to the door and ring the bell. Give your dog the "Place" command. If he goes right to his mat and sits, give him a treat. If not, repeat this until each time someone rings the bell, he goes where he should and stays put. You can use several different friends over a period of weeks to help your pup figure it out.
Come on in
When your pup has learned to sit on his mat each time the doorbell rings, it's time to let your friend come in. When he comes in, make sure your pup stays on his greeting mat. Have your friend come over and quietly say "hi" and pet your pup.
The rest is all about practice
The rest of this training is all about investing lots more time in repeating the process. It shouldn't take more than a couple of months for your pup to finally learn where he belongs and what type of behavior is expected when the doorbell rings.
The playpen
For this, you need a playpen your pup cannot jump out of. You can probably find a used one at your local thrift store. You will also need some treats.
Set up the playpen
Put the playpen in a spot where your pup can see the door.
Put your pup in
Put your pup in the playpen and have a friend knock on the door. When the friend comes in and your pup goes nuts, have your friend turn and completely ignore him.
When your pup calms down
It might take a few minutes, but when your pup calms down, praise him and give him a treat.
Your friend's turn
This time, when your pup calms down, let your friend give him a treat and pet him. Do this for several weeks with different friends until your pup connects his good behavior with a reward. If he calms down immediately when a friend knocks, he has finally learned how to greet visitors properly and you should be able to take him out of the playpen.
By PB Getz
Published: 12/01/2017, edited: 01/08/2021
---