How to Train Your Big Dog to Heel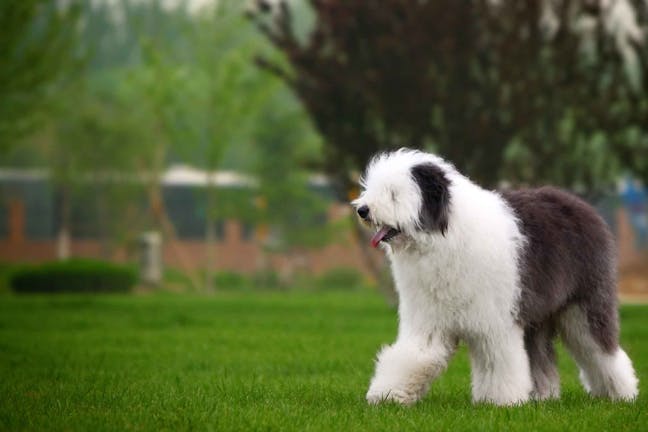 Introduction
You're out on a delightful walk with your beloved dog; the sun is out, the air is still, and green fields are stretched out ahead of you. But your large, heavy and surprisingly strong dog refuses to walk comfortably alongside you. He keeps pulling, sending you in every direction and taking any and all relaxation out of your dog walk. Is he simply incapable of heeling? 
If only you could get your larger than life dog to behave on your walk, you could actually enjoy your precious moments of fresh air each day. How on earth are you going to get a new Facebook profile picture if he won't even walk calmly next to you, let alone pose for a selfie? Getting him to heel could also save your body from a shoulder dislocation, or a nasty fall as you're pulled to the ground when he chases a rabbit on the horizon. 
Top
Defining Tasks
The term 'heel' is designed to get your dog, no matter his size, to walk comfortably at your side, without constantly pulling on his leash. He should be able to stay within the confines of the leash without you having to constantly pull it back. While the command itself may sound easy enough, with all the smells and distractions that the outside world offers, actually getting him to stick to this command is not always straightforward. 
As a result of it being rather challenging, int can take weeks or even months before he will obey this command every time without fail. You have a better chance of succeeding with this training if he is a puppy. As dogs get older and more stuck in their ways, you may find training more challenging and time-consuming.
Top
Getting Started
Before you begin your training campaign, there are several things you need to get your hands on. As you can probably imagine, you will be using food and treats to incentivize your dog to heel. Whatever you decide to use, make sure it is broken into small pieces, you don't want your already large dog to get even bigger!
You will also need a comfortable leash and collar before you set to work. Apart from that, you just need a quiet spot in the great outdoors (away from distractions), plus patience and a positive attitude!
Now you're all equipped, its time to get a handle on your pooch!
Top
The Mistake & Correct Method
Instruct him to sit
You need to have him sit obediently next to you on your left hand side, leash in hand, ready to walk.
Begin to walk
Begin walking with him alongside, holding the leash firmly and wait until he is about to get to the end of the leash.
'Heel'
As soon as he gets to the end of the leash and you're about to be lurched forward, firmly say "heel" in a tone that means business.
Perform a complete U-turn
At the same moment you say 'heel', turn around completely and start walking in the opposite direction. He will be pulled to your new direction, and when he catches up with you, praise him for returning to your side, either with a treat or with verbal attention.
Repeat
Every time he pulls, you need to perform this maneuver in line with the command, followed by the praise. It may take many weeks, but consistency is key. Eventually he will stop trying to run off and he'll want to stay within the confines of the leash to prevent a sudden direction change.
Start as normal
Begin walking with him at your side. Start to walk as you normally would, holding the leash securely in your hands.
React promptly
React as soon as he passes ahead of your leg. The moment he passes in front of you, stop walking and firmly say "heel" in an authoritative tone.
Gentle jerk
At the same time you command him to 'heel', give the leash a jerk back towards you. He will begin to associate the command with an impending jerk and so will rectify the problem to prevent it.
Reward
When he does return back to your side after you've given the command and jerk, be sure to praise him either with words or with a tasty treat. This positive reinforcement will ensure he associates walking next to you with food.
Be consistent
The key to succeeding in training him to heel is to always rectify when he pulls and always praise him when he follows the command properly. It may be boring and time consuming, but it will eventually work!
Start in the heel position
First, go in a quiet room without distractions and put him on a leash. Then hold a treat in your hand next to your side and use your hand to lead him until he is standing next to you (as you'd want him on a walk).
Reward
Once he stands next to you properly, give him the treat and shower him with praise. Repeat this several times until he associates standing next to you with praise and treats.
Introduce the cue
Now repeat the process, but while saying 'heel' once at the same time. Be sure to continue to praise and reward him when he stands next to you. After several successful attempts, repeat the 'heel' cue, but without using any food, and lessening the verbal praise.
Time to hit the streets
Now that he associates standing next to you with good behavior, treats, and praise, it's time to put this into practice with distractions around. Start in a relatively quiet environment, such as a field or quiet street, and use 'heel' and the occasional treat to keep him constantly by your side. If he walks off, stand still and wait until he returns to your side and then praise him.
Time to go veteran
Once he responds regularly to your 'heel' cue, it's time to trial his training in a real-life environment. Hit busy streets, town centers, and places with other dogs and continue the training technique. Be consistent, patient, and use treats and praise until he is obedient enough that you can slowly reduce their use.
By James Barra
Published: 11/13/2017, edited: 01/08/2021
---