How to Train Your Dog to Heel While Walking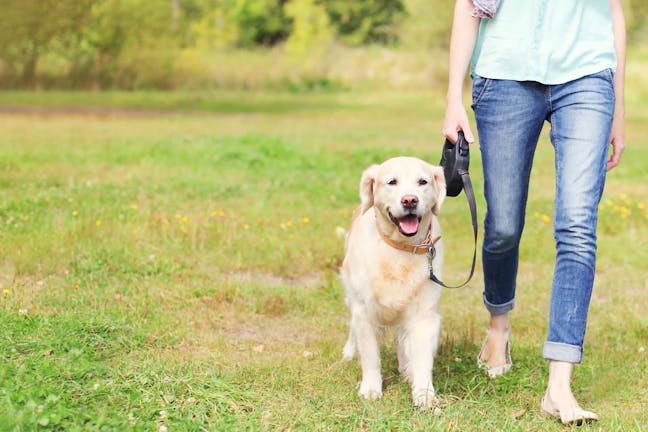 Introduction
Are you tired of your dog dragging you along every time you take him for a walk? Are you afraid of trying to take your dog for a walk off-leash for fear that he is more likely to run away than stay put? If either of these is the case, then perhaps it's high-time you train your dog to heel while walking. You should be aware that teaching your dog to heel means that when you are done training your pup, he should be walking right beside you. Not behind you, not ahead of you, and certainly not wandering around.
The traditional side for your pup to be walking on is the left side, but you can teach him to walk on the right side if this is more comfortable for you. In certain instances, heeling means walking close enough to you that your pup is virtually brushing against your leg as you move. The most important thing to remember is being in the heel position means not pulling on his leash or trying to run ahead when walking off leash. 
Top
Defining Tasks
The "heel" command is meant to tell your dog that he needs to be in a position directly beside you any time you go for a walk. It does not mean pulling on the leash, running ahead, or lagging behind. It allows you to communicate directly, quietly, and quickly with your pup. It also allows you to reward him quickly when he behaves. You can teach your pup to heel both on and off the leash or simply stick to using the leash if you prefer.
Remember, while the traditional heel position developed for hunters is on the left to keep their gun hands free, you can choose either side. Once you have taught your pup to walk on a leash, this is the next natural step in the process and one that should take only a few weeks to accomplish once your pup has mastered the basics of walking on a leash and can be taught to virtually any age dog with patience and time. 
Top
Getting Started
Getting started training your dog to heel doesn't take much in the way of supplies, it is more about having the time and patience to spend working with your pup to make sure he understands the command and what is expected of him when you give it. The only things you are likely to need are:
A leash: To practice walking and giving the command until your pup gets it.

Treats: No training program should be without some way of rewarding your pup for getting it right.

A quiet place: It is much easier to train your dog to heel when you are working in a quiet environment at first. You can always switch to a busy area once your pup understands what you expect.

Patience:- Any successful training comes from your having the patience to make it work.

Time: The best training methods require several sessions each day until your pup obeys the command without fail. 

Top
Treat in hand
Put a treat in your hand and hold it down by the side of your leg on the side you wish your dog to heel on.
Show and tell
Show your pup the treat, hold it by your side, and take a few steps.
Good job
If your pup follows you, stop, have him sit, and then give him the treat as a reward along with plenty of praise.
Repeat
Repeat this process several times, extending the distance you travel each time. Keep up the praise and treats when he gets it right.
Add the cue
Now that your dog has the basics down, add the cue word "Heel", tap your leg, and walk off. If he follows, reward with lots of praise and start cutting back on the treats. If he runs ahead, stop reverse directions, say heel, and tap your leg. Continue this until your pup will remain in the proper position when walking.
The Positive Reinforcement Method
Get his attention
Clap your hands together to get your dog's attention and call him to you saying, "heel".
One step at a time
With your pup standing by your side, take one step. If he follows reward him. Take another step, then another, rewarding him with praises and treats to let him know he is doing a good job.
Add to the training
Once he walks in the heel position in a straight line, start working on patterns like figure eights, going on winding trails, and so on until he can walk in the heel position no matter where you go. Be sure to give him lots of praise and treats to let him know he is doing exactly what is expected of him.
Distractions
Once your pup has mastered the heel position in a quiet area, take him into busier areas where there are plenty of distractions, if he masters this, you should be able to go for walks anywhere with him.
Final steps
If you are confident that your pup understands the heel command, you should be able to walk him without his leash. Be sure you start letting him walk off-leash with a leash dragging on the ground at first, just in case you need to grab it in a hurry.
The Popping Collar Method
Choose a side
Start by choosing which side you want your dog to heel on, don't switch it will only confuse him.
The right collar
Pick up a slip collar (one that is designed to make a popping sound when you "snap" the leash) and put it on your pup for training time.
The right location
Start out using a long straight length of sidewalk, as there is less likely to be a wide array of smells to distract him.
Time to sit
With your dog in his training collar and on the leash, have him sit beside you. Call out his name and say "Heel" once and once only.
Take off
Take off walking at your own pace, never his. Be sure to go slowly at first but do not use the commands again or say it over and over again as this will only cause confusion.
All change
If your pup tries to walk ahead, simply change direction and pop the leash. The slight jerk on the leash accompanied by the popping sound act as a correction and by changing direction, you let your pup know who's in charge. Also, the slight sideways jerk is very similar to the bite of a pack leader used to control the other members of the pack.
Going off-leash
Drop the leash on the ground and allow it to drag when you move off. If he starts to get ahead of you, simply step on the leash. Be sure to use lots of praise and treats to encourage your pup to master this skill and make going for a walk a lot less stressful.
By PB Getz
Published: 10/19/2017, edited: 01/08/2021
---