How to Train Your Dog to Herd Animals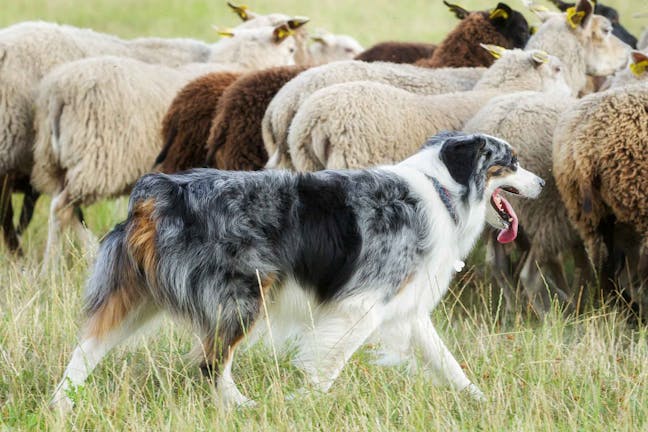 Introduction
Working a livestock farm can be challenging, no matter how you look at it. But, imagine having the willing help of your pup in rounding up your sheep, cattle, chickens, ducks, or any other animals you have. What a great way to relieve just a little bit of the load and let your dog do what comes naturally to him while having fun at the same time. Among the most important things you need to know is that you have to start with a dog that has a natural tendency to want to herd.
While you may be able to teach other non-herding breeds, those such as Border Collies, German and Australian shepherds, Shetland Sheepdogs, and Corgis are best suited to the task as they all have a natural herding instinct. Before you decide to train your dog to herd animals, be sure to have him examined by his vet to make sure he is healthy enough for what can be a very vigorous task over a long period of time. 
Top
Defining Tasks
Training your dog to herd animals is far more difficult than it looks and, at the same time, easier than you might think. Part of this difficulty lies in the fact your pooch has to learn several new commands as part of the herding process. Beyond this, one of the best things you can do is make training time as much fun as possible. Most herding dogs absolutely love what they do and will jump at any chance they can get to move your critters around.
While you can teach any age dog to herd, if you want to train your pup, you should consider starting him off with smaller creatures such as chickens, turkeys, ducks, and even geese. Be sure you are always ready to step in during training if necessary to protect the safety and health of your pup or the animals he is herding. 
Top
Getting Started
So, before you can actually start training your dog to herd animals, you need to take a couple of weeks to train him these new commands. They are 'come bye', which you use to make him come around on the herd clockwise to turn them to the left. 'Away to me' tells your pup to go counter-clockwise around the herd to make the go to the right and 'walk up' tells him to come up behind the herd and move them straight towards you. Each direction is given as though you are looking at the herd coming towards you.
Top
Start with a small flock
In a small round pen, place several chickens in the middle.
Bring in the dog
With your dog on a leash, bring him into the pen and make him sit.
Give him time
Give your pup time to settle down and get used the birds, treats for him when he does.
Walk up to the birds
With your pup on a leash, give him the 'walk up' command and walk him up to the within a few feet of the chickens and stop.
Circles
Walk your pup on the leash in circles around the birds, using the 'come bye' and 'away to me' commands to reverse directions. When he masters this, heap on the praise and give him treats.
Off the leash
Now take off the leash and use the commands to have your dog move the chicks around the pen. Each time he masters it, add praise and give treats.
Move outside
Time to take the training outside and, perhaps if you have them, to bigger critters. It will take several training sessions, but time patience, practice are sure to pay off.
The Whistle Commands Method
Create whistle signals
Pick up a sheep whistle and decide how you are going to use it to signal your pup. Try one blast for 'walk-up', two for 'come bye', and three for 'away to me'. Keep them simple and always the same to avoid confusion.
Teach your dog
While you are training your dog to obey the basic herding commands, add in the appropriate whistle blasts. This will help him to make the association. One reason to train him with a whistle is that the sound of a whistle carries further than your voice. It is also less likely to be mistaken.
Small groups first
Gather a group of smaller animals to start with and introduce your dog to them. Give him time to settle down around them.
On his leash
Keep him on his leash and using your command whistle, have him work the small herd. Be sure to praise him for doing a good job.
Off the leash
Take your dog off the leash and, with him in close quarters to you, have him work the herd using noting but whistle commands. With time and repetition, you can work his way up to working the full herd and making your life just a little bit easier.
Start with a long rope
Tie your pup to a long leash and walk him up to a small herd of animals using the 'walk-up' command. It would help if the animals are used to being around dogs.
It takes time
Give him lots of time to get used to being this close to the animals.
Allow him to walk around
Give your pup time to walk around the herd, he should circle them naturally.
Change directions
As your pup comes around the circle, step in front of him and as he is reversing directions, use either the 'come bye' or 'away to me' command to make him reverse directions.
Keep practicing
Keep practicing this until your pup follows your commands flawlessly. Now step back 20 feet and have him bring the herd to you using the commands. Keep practicing until your dog will bring the herd to you from any distance.
By PB Getz
Published: 10/20/2017, edited: 01/08/2021
---