How to Train Your Cocker Spaniel Dog to Hunt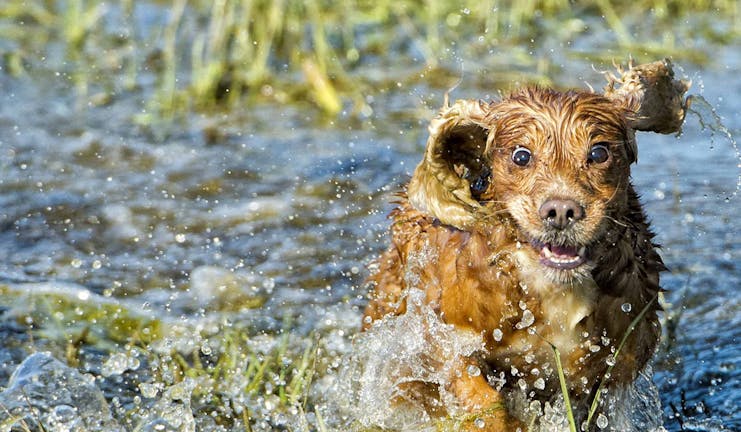 Introduction
Life just hasn't been the same since your Cocker Spaniel joined the family ranks. You already wonder what life used to be like without him. He's exceeded all expectations. He's playful, friendly, active, and for the most part, straightforward to train. But while you love cuddling up with him and messing around in the house, you also want something more from him. He is after all, a breed of gun dog. So, you'd like to be able to take him out with you and train him to hunt.
Not only could this seriously bolster your hunting performance, but it's also a great way to channel his energy into something productive. It also comes with the added bonus of being fantastic exercise for him. If that doesn't seal the deal, then how about the fact it's simply a brilliant way to bond with your canine companion?
Top
Defining Tasks
Training any dog to hunt comes with challenges. Fortunately, Cocker Spaniels have many of the qualities you'd want from a hunting dog. Most importantly, they're relatively receptive to training. Training will consist of strict obedience training, starting from an early age. You will also need to find a suitable incentive. Due to their strong sense of smell, some smelly food, such as cheese, will often get them working.

If your Cocker Spaniel is just a puppy, he should be eager to please, so you may see results in just a couple of months. If he's older and not quite the keen student he was in his youth, then you may need up to six months. Succeed and you'll have an effective hunting companion and a worthy addition to your hunting arsenal. Plus, if you have a pest problem on your land, he's the perfect deterrent! 
Top
Getting Started
Before training can begin, you will need to collect several bits. Get your hands on some decoy toys and scent spray. You will also need a generous selection of treats. Alternatively, break his favorite smelly food into small chunks. 
The more consistently you train, the quicker you will see results. So, try and set aside 15 minutes each day for training. A large yard or local fields will be your training ground.
The only other things you'll need are patience and a positive attitude. Once you have all of the above, training can begin!
Top
Day one
If you want quick results, you should start training your Cocker Spaniel as early as possible. This is when they are most receptive. It may be difficult to resist just cuddling him on the sofa, but training needs to start as soon as possible.
Fetch & tug of war
Spend a few minutes each day playing tug of war and fetch with him. You can use a toy, or even better, a decoy of his future prey. Both games will get him developing some of the skills he will need later on to be an effective hunter.
Hunting friendly
You need to get him used to his future hunting environment. On the whole, Cocker Spaniels are relatively brave. However, the sound of gun shots and the whole situation can feel daunting to start with and you don't want him bolting whenever he hears a gun. So, the earlier you start taking him out with you, the more at ease he will feel.
Encouragement
It is also important you reward any promising behaviors. So, any chasing or displays of aggression towards his future prey should be rewarded with verbal praise and tasty treats.
Never punish him
You must not punish him when he fails. This is particularly important when he's still young. This will only deter him from trying again. You want to encourage him as much as possible--don't worry, he will gradually improve.
The Lead By Example Method
Play time
Spend a few minutes each day at home playing with the decoys. You can also apply some scent spray so he is familiar with both their appearance and smell. Play tug of war and fetch, plus leave the decoys in his bed over night.
Direction
Start taking him for regular walks through his typical hunting ground. Practice walking stealthily, but when you see potential prey, freeze, then draw his attention to it. You can point and stare at it until he catches on.
Animated
Once you have his attention, start getting animated. You can talk in a high-pitched voice and really get him worked up. Dogs mirror their owner's behavior, so if he always sees you getting excited by the sight of the prey, he soon will too.
Charge
It may sound a little crazy, but you need to lead by example, especially to start with. So, give chase when you see the prey. You can wave your arms in the air and shout as you go. Your Cocker Spaniel will soon follow your lead. Before you know it, he will be chasing of his own accord.
Reward
Make sure he always gets a generous reward when he gives chase or returns with prey. The greater the reward, the more likely he will be to repeat the behavior again. Also, particularly to start with, make sure gets a reward for trying, even if he fails.
Scent spray
Cocker Spaniels have a powerful nose and that's something you need to appeal to. So, apply the scent spray on his decoys and other toys. Then make sure you get him worked up each day by playing with those toys. You want that smell to trigger excitement in him.
Setting up
Head outside and create a scent trail in your yard. It can start from near the door and lead to one of his hidden decoys. You are going to use this to train him to track down prey.
Head out
Secure him to a short leash and take him to the beginning of the trail. Encourage him to sniff the ground and follow it. To start with, you may need to get low to the ground and point. If he comes off the trail, gently pull him back towards it.
Reward
Make sure you lead him all the way to the end of the trail. It's important he knows there is always a reward waiting at the end. Then let him play around with the decoy for a couple of minutes. Get high-pitched and animated to really make him happy.
Up the stakes
Make a few scent trails at home, then when he gets the hang of it, you can upgrade to local fields. Here you can spread out the scent trail and make it last longer. Then repeat the same process. If you do this a few times each week, he will soon start sniffing out and hunting the prey himself.
By James Barra
Published: 01/23/2018, edited: 01/08/2021
---