How to Train Your Dog to Hunt Bear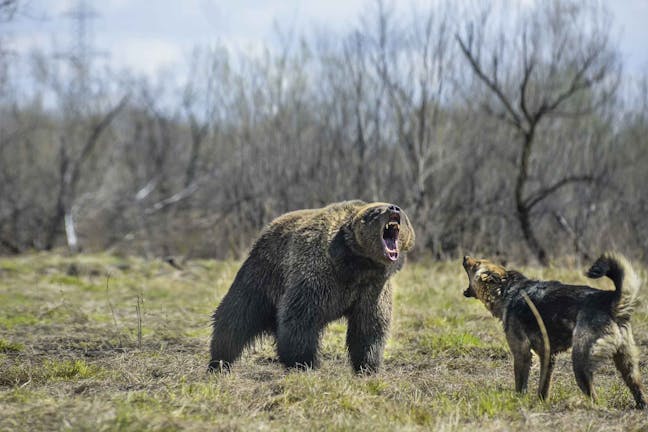 Introduction
The dog-human hunting team goes back centuries and has its roots, not only in hunting animals to use as food, but in hunting predators to protect settlements and livestock. Certain kinds of dogs are more useful for performing certain types of hunting jobs. The seemingly obvious answer to the question, "What kind of dog do you use to hunt bears?" is: a big one! 
Many different kinds of dogs have been, and are currently used in different parts of the world to hunt bears. In the Canadian Arctic, Inuit have used Canadian Eskimo Dogs to hunt polar bear, hounds have been used in the southern US, the Great Pyrenees has been used in Europe, the Komodor in Spain, and the Akbash in Turkey.  Karelian Bear Dogs, originally developed in Finland for bear hunting, are widely used in North America now. These dogs are adapted to their environments and possess physical strength, stamina, and scenting ability.  Bears are difficult game to hunt due to their size and aggressiveness. Because bears have a tendency to encroach on human habitations where they can develop a taste for human food, mainly garbage, or livestock, they can easily become a dangerous nuisance. When this occurs, a problem bear may need to be destroyed or relocated, and hunting with dogs may be a useful way to locate and tree or hold a bear until handlers can reach the animal.
Top
Defining Tasks
In the US, a pack of at least 6 dogs is required to hunt bear. Having this number of dogs allows the pack to overwhelm the bear, resulting in the bear retreating and usually going up a tree, where hunters can then shoot or tranquilize the bear. Smaller numbers of dogs would be in danger of being attacked and injured by the bear. Even with a large number of dogs, attack and injury by a frightened, angry bear are possible. Packs of bear hunting dogs locate bear scent, and then follow it to locate the bear, chase, and hound the bear until the animal is cornered or retreats up a tree. Dogs then stand their ground, and bark to notify handlers of their location. Handles must then be able to call the dogs off and have dogs respond so that hunters can shoot or tranquilize the bear.
Top
Getting Started
Dogs being used for bear hunting should have excellent obedience and off-leash recall, so that they can be directed during tracking and called off once the bear is located and treed. Bear hunting dogs need to be comfortable being transported in off-road vehicles, usually in kennels, familiar with guns, and able to navigate a variety of wilderness terrain. They will need to be in top physical condition, with no health or orthopedic issues, in order to have the strength and stamina to hunt bears. Dogs used for hunting out in the wild are usually fitted with tracking collars so they can be located if they become separated. Different states have different regulations on hunting bears, and possibly additional training seasons where bears can be chased and then just be let go--check for regulations in your area. A pack of 6 dogs is generally required for hunting bear by law.
Top
The Bait and Train Method
Use training seasons
If you live in an area with a designated training season outside of hunting season, take a pack of 6 dogs and locate a bear scent trail.
Use bait
Where allowed, baits for bears can be set in tree stumps, using bait such as meat or jam to attract bears, and these locations can be searched first to locate bear trails.
Encourage scenting trail
Once your dogs find a bear scent trail, encourage the dogs along the trail. Follow as closely as possible. Practice giving recall and directional commands to the pack to keep them in control and focused on your commands, as well as the bear trail.
Allow bear to escape
If the dogs locate a bear and tree it, recall the dogs and leave the bear to escape.
Prepare for hunting seson
When designated bear hunting season comes, dogs will be well conditioned, have practiced commands and scenting skills, and prepared for an actual bear hunt.
Hunt small predators
Train your dog to scent and hunt smaller predators first, such as coyotes, foxes, or bobcat so they are used to the hunting process.
Introduce bear scent
Introduce your dog to bear scent with commercially available scent on a pelt or piece of cloth. Encourage the dog to play with the scented item.
Create trail
Lay a bear trail with a dragged scent and allow your dog to follow the trail.
Reward
Reward locating the scented object at the end of the trail or in a tree with playtime and high value treats.
Locate live trails
Introduce your dog to a pack for hunting bear and start locating live bear trails and following.
The Experienced Dogs Method
Introduce dogs
Put an inexperienced dog with a team of experienced dogs. Allow dogs to interact and socialize prior to a hunt.
Use tracking collars
Ensure inexperienced dogs have tracking devices in case they become separated. Take your team out and locate a created bear trail.
Follow trail
Allow the inexperienced dog to follow the trail, with the pack. You may need to keep the inexperienced dog on a leash if you have concerns for their experience and safety.
Direct and command
Provide commands to stay on trail or recall the pack so the inexperienced dog is exposed to commands, and responds with the rest of the pack.
Practice
Repeat over several months. After several experiences your dog will learn to hunt and respond with the experienced dogs.
By Laurie Haggart
Published: 11/24/2017, edited: 01/08/2021
---