How to Train Your Dog to Hunt Big Game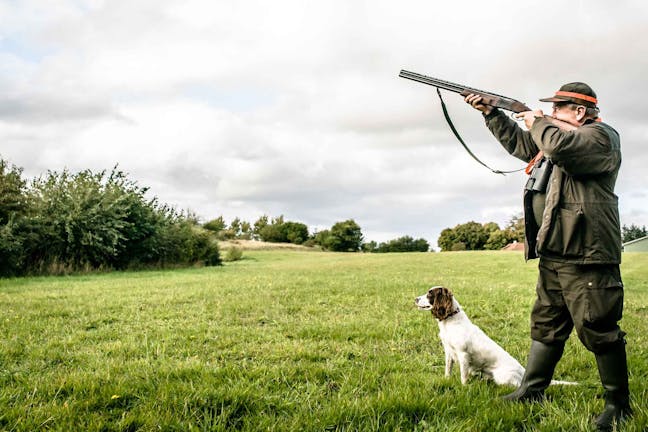 Introduction
If you love to hunt, your pup could quickly become your best friend once he learns how to help you with hunting.  He can learn to help you track your prey, track wounded animals, and more. Dogs have been helping man to hunt big game since time immemorial. While it is a natural instinct for dogs in the wild to hunt for food, in most domesticated breeds, this natural instinct has been suppressed to the point at which many dogs no longer remember how to do so and must be taught. In fact, it takes a significant amount of time to train your dog in what should come naturally.
You could hire a professional to train your dog to hunt big game, but this can be very expensive. A much better option is to simply take the time to train your pup yourself. Not only will you end up with the results you are looking for, you learn to hunt with your dog at the same time, and the two of you form a much stronger bond. 
Top
Defining Tasks
With this particular type of training, you are not teaching your pup to attack your quarry or attempt to bring it back to you. His job instead is to help you track and locate the animal you are hunting so that you can make the kill. He should also be taught to track the animal if it is only wounded so that you can find it. 
For those of you who have heard the old adage "You can't teach an old dog new tricks", it is true in this case. It can be very difficult to train an older dog to hunt. Your best bet is to start working with your dog while he is still a puppy when his curiosity is at its highest and he has not had a chance to learn any bad habits. You may want to talk to your vet and have him give your pup a once over to make sure he is ready for this type of training. 
Top
Getting Started
Before you can start training your pup to hunt big game, he needs to have already mastered the basic commands, including 'come', 'sit', 'stay', and 'down'. You should also know what breeds are best to use for hunting the particular animals you typically like to go hunting for. You will need a number of supplies for this training, including the basics:
Treats: To reward him when he gets things right.

A leash: You may want to have both a long and short leash available.

A place to work: Most forms of training are best done in an area that is free of distractions.

Patience: It takes a lot of this.

Time: Fully training your dog to hunt can take several seasons.

Big game blood: For wounded animal tracking training.

A hunting harness:  This lets your pup know he is going hunting, as when you are training him to hunt or going out on the hunt is the only time you will use it.

Part of training your pup to hunt involves using blood from the animal you plan to hunt. Many dogs are trained to hunt only the live animal and flush them out, others are also trained to follow blood trails. One flushes out your quarry, the other helps you track down the animal if you have wounded it. You should also have already trained your pup to not be gun shy. 
Top
Blood trail
If you have access to fresh blood that's great, but you can also buy 2-ounce containers of it in most sporting goods store. Either way, mix 2 ounces of animal blood in a gallon of water. Be sure to wear gloves when handling any of this to keep your scent out of the picture.
Get kitted out
Dress in your hunter's orange gear and take your pup out to a large open field you can work with him in. Leave him in your vehicle when you first get there.
Make a trail
Using the blood/water mixture, create a trail along a straight line for approximately 25 feet. Place one of your pup's favorite treats at the end of the trail.
Take out the dog
Take your dog out in the field in his orange vest and hunting harness. This teaches him to associate the vest and harness with going hunting.
Track that deer
Let your pup smell the blood water mix and tell him to "track the animal" and let him start walking around until he finds the trail. If he finds the trail, let him follow it to the end and enjoy his treat. Repeat this on a daily basis until he masters this part of tracking.
Add to the challenge
Next, add some twists and turns to the trail you make. Go in one direction, stop turn and go back, leaving a trail for your pup to follow to the treat at the end. This teaches him how to backtrack.
The carcass
Now would be the time to place a carcass at the end of the trail so that he can finally see what he is learning to track.
The Dummy Tracking Method
Gather the supplies
For this training method, you will need a training harness, treats, and a dummy that has been coated with the scent of the big game you are hunting. You can make the dummy from the hide of one you have recently killed or from cloth coated in scent you can buy in spray bottles or jars at your local sporting goods store.
Choose your training ground
Your best bet is a large field with plenty of taller grass to work in, trees and brush are also handy. Try to choose a time when it is relatively quiet as this will make training your pup a lot easier.
Get your pup ready to go
Preparation is the key to success, as done right, your pup will know what is coming next when you put on his orange hunting vest and harness. While your pup is still in your truck, go ahead and get him in his vest and harness, but leave him in the truck.
Create a game trail
With your pup in his harness and vest, let him smell something with the scent on it for a few seconds. This will firmly implant the scent in his mind. Now get him excited using your command phrase. This can be anything like " go get it" or "find it" or simply "hunt". No matter what word you use, stay consistent to avoid confusion.
On the trail
Allow your dog to find the beginning of the trail you made, (if necessary for the first few times, you can lead him to it). As soon as he picks up the trail, follow him using the harness to keep him under control. When he reaches the end of the trail, let him enjoy the treat. If you used the hunting dummy, don't let him play with it or he may do the same with your quarry.
Repeat until complete
It can take several seasons for your pup to fully master the art of the hunt but repeat this training until he has mastered following the scent trails you create for him. You can also take him with you on the hunt, this lets him put his skills to the test even while he is still in training.
Deer hide
For this training method, you need a relatively fresh deer hide that still has a strong scent. Dogs that hunt big game use their nose far more than their eyes to hunt, hence scent type training is considered to be one of the best methods.
Create hunting trails
Using the hide, find a field to work in and use the hide to create scent trails that will be used train your pup. Leave them to age for 2 to 4 hours.
Dress for success
Dress your pup in his bright orange hunting vest and his training harness. This will help him learn to associate his hunting gear with what is expected of him--and that it is fun.
Take him out
Take him out to the area where you created the trails and give him a small piece of the hide to get the scent.
Let him track
Let your pup choose a scent to follow and while maintain control using the harness, let him lead you to the end of the trail where you have left a piece of hide for him to chew on. Praise him for his success and give him a treat.
'Til you are done
Repeat the above until your pup will automatically pick up the scent. Then take him out in the field for a little "live training" by letting him follow any big game trails he comes across during the off-season. With practice and patience, your pup will soon be ready for hunting season and to help you bring home that 30-point buck you have been after for years.
By PB Getz
Published: 11/22/2017, edited: 01/08/2021
---