How to Train Your Dog to Hunt Close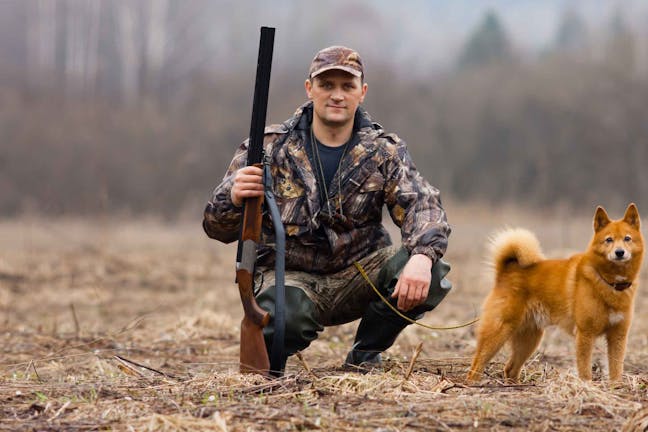 Introduction
Dogs and people seem made for each other. We are tall and see well, they are short and smell and hear well. There are few things more beautiful to a dog lover than the experience of a dog and a person working together to accomplish a task that neither could do as well alone. Training your dog to hunt close is wonderful not only for hunters instructing their dogs to search a specific nearby area for game, but also for anyone who wants to play fetch with their dog and use their superior vision to help their dog find the toy when the dog has lost track. It can even be useful in the home, when pointing out to a dog where a dropped treat or table scrap is located.
Hunting close is also a useful behavior because it reinforces cooperation between person and dog, resulting in a dog and a person that understand each other better. It forms a good basis for other activities that require working trust between dog and person.
Top
Defining Tasks
Hunt close can mean two things to a dog. The first is that the dog should continuously search an area around a moving person for a designated quarry. The second is that the person should point out a specific area for the dog to search in, sometimes pointing directly at the quarry, which is visible to the person but not to the dog. Instilling motivation in the dog for learning the command to hunt close is easy. Since your dog is already motivated to find the quarry, teaching this command requires only that your dog learn that you are trying to help, and how. Most dogs understand human pointing intuitively, a result of our long heritage together. Therefore we can teach both meanings of 'hunt close' seamlessly together.
Teaching your dog to look to you for good things depends not only on your knowing what your dog already likes, but in being able to introduce new and exciting things. Think of what your dog would like to hunt for as you plan your training strategy.
Top
Getting Started
Gather your dog's favorite treats and toys, as well as some fun novel toys and other things to form the motivation and reward for your training. If you are training 'hunt close' as a hunting aide, it is wise to have toys scented with or made of fur or feathers from your desired quarry, in order to build desire in your dog for the game you will be hunting. If you intend to use the command largely for retrieval items, use those toys you use for retrieval.
If you will be working in open country and your dog does not yet have a reliable call back, use a well-fitted harness and long line to work with your dog. An electronic collar can also be useful in training to hunt close, as it can help get the attention of dogs prone to over-focus on their quarry. If working in open country with an electronic collar, a GPS collar is a good safety feature to locate your dog if she should go missing.
Top
The Hunt for Good Things Method
Find a distraction-free area
Find a distraction free-area in which your treats or toys will be the most interesting thing to your dog. There should be enough space and obstacles to give variety to your training.
Toss treats
Stand in clear view of your dog and toss a treat or toy while saying "hunt close". This will teach your dog to associate your words with the reward.
Hide treats
Ask your dog to stay or physically restrain her while you go out of sight of her and hide a treat.
Hunt close for treats
Point to the treat and give the command to 'hunt close'. Your dog should quickly follow your instruction to the treat.
Keep pointing out treats
Keep hiding and pointing out treats. Hide lots of treats and walk through the environment, pointing them out to your dog with the command as you go. Once your dog conceptualizes the idea of hunting around you and where you point with the command, you can switch the quarry to whatever you choose, so long as your dog stays motivated.
The Good Things Appear Method
Bring some good things
Carry a stash of treats, toys, and novel interesting things with you into a relatively distraction-free area.
Name the hunt
Wait until your dog is sniffing around naturally, then give the 'hunt close' command and toss a treat or toy in front of your dog. Keep doing this until your dog is sniffing and looking alert when you say the command
Toss where your dog isn't looking
Toss a treat or toy where your dog isn't looking. Draw your dog's attention to it by pointing at it and giving the command. Your dog should run to it.
Walk and toss
Keep walking and tossing toys and treats out, giving the command to draw your dog's attention to the good stuff.
Practice
Keep practicing, continuing to use rewards you carry with you, but also using the command to point out targets as you want to use the training. Your dog will internalize "hunt close" to mean "search near you" and where you point for the target.
Find a dog that knows 'hunt close'
Find a dog or several dogs that already know how to hunt close on command. It is important that dogs not be aggressive over sharing whatever you are using for reward and enticement.
Let your dog observe
Go into the field with your pack and practice playing 'hunt close', tossing toys or treats and drawing attention by pointing and giving the 'hunt close' command, or just saying the command while walking so that dogs searching closely around you find the reward.
Make it easier for your dog
Your dog will soon become frustrated as the dogs responding to your 'hunt close' command repeatedly get the reward ahead of her. Toss rewards very near your dog while giving the command to help her understand.
Practice
Keep practicing until your dog is looking where you point, as well as searching more intently around you, when you give the command for hunting close. Make sure all dogs win equally to prevent jealousy and frustration.
Practice alone
Remove the other dogs and practice alone with your dog. She will have internalized the concept of looking to you to tell her where to look for good things.
By Coral Drake
Published: 12/28/2017, edited: 01/08/2021
---