How to Train Your Dog to Hunt Deer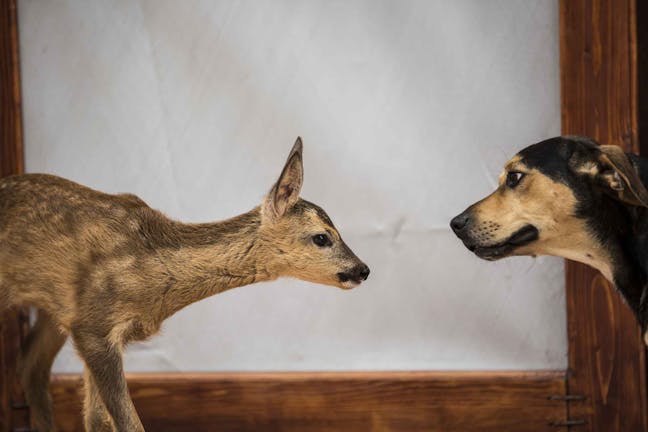 Introduction
There is nothing like being out in woods looking for that first buck of the season. The only thing that could make this any better would be if you could train your dog to hunt deer with you. Since dogs have been used as hunting companions as far back as any type of written (or pictorial) records show, you would think helping you to hunt would come naturally to your pup. Unfortunately, while this instinct might still be there, it will be up to you to train him.
Most dogs hunt in using their nose, which is far more sensitive than ours. Once taught to follow a specific type of scent, a good hunting dog can track very faint scents for miles. The good news is that once you have trained your dog to follow deer scent, you can work to train him to track other animals using the same skills. 
Top
Defining Tasks
So, essentially, we are talking about teaching your pup to put that wonderful nose of his to work helping you find the perfect buck or doe (depending on season and state). Sounds like it should be pretty easy, doesn't it? After all, dogs use their noses on a daily basis to keep track of every inch of their world and what is going on in it. You can train your pup to track the scent of the animal or its blood, both work with exceptional effectiveness.
You should start training your pup at an early age, as this is when he is full learning mode. While you may be able to train an older dog, it can be a lot harder to do. One major note, your goals is to train your pup to track his quarry, not to attack them. In fact, in the case of a wounded animal, he needs to stay back, or he may end up getting hurt. 
Top
Getting Started
Before starting to train your pup to hunt big game, you should wait until your vet says his bones are strong enough. Your pup should also have mastered the four basic commands, 'come', 'sit', 'stay', and 'down'. While most breeds can be trained to hunt, there are some that make a better choice for big game. These include most hounds such as the American foxhound. You should also have the following on hand:
Treats: To reward him when he gets things right.

A leash: You may want to have both a long and short leash available.

A place to work: A large field makes a great choice.  

Deer blood: For wounded animal tracking training.

A training dummy: A training tool used to lay scent.

A deer hide: Also used as a training tool to lay scent.

A hunting harness: This lets your pup know he is going hunting as this is the only time you will use it is when you are training him to hunt or going out on the hunt.

Patience: It takes a lot of this.

Time: To fully train your dog to hunt can take several seasons.

You can train your dog to hunt and flush out live animals, to track wounded animals, or to do both. Most hunters will train their dogs in both methods of tracking for those days when your first shot only wounds your quarry. Oh, and one last thing, if your dog has not been trained to not be gun-shy, you will need to do so before you take your pup on an actual hunt.
Top
The Last Year's Hide Method
Save that hide
If you know you are going to be training a new hunting dog, save the hide of your last kill or at least a chunk of it. You can freeze it until you need it, this will help keep the scent fresher for your pup to follow.
Out in the field
Go out into your chosen training field and drag the hide behind you on a rope to help keep the scent of the hide and yours separate. Create a number of trails and then let them settle in and fade for a couple of hours. Put some kind of treat at the end of each trail for your pup to "find."
Hey, ho, let's go….
Put your pup's orange hunting vest on and take him out to the field. Hook him up to his training harness. With repetition, your pup will soon learn that putting his harness on means its time to go hunting.
Put on the right track
Give your pup a sniff of the hide, give him plenty of time to get a clear picture of what he is looking for. Now walk him around and let him find one of the trails on his own. Keeping him under control, using the harness, let him follow the trail to the end and enjoy his reward.
Replay
The rest is up to you; keep repeating the training frequently and work with him both on and off leash until he never misses a target. By then he should be ready to help you find your next prize buck.
The Hunting with Dummies Method
Round up the goodies
For this one you will need a training dummy, you can make one from a piece of old deer hide stuffed with rags and tied off with a long rope. You can also buy one. You need deer scent also available at your sporting goods store and your pup's hunting vest and harness.
Pick your playground
The best place for early training is a nice big open field where your pup can track over long distances once he understands what is expected of him. Start by creating a short trail for him to follow, maybe 100 feet long. Place a treat at the end of the trail.
On your marks
Go ahead and put your pup in his vest and harness. While you are doing this try to get him excited using words phrases such as, "ready to go hunting" or "hey, buddy let's go get that deer!" Basically, anything just to get him excited and anxious to go have fun.
Get set…
Let him get a scent from your training dummy and then walk him around the area in which the beginning of your carefully laid trail happens to be. Once he has indicated, he has found the trailhead, its time to go for broke.
And go….
Using the harness, let your dog follow the trail to its conclusion and enjoy his reward. Repeat this training adding length to the trails, twists and turns, around trees, and anything else you can think of to make your pup work hard. Be sure to offer lots of praise and treats for a job well done and look forward to a successful hunting season.
Blood trail
For this you will need a few ounces of deer blood. You can freeze some from last year's kill, get some from a fresh kill (if it's the right season), or buy bottled blood for training at hunting stores. Mix approximately 2 ounces in a gallon of water and then fill a spray bottle with the mixture.
Create your training ground
In your chosen training field, put the sprayer on a fine mist and, walking backward so the spray covers your scent, create several training trails all starting and ending at different points. Place a treat at the end of each of them.
Gear up
Time to put your dog in his hunting gear (his orange vest and harness) and take him out to the field you have prepared for him. This specific form of training is used to get your pup to follow the trail of a wounded deer so that you can finish the job.
Scent first
Give your pup a chance to smell the blood mixture and store the scent in his memory. Allow him to search the field for a trail. When he finds one, give him a treat and let him follow it to the end where there is another reward (treat) waiting for him. Do this over the course of several training sessions until he masters tracking each trail you set up.
More complex
Keep making the trails more complex by doing things like adding curves, twists, doubling back, and anything else until your pup is ready to track in all types of terrain. Now, out and enjoy hunting season with your favorite legged-friend.
By PB Getz
Published: 11/24/2017, edited: 01/08/2021
---