How to Train Your Beagle Dog to Hunt Deer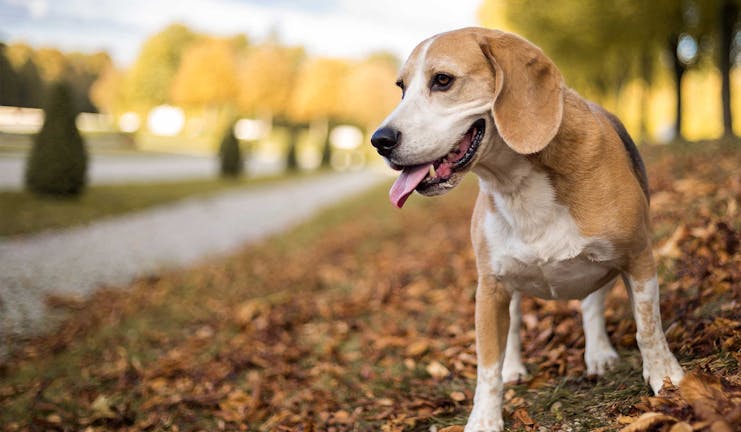 Introduction
Most dogs have at least some hunting instinct, no matter how deeply it may be buried in the dark recesses of their minds. The hard part is that your pup may not know where it's hiding or how to bring it out of the archives so that they can use this amazing talent. Training is the only way to bring this natural skill out, it will take time. Some hunting dog trainers say it can take years for your dog to become an expert hunter.
There are two different types of hunting you can train your Beagle to do. The first is to find and flush out deer so that you can make a successful kill. The second is to follow a blood trail to help you track down a wounded animal. The perfectly trained Beagle should be able to do both in order to be considered good at his job. 
Top
Defining Tasks
The skill of hunting deer can be split into two sub-skills. The first is for your pup to learn to track down live deer by their scent in order to herd them towards you for a cleaner more effective shot and a higher chance of success. The second is for your beagle to be able to track a wounded deer by the smell of its blood.
Training your pup to hunt deer sounds like it should be reasonably easy, after all, what dog doesn't like to use his nose to find things? The trick is that you need to be able to channel this natural desire into a usable behavior such as tracking or hunting deer. There are several different ways you can go about training your Beagle to hunt deer. Here we are offering three of the most popular. 
Top
Getting Started
Most experts recommend you wait until your pup is at least 3 to 6 months old before you start training him to hunt. This gives his bones a chance to harden and become more durable. You may want to have your vet examine your pup to make sure he is ready. Your pup should also already know how to 'sit', 'come', 'stay', and 'lie down' on command. There are a number of supplies needed that will make the training go more easily, these include:
Deer Blood

Dummy

Deer hide

A hunting harness

A safety vest

Treats

The rest of the list includes a large open space preferably with free access and woods on one side to train in and plenty of time and patience. 
Top
The Handy Old Hide Method
Hang on to an old hide
Since you are already planning to train a new hunting dog long before you pick one out, get ready for training early. The best way to do this is to save the hide of this year's deer by freezing it in sections. This will lock the scent into the hide until you are ready to use it.
Thaw and create
Thaw out a section of the hide and tie it to a long piece of rope. Decide where you are going to train your pup and use the hide to create several trails by dragging the hide behind you. Place a treat at the end of each trail and avoid placing the ends close to each other. The multiple trails will make it easier at first for your pup to find them.
On the road again
Put your dog's hunting harness and vest on and take him out to the field. You can help by getting him excited using fun phrases like "Ready to go hunting?" or "let's go hunting!" Anything, just keep the excitement in your voice. This lets him know that when you put these items on, its time to go hunting. In time, it will help put him in the right frame of mind.
Prepare the pup
Let your pup get a good long sniff at the hide used to make the trails. Keeping him in his harness, take him out to the edge of your training field and let him sniff around until he finds one of the trails. As he starts to follow it you can add a command such as "Find" and then let him work his way to the end of the trail. When he reaches the treat, give him lots of praise and let him eat the treat.
Daily workout
The best way to speed the training along is to keep practicing. Once your pup has mastered the trails you make in the fields, try going into the woods, under low branches, through the brush, anything to make the training more challenging. The rest lies with you when the next hunting season comes along, take your pup with you and see what he can do.
The Training Dummy Method
Create your training dummy
Use a piece of deer hide to create a training dummy that smells like deer. You can enhance the smell using real deer blood or a synthetic version available in your local sporting goods store. Once the dummy is finished, attach it to a long rope you can use to drag it around on. The long rope helps to keep your smell and that of the dummy separate from each other.
Choose your training facility
If you can, try to find a wide-open field for the first part of your training, and then perhaps some nearby woods. You need space for short trails at first and then increasingly longer and more complex trails as your pup's skills improve.
Who let the dog out….
Drag the dummy out on the field, creating trails that are only around 100 feet long. Bring your Beagle out with his safety gear on and a hunting harness. Allow him to sniff the area until he finds a trail and then encourage him to follow it using a cue like "Follow", "Hunt", or anything you like, just keep it the same to avoid confusion. When he gets to the end, be sure to praise him and give him a treat.
Twist and shout
Well no shouting, but lots of twists. Take the training dummy and add twists, turns, and double-backs to the trails, making it harder for your pup to follow. Each time he gets it right, give plenty of praise and treats.
Take it to the woods
The final tweak in your pup's training is to create trails in the woods, the new smells will make it harder for him to track so be extra-heavy handed with praise and treats when he finds the "target." This will prepare him for the coming hunting season.
You need a donor
For this method, you will be training your pup to follow a blood trail such as might be left by a wounded deer. The best way to get the blood you need for this training is from a fresh kill. You can freeze some from your last kill if you are planning ahead, or you can find synthetic blood in your local sporting goods store.
Create the blend
For this, you need a 1-gallon sprayer, 2 ounces of blood or blood product, and 1 gallon of water. Add the water and blood to the sprayer. Seal, swirl to mix and you are ready to go. One of the great things about using a tank sprayer is that you can control how much of the mixture is sprayed out and how wide the spray spreads. This lets you make the trails progressively lighter and harder to follow.
Spray the area with blood
Use the sprayer to create training trails for your pup to follow. For this one, you might want to have a piece of deer hide lightly sprayed with the mixture at the end of the trail for your pup to chew on.
Follow that trail
Let your pup smell something that has been sprayed with the mixture. Take him over close to where the trails start. When he finds one, go with him as he follows it. When he reaches the end, let him chew on the hide for a few minutes, give him a treat and praise him. Repeat until your pup has no problem following the trails.
Lighter and harder
Using the same spray, create trails that curl back on each other, wander through the trees, and anything else you can come up with to make them more difficult to follow. This simulates what he can expect to deal with during hunting season and will make a far more effective hunting dog.
By PB Getz
Published: 01/05/2018, edited: 01/08/2021
---