How to Train Your Dog to Hunt Gophers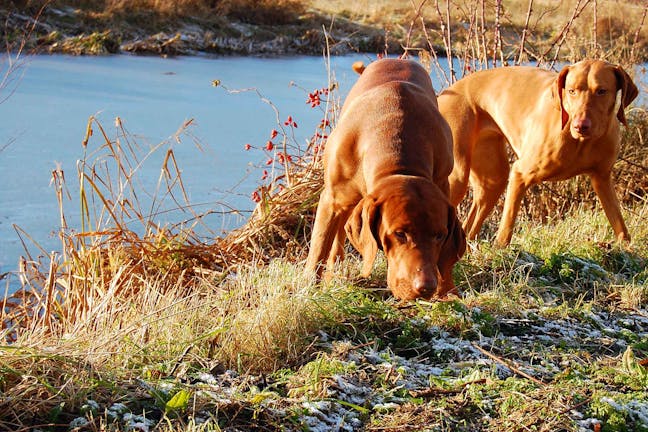 Introduction
Are you tired of finding mounds of dirt in your yard that hide gopher tunnels? While these furry little squatters might think they have a right to turn your yard into their family home, when the time comes to evict them maybe you should train your dog to do the dirty work. Among the most commonly used solutions are poisons (dangerous), shooting them (illegal in most suburban and urban areas), and professional exterminators (very expensive).
A well-trained gopher hunting dog is far less expensive than hiring a professional exterminator and can provide you with 10 or more years of faithful service. Imagine having your own gopher control service whose only charge is a daily bowl of his favorite dog food and maybe a treat or two along the way. While many dogs can be taught to hunt gophers, terrier breeds are more commonly used as this type of behavior comes naturally to them. 
Top
Defining Tasks
The task is pretty simple: your dog has to be trained to hunt and kill the gophers who are infesting your yard. This means they need to be able to dig into the tunnels and not be afraid of them. With the right breed of terrier, this is a natural instinct. All the training does is to help bring out this natural talent, focus it, and enhance it to the point at which your pup loves being released in the yard to go "hunting."
Beyond buying the right breed, your pup needs to have mastered the basic commands. While your pup may never get rid of all the gophers under your property on his own, chances are good that after he has made his fair share of kills, those who remain are likely to move on, seeking less risky homes. 
Top
Getting Started
For this one, your dog needs to be properly trained in the basic commands, 'sit', 'stay', 'come', and 'down'. He needs to be able to perform them without question. Along with this, you will need a few things to make the training go easier.
Treats

Long leash

Gopher hides

Gopher body

Gopher blood

A training tunnel

Beyond this, you need a dog that is excited to hunt gophers and has plenty of energy. Dogs like the Jack Russell terrier are perfect for this task as this was what they were bred for. Be sure to remain calm and patient during the training process as it can take months for your pup to master this skill. 
Top
The Using Hide for Bait Method
Prepare the hide
Take the hide from a freshly skinned gopher, create a small bundle out of it, use a skewer to punch a hole through it and tie a long sturdy cord through the hole creating, a training dummy.
Swing that lure
Take your pup out in the backyard and start swinging the lure around, teasing your dog with it. Let him sniff it, almost catch it, and run around. The more excited he gets, the better. He really needs to be excited to go hunting.
Make the catch
Each time your pup gets to the point at which he is "going nuts" trying to catch the lure, go ahead and let him catch it and "kill" it. Never wait until your dog gets frustrated, this is pushing it too far and your pup may get bored and not want to hunt.
Set up the training tunnel
Since your dog needs to be prepared to go into the tunnels to catch his quarry, you need a training tunnel. You can start with a length of PVC pipe.
Encourage your pup
Encourage your pup to investigate the tunnel by tossing a few of his favorite treats into it. Once he is comfortable going into the "tunnel" you can use more treats or, better yet, the lure to coax him to go all the way through your tunnel. This will help him to associate going into a tunnel with catching his prey.
Time to hunt
Now that your pup has learned to chase the lure and track it into tunnels, it's time to put all your hard work to the test. Take him out into the yard and let him go hunting. Be sure to reward him each time he goes into predator mode, even if he doesn't always succeed. It will take him several months to become a successful gopher hunter. Be patient, it takes time and practice for your pup to master this skill.
Getting started
For this, you will need a gopher hide that has been sprayed with gopher blood and allowed to dry for two to four hours.
Let your pup play
Let your pup play with the hide, sleep on it, chew it, anything to get him used to the scent. This is important as your dog must use his sense of smell to locate the gophers.
Start the game
Start hiding the gopher hide in different parts of your home and encourage your pup to find it. When he does, give him time to "attack and kill" his quarry. Encourage this behavior using treats and time to chew on the lure. Over time, make the hiding places harder for your pup to find. Try making hiding spots that require him to "tunnel" to find it, like piles of stuffed animals.
Move outside
Take your pup and the lure outside and hide the lure for your pup to find. At first, try hiding the lure out of sight above ground. Then move to hiding it down in gopher holes. This will teach your pup to hunt gophers in their tunnels.
Into the tunnels
Start pushing the lure farther down in the tunnels so that your dog has to dig down to find them. Be prepared to work at this for several weeks to several months as it can take time for him to master this skill.
Gather your tunnel kit
For this training method, you will need several lengths of pipe your dog just fits into. This simulates the tunnels he will be hunting in. You will also need several decoys coated in gopher blood.
Create the hunting ground
Start using a single length of pipe and using one of the pieces of blood-soaked gopher hide lure your pup into and through the tunnel. Repeat this until your dog will run into and through the tunnel, always let him score his "kill" as a reward.
Add to the tunnel
Add more pieces of pipe to create a maze of tunnels with turns and loops. Use your gopher hide lures at various points to teach your pup to keep going until he finds the lure each time. Be sure to use lots of verbal praise and treats each time he succeeds to reinforce the training.
Move outside
Time to take the training outside. Using the lures, work with your pup by hiding them for him to find just as you did indoors. Take your time, let him get used to hunting successfully outside.
In the tunnels
Introduce your pup to the real tunnels by placing the lures inside the mouth of any gopher hole you find. Place it deep enough that your dog must dig down to find it. Each time he does be sure to let him "kill" his quarry and give him lots of praise and treats. By now he should be able to locate a tunnel and go after the gopher hiding in it. Be patient, training your dog to follow his natural hunting instinct can take time, but the end results (a gopher free yard) are well worth the hard work and effort.
By PB Getz
Published: 12/01/2017, edited: 01/08/2021
---