How to Train Your Dog to Hunt Multiple Animals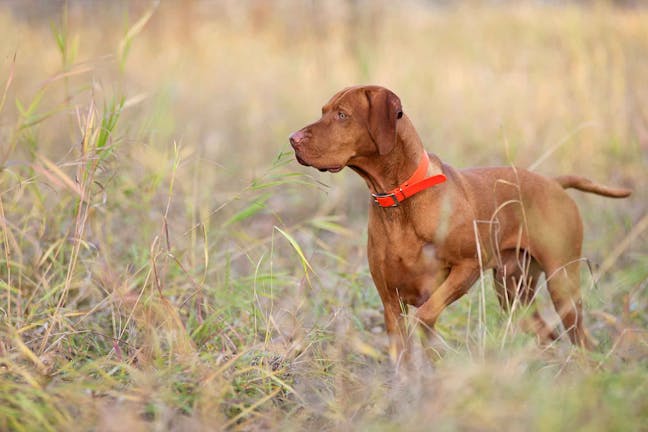 Introduction
Dogs have been used as hunting companions for thousands of years. Whether aiding in locating and hunting large or small game or defending against predators, dogs have played an integral part in providing food over the centuries and defending against predators that would endanger people and livestock. As a result, many different types of hunting dogs have developed, such as terriers, primarily used for hunting small game, to gun dogs that delicately retrieve fowl, to hounds that scent prey, and larger hunting dogs that are used to hunt predators and larger game.
If you want to use your dog to hunt multiple animals you will need to consider that dogs have been developed specifically to perform certain hunting jobs, and not all dogs will be appropriate to hunt several different types of animals. Hunting dogs are intelligent, and dogs such a hounds can be trained to scent a variety of animals accurately, however, you will need to consider your dog's breed, aptitude, adaptability, and personal attributes before determining what type of game or variety of game he will be capable of hunting.
Top
Defining Tasks
Most hunting dogs are started early, getting excited about chasing prey, following scent trails, and learning obedience commands and off-leash recall. Actual hunting may wait until the dog is more mature and capable of the strenuous physical exertion required for hunting and has the ability to make decisions to keep themselves safe, and control to stay within range and hold prey at bay for handlers to arrive. If you are training your dog to hunt multiple animals, to be a generalized hunter, you will need to focus on teaching your dog to be obedient and behave in the wilderness, staying close when called and being comfortable in a variety of situations and around guns. Your general hunting dog will learn to pick up scents and follow trails, alerting you to the presence of game, and possibly flushing and chasing game for you to hunt. 
Remember that dogs are usually bred for specific tasks, and teaching a dog a variety of hunting tasks and to focus on multiple animals will require an intelligent, adaptable, dog and extensive patience and work to get him used to the variety of techniques he will require for hunting various animals. Not all dogs are up to the task, so make sure your dog is capable and do not expect more than your dog can deliver, as this will just result in frustration for you and confusion for your dog. Many general hunting dogs are taught to locate and flush out game such as wild fowl, rabbits, raccoons, and other small animals. Large game and predators usually require specialized hunting dogs trained specifically for that purpose.
Top
Getting Started
If you are hunting out in the open with your dog and have concerns about him becoming separated from you, you may want to use a tracking collar so you do not lose your dog. Handlers also employ long lead lines during training to keep their dogs close until they respond well to off-leash commands and recall. Having a variety of commercially available scents to teach your dog to detect and follow different animals will be useful; scents may be applied to pelts of the same animal, to a toy, or to a drag cloth to create a scent trail. Most dogs are motivated to follow a scent and hunt, but having treats available to reinforce desired behaviors is useful to establish behaviors. There are many groups and clubs of hunters and hunting dogs throughout North America and accessing the expertise and resources of one of these groups while training and working with your hunting dog may be a great benefit.
Top
The Acclimatization Method
Teach commands
Teach your dog strong obedience commands such as 'sit', 'stay', 'leave it', 'down', 'come'. Practice off-leash, especially off leash recall, which must be well established before taking your dog out hunting in the open for his safety, and so that prey can be shot without your dog being in the line of fire.
Expose to guns
Get your dog used to guns; carry guns when out walking, keep your dog restrained at a distance and expose him to gunfire so that he is not frightened by it. Teach your dog where to stand when you are firing a gun for his safety.
Expose to terrain
Condition your dog and get him used to a variety of terrain, including water, brush, and rocky ground. Your dog will need to be in good shape to cover various wild terrain while hunting, and used to a variety of environments.
Expose to equipment
Get your dog used to any equipment you will be using, including, tracking collars, kennels, safety equipment, and off road vehicles for transporting to hunting sites, such as ATVs, snowmobiles, etc. You do not want your dog becoming frightened or confused while out in the open wilderness, which could result in an accident or injury or your dog becoming separated from you and lost.
Expose to animals
Expose your dog to scents, domestic animals such as tame rabbits, caged feral cats, and variety of commercial scents, so that he is used to the sights and sounds of different types of animals and motivated to hunt.
Create scent trails
Obtain various animal scents commercially. Use one at a time. Apply scent to a pelt or cloth and drag it to create a scent trail. Leave something for your dog to discover at the end of the trail: the pelt, cloth, or a favorite toy.
Introduce trail
Introduce your dog to the area at the beginning of the scent trail and let him locate the trail.
Reinforce scenting trail
Encourage your dog along the trail. Keep trails short and simple at first. When your dog reaches the end of the trail and the location of the scented item. Provide a reward, play with toy, or a treat.
Add complexity
Gradually make trails more complex; add obstacles and make trails longer. Introduce other animal scents so your dog is used to following a variety of scent trails.
Present hunting opportunities
Introduce your dog to actual scent trails in the wild. Recall your dog if he ranges too far. When your dog locates game, he may flush and chase or retrieve downed prey. Reward your dog with praise.
Introduce to other dogs
Introduce your dog to other hunting dogs and make sure he is well socialized and comfortable with them to avoid skirmishes.
Hunt on-line
Take your dog out on a long lead with other experienced hunting dogs. The experienced dogs may be on or off lead, depending on the type of hunting and the area you are in.
Take off-line
Let your dog learn to scent game and follow trails with the other dogs. When control is good and your dog is comfortable, you can allow your dog to go off leash with the other dogs.
Establish direction
Practice direction and commands with the other dogs present. The other dogs' responses will help model behavior and responses for your dog.
Experience the hunt
Let your dog experience flushing, chasing, and baying up game with the other dogs to get him used to the experience and appropriate hunting behaviors by observing the other dogs and working as a team.
By Laurie Haggart
Published: 11/30/2017, edited: 01/08/2021
---