How to Train Your Dog to Hunt Pheasant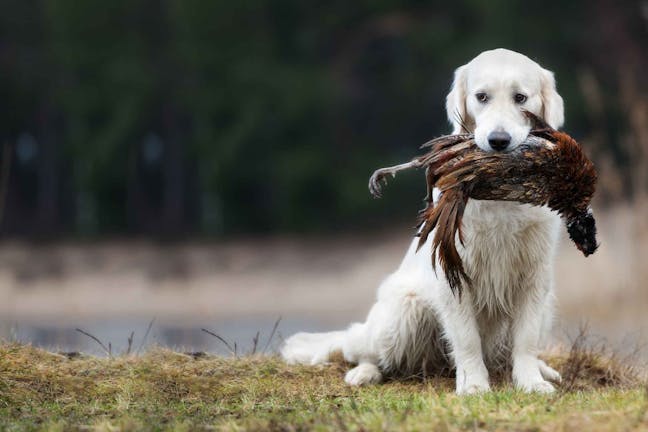 Introduction
If you want your new pup to become your favorite pheasant hunting buddy, you'll need to invest a fair amount of time during the off-season training and conditioning your pup. The good news is that you can train many different breeds to hunt birds, including pheasant, ducks, quail, doves and more. There are two different parts to this training: one, to flush out the birds so you have something to shoot at and two, to fetch your kills.
Whether you train your pup to just flush them out or to retrieve as well is up to you, but in most cases, you will find teach him both at the same time may be your best option. For your pup, the concept of hunting, flushing out, and, in nature, killing prey is quite natural. However, after decades of domestication, most dogs now need to be trained to hunt. 
Top
Defining Tasks
Hunting pheasant includes more than one action. You must teach your pup to recognize the scent of his quarry, learn to locate and follow a trail, flush out the birds, track the downed bird, and return it to you. All of this while not barking and while not being startled by the sound of your gunshot. Now, that's quite a lot isn't it? Or at least it sounds like a lot, but some of this is nothing more than an extension of the basic commands he should already have mastered.
During this training, your goal is not only to have your pup locate the birds and flush them out for you, he will need to learn not to destroy them when he brings them back to you. The sooner you start working on this training the faster your pup will learn what is expected of him. The rest is up to you. You must be ready to invest a lot of time in this training and be patient, but it will pay off in the end. 
Top
Getting Started
Before you start training your pup to hunt pheasant, he will need to have mastered basic commands like 'stop', 'sit', 'stay', 'fetch', 'come', and 'down'. You will also need to have trained him not to be gun shy by the time you are ready to go hunting, and you will need a few supplies:
Vest: Your dog needs his own bright orange hunting vest.

Leash: A short and long leash and a training harness.

Treats: As rewards for successfully completing a training step.

Space: You need space like a large field to work in.

Time: It will take months to properly train your pup.

Decoys: For training purposes.

Pheasant scent: For training purposes.

The most important thing to remember is that this is going to take a lot of time if you want to train a highly-skilled bird dog. In fact, some experts say it can take more than a couple of years for your dog to master the skills. Always remember you should continue training your dog during the off-season to keep his skills fully honed and ready to go.
Top
A bird in the hand
For this method, you will need a bird wing on a string, a single clipped-wing bird, and a cage with several birds secured inside.
Swing the wing
Start out with your pup by your side, and the wing on a string. Start swinging it around so that it draws your pup's attention. It is not necessary for him to "point" to it, just to let you know he has seen it and is quite happy to chase it (he does not need to be on a leash).
Clipped-wing bird
Take a clipped-wing bird and gently toss it out a few feet away from your pup. Allow your pup to chase after it and catch it. Repeat this for several training sessions until your pup finds the bird every time. Give him treats for successes.
In the cage
Now put several birds in a cage, take them out in the field without your dog following. Cover the cage with grass or straw. Go back to where your pup is waiting, turn him loose, and let him seek out and find the cage.
Flush the bird
Once your pup finds the cage, open the door and flush out the birds. As soon as your pup starts to chase them, holler out "Bang!" It won't take long before you pup learns to point the birds. Keep hiding the cage and working with your pup until he points the birds no matter how well you hide them, you can even use a starter pistol or blanks in place of yelling "bang" to get your pup completely used to his new job.
The Basic Training Method
Obedience training first
No matter what breed of dog you have, he must be fully trained to obey the basics: 'sit', 'stay', 'come', 'down', 'stop'. This is very important, especially when you are hunting birds. Before you start training your dog to hunt pheasant, spend around 20 minutes a day working him through the full range of basic commands until he will obey without hesitation.
Give him the bird
Unless you are lucky enough to have access to a game preserve for training purposes, you need to pick up a few training decoys and some pheasant sense. Use the scent on the dummies and give them a while for the scent to diminish a bit.
Place the decoys
In the field you plan to use for training, place your decoys in several different spots. You may want to use something to mark the spots for your own reference. You should also start your pup downwind from the decoys at first to help your dog pick up the scent.
Flush the birds
Set your dog to seek out the decoys and each time he finds one, be sure to give him a nice reward and lots of praise.
Practice makes perfect
Keep practicing this, you may want to use a long leash to teach your pup how far ahead of you he is allowed to go at the same time. It may take several months before he masters the skill, but it's well worth it--or at least it will be the next time you go hunting.
Prepare a single decoy
Prepare a single decoy by spraying it with a light coating of scent and allowing it to dry.
Allow a little play time
Give your pup a little time to play with the decoy so that he becomes thoroughly familiar with the smell of pheasant. Do this several times over the course of few days or weeks.
Toss the decoy
Go out into a large field and toss the decoy a few feet out and away from you. Let your pup goes and use his sense of smell to find it. When he brings it back to you, be sure to reward him with treats and praise.
Introduce a command word
Continue extending the distance and introduce a command word like "Seek" or "Hunt" as he takes off to bring the decoy back. This helps him associate the need to track by sent with finding his quarry. When he masters this, be sure to give him treats. Repeat this training throughout the off-season.
On the hunt
When pheasant season comes along, take your pup out and start working with him finding live pheasant and flushing them out for you. It should be easy for him to make the transition from working with a decoy to hunting for live quail.
By PB Getz
Published: 11/24/2017, edited: 01/08/2021
---