How to Train Your Dog to Hunt Quail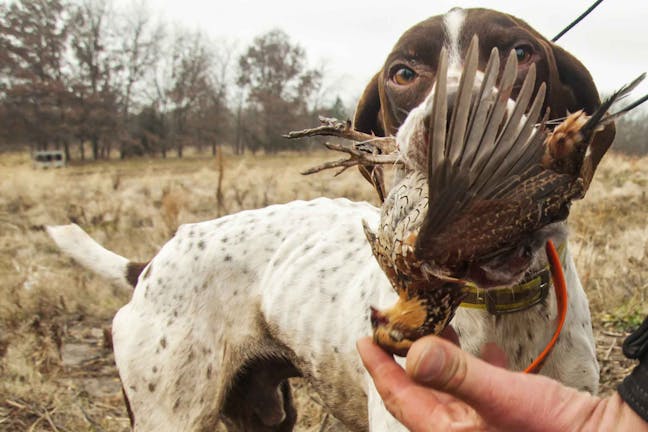 Introduction
Hunting quail without help can be more than just a little challenging since they are so good at hiding in plain sight in the deep grass. You could almost walk over the top of them and never even realize it. But, if you are willing to invest time and effort in training your dog to hunt quail, you can look forward to many more successful hunting trips in the future. The training is not hard, but it can take months before your pup is ready to take out in the field and improve your tally.
You can train your pup to flush out the flocks of quail, splitting them up and making it easier for you to shoot them. You can also train your dog to bring the birds back to you. While tracking and hunting are natural to most dogs, domestication has dulled this ability down. It is up to you to restore it and train your dog to make the most of this natural instinct. 
Top
Defining Tasks
The basic command can be something as simple as "track", "hunt", or "go get 'em!" The choice is yours, but no matter what you choose, be sure you stick to the same command every time to avoid confusion. The goal is to train your dog to use his nose to find his quarry in the deep grass or woods and flush them out so that you can shoot them.
This is much easier than trying to both yourself. Unless you are planning to sit in one spot and hoping the quail will walk by, you need to flush them out. Chances are good if you flush them out by walking past them, you are going to be too startled to get off a good shot and you may even end up hurting yourself. A well-trained dog will not only find more quail for you, but he can make the hunt much safer for both of you. 
Top
Getting Started
Before starting to train your pup to hunt, he must have mastered basic commands such as 'sit', 'stay', 'come', 'lay down'. Your pup must be trained not to react to the sound of gunfire, and you will also need a few supplies:
Treats

Training leash

Hunting vest

Decoys

Dummy

Quail scent

Open field

Time and patience

To fully train your pup to be a great quail hunter can take months or even years. The big thing is to continue working with your dog all year round, especially during the off-season. 
Top
The Back to Basics Method
Refresher course time
The most important thing you can do as part of training your dog to hunt anything is to spend a few days with him going over the basic commands. A sort of refresher course if you will. This help ensure your pup still knows how to obey and who is Alpha in his pack.
Bird, bird, bird is the word
Unless you have a bird game reserve handy you can practice in, you need to pick up a few training decoys and some form of quail scent you can rub on them. Go ahead and do this now and then let them sit for a little while.
Give a dog a bird
Give your dog one of the decoys to play around with, this lets him get used to the sight and smell.
Field goal and he scores
Take the decoys out and place them in several locations around your training areas. Try to hide them but don't completely bury them. This will help him get used to the way quail tend to hunker down in their nest.
Bring out your dog...
Now bring out your pup and let him sniff the scent one more time before letting him sniff around for the scent in the air. (In the early stages you may want to place the decoys fairly close to make it easier for him to find them.)
Let him go, let him go, let him go
Let your pup go and tell him to 'find them' or any other simple command you plan to use. Keep it simple, keep it consistent. Start with the decoys placed close enough he can smell their scent in the air. Each time he finds a decoy, praise him and give him a treat.
Repeat as necessary
Keep repeating this training, moving the decoys further out each time. Start finding ways to partially hide them and make it more challenging for your pup. The rest is all about repetition, at least until quail season comes along and you can put his training to practical use.
The Bird on the Wing Method
Off to a good start
Start with a quail bird wing, a live quail with clipped wings, a cage with several birds inside, and, of course, plenty of treats.
Taking wing
With your pup running around you in the field, take the wing, tie it on a long string, and start swinging it around you. Let your pup start chasing the wing around, praising him for doing so.
Clipped and no escape
Gently take the bird with the clipped wings and place it on the ground in the field. Let your dog chase it down, but do NOT let him bite it. Keep working on this, moving the bird farther and farther away. Each time he succeeds in finding the bird and not harming it, give him a treat and lots of praise.
Group training time
With your dog tied to your truck, take the cage of quail and place it in a far corner of the field. Cover it with burlap and grass. Let your dog go and give him the command to find the birds. When he does so and jumps up on the cage, reward him with a treat and plenty of praise.
Birds on the wind
Open the cage, let the birds out, and as your dog goes after them, fire a BLANK shot. This teaches your dog to point and flush out the birds under actual hunting conditions. Keep working this training and your pup will soon make an excellent hunting companion.
The Meet Your Prey Method
Getting ready
Start by preparing a decoy by covering it with quail scent and setting it aside for a few minutes to dry and for the scent to fade a little.
A new toy
For fifteen to twenty minutes a day, let your pup play with the decoy for a few weeks. This implants the scent of quail firmly in your pup's memory. You need to do this daily for several weeks before moving on to the next step.
The forward pass
Now that your dog has become used to the smell and associating it with the decoy, it's time to move on. Take the decoy, your pup, and a handful of treats out to an open field you can work safely in. Start by tossing the decoy a few feet out into the field and let your pup go find it. Each time he does, give him a treat and lots of praise.
Add the command
Now that he is hunting down the decoy and finding it each time, you can add in your choice of command word such as "hunt", "seek", "go get it", or "find it." Choose a simple command and stick to it. Use the command the moment just before you let your pup off his leash. This will help him associate the command with the action.
The rest is up to you
Once you have reached the range of your forward pass, you can leave your dog tied to the truck or a fence rail while you walk further out into to field. Keep working with your pup on distance and hard to find places all the way up to hunting season when you can put all your pup's training to work.
By PB Getz
Published: 11/24/2017, edited: 01/08/2021
---