How to Train Your Basset Hound Dog to Hunt Rabbits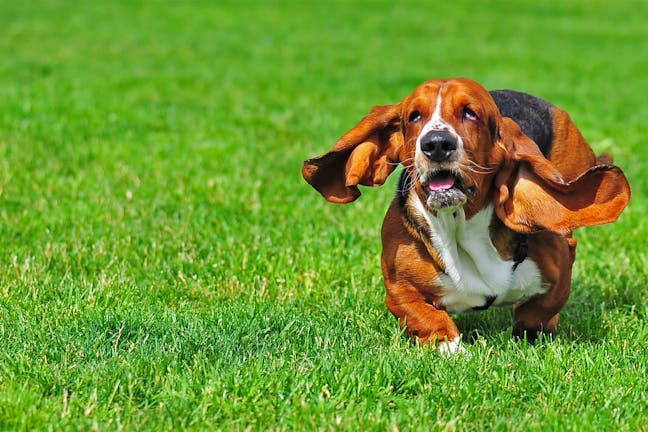 Introduction
Your Basset hound may seem like a peace-loving, lazy foodie, but really he is a mean, lean hunting machine! OK, maybe that's overstating it. 
Basset Hounds are notoriously amicable, not usually a mean bone in their body, and are highly food motivated, which tends to result in anything but a lean dog. But they are scent hounds, bred for hunting, and have a keen nose and hunting instinct. Basset hounds are excellent at picking up a scent and tracking it to locate game. Many Basset owners use them to hunt rabbits, as they are great at picking up the trail and highly motivated to follow it. Due to their short stature, they tend to be used to hunt small game rather than large game, and when used to hunt prey such as rabbits they can be ideal as they will not be able to chase the rabbit to closely or catch it. This will result in the rabbit usually running in a circle, as rabbits are in the habit of doing, back to the starting location, where a hunter can then shoot the rabbit or rabbits can be allowed to escape, as is the case in hunting trials and competitions.
Top
Defining Tasks
Your Basset hound will happily locate and chase a rabbit almost of his own accord, with little training and external motivation required. What is required is attention to the handler, so that your Basset hound follows direction and focuses on a fresh rabbit trail and not an old trail, or some other animal's trail. Larger, faster dogs tend to chase a rabbit so closely that they cause the rabbit to bolt down a hole or into cover, or they will catch and kill the rabbit. When hunting rabbits with Basset hounds, the goal is for your dog to chase the rabbit so it loops back in a circle towards to waiting hunters. The Basset Hound is usually far enough back from the rabbit that the rabbit can then be safely shot by hunters, or in competitions the rabbit will be allowed to escape because the dogs are judged on their scenting and trailing abilities, not catching ability. Basset Hounds are often trained to hunt rabbits in packs of 2-6 dogs. Young dogs may be started scenting and getting interested in rabbits but hunting may need to wait until the dog is mature enough to obey commands and focus on a single scent.
Top
Getting Started
Your Basset hound will need to have established good obedience and off lead commands. Basset hounds can be later than some other breeds to master these skills, as they can be stubborn and easily distractible. Each hound is different, and a good knowledge of your Basset hound's personality and abilities is required before taking him out in the field. To train rabbit hunting with your Basset Hound, a starting pen with live rabbits is ideal. A dead rabbit or pelt with scent can also be used to create scent trails for your Basset to follow. A tracking collar may be a useful tool to protect your Basset on field hunts in case he becomes distracted and separated from you or the rest of the hunting pack. There are Basset hound hunting organizations in most areas that can be contacted to find other hounds and hunters that can assist in training, trials, and active hunting. Contacting your local organization is an excellent resource before getting started.
Top
The Scenting and Trailing Method
Teach recall
Teach your Basset hound off-leash obedience, or keep him on a harness with a long lead if good recall is not yet developed.
Introduce rabbit scent
Take your young Basset Hound out in the field often. Let your dog smell around, direct him to investigate rabbit trails, burrows, or areas where a rabbit has been sitting. Encourage your dog to follow rabbit trails and get excited about the smell of rabbits.
Create simple trail
Use a rabbit hide with commercially available rabbit scent, or use a freshly killed rabbit to provide scent. Drag the dead rabbit or pelt in an enclosed area such as a yard or in a local field to create a rabbit scent trail.
Follow trail
Allow your Basset hound to follow the created trail, correct him if he becomes distracted. Encourage him following the trail. Provide rewards when he reaches the end of the trail and locates the hide or dead rabbit.
Find wild trails
Once following a fresh tail is established, start taking your Basset out to locate and track fresh wild rabbit trails.
Use caged rabbit
Put a tame rabbit in a wheeled cage.The cage is shaped like a wheel, similar to a hamster ball or wheel, allowing the rabbit to make contact with the ground and lay scent, and providing visual stimulus for the Basset hounds, while protecting the rabbit.
Introduce hound
Allow your Basset Hound loose with the caged rabbit. Encourage him to get excited about following the scent and reaching the rabbit.
Use rabbit in pen
Use a training pen with a live rabbit in it. Allow your Basset Hound to smell and chase the rabbit.
Ensure rabbit safety
Supervise closely so the rabbits do not get injured or caught. Usually, a Basset hound is not fast enough to actually catch the rabbit. Rabbits should have escape routes available to them to avoid injury to animals.
Find wild rabbits
Once your Basset is interested in smelling and chasing rabbits Introduce them to wild rabbit trails and chasing wild rabbits.
The Run With a Pack Method
Prepare
Establish off-leash and obedience commands. Ensure your Basset Hound is well-socialized.
Socilaize
Introduce your dog to another Basset hound or a small pack of 3 or 4 other experienced hunting dogs. Allow dogs to become familiar prior to going out in the field.
Hunt with group
Allow your Basset to hunt with the pack, to locate the rabbit scent as part of the group, and participate in flushing the rabbit.
Take solo trips
Once group hunting has been practiced, take your Basset out solo to give him individual experience and work on directions and recall.
Become a team member
When your dog has had some group experience and some solo experience and built confidence, he is ready to start hunting as part of a Basset rabbit hunting pack. Work with a group of dogs that can become familiar with each others' hunting styles and learn to work a a team.
By Laurie Haggart
Published: 12/22/2017, edited: 01/08/2021
---