How to Train Your Beagle Dog to Hunt Rabbits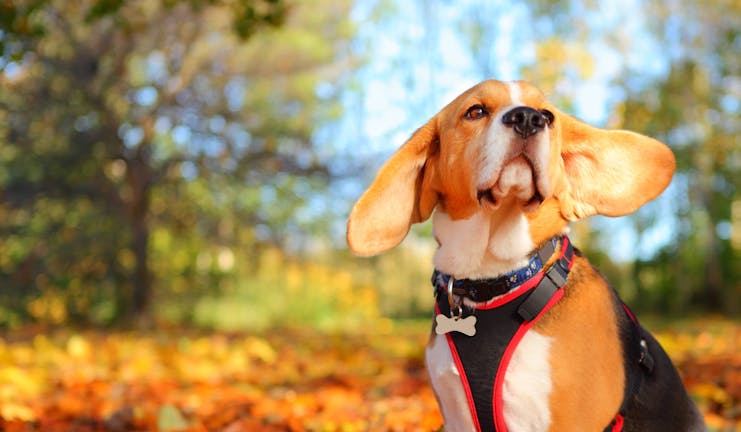 Introduction
You love your Beagle. He's intelligent, determined, even-tempered and always happy to see you. Unlike the rest of your family, he doesn't argue back and he makes less mess! He's a fast learner, which has seen him respond well to training so far. But while you love playing around with him and having him as a family dog, you also want to put him to another use. You want to teach him to hunt rabbits. Your land is full of them and you're finally ready to admit something needs be done. Plus, after all, Beagles are hounds, with a fantastic sense of smell and naturally suited to hunting rabbits.
Training him to hunt will do more than solve your rabbit crisis. It's an effective way to channel his energy into something productive. Not to mention it's fantastic exercise and will strengthen the bond between the two of you.
Top
Defining Tasks
Training any dog to hunt rabbits comes with its challenges. Fortunately, Beagles have all the characteristics you need for the job. They are quick learners, agile and determined. All you need to do is give them the right training. That will entail getting him familiar with his prey. You will then need to find an effective motivator. Smelly food is often the way to get them on board. Obedience training will also be required to ensure he is disciplined and follows your instructions.
If he's a puppy he should be receptive and keen to please. You could see results in just a few weeks. If he's older and not quite the enthusiastic pupil he once was, then be prepared to invest several months into training. Succeed and you will have an effective weapon to add to your rabbit hunting arsenal.
Top
Getting Started
Before you start training, you will need to get your hands on a few things. Some rabbit decoys and scent spray will be needed. You will also need a generous supply of treats or his favorite food broken into small pieces.
Find 15 minutes each day to practice and try to train when there aren't too many distractions around, such as noisy kids charging around the house.
The only other things you need are patience and an optimistic attitude, then work can begin!
Top
Day one
It's important you start training your Beagle as early as possible. They are at their most receptive when they are just puppies. So, the harder you train at the beginning, the sooner you will see results.
Obedience commands
Start training a number of obedience commands into him. Start with 'sit', then progress to 'down', 'drop it' and any other commands you may need later on. Again, the earlier you train the more disciplined he will be.
Hunting friendly
Take him out and get him used to the hunting environment he will later be exposed to. If he is to be around guns, he needs to be familiar with their sounds. You don't want him bolting every time you take a shot.
Encouragement
Reward any promising signs from an early age. That means treats and verbal praise whenever he shows any signs of aggression towards rabbits. Any chasing behavior should also be encouraged.
Decoy play
You also need to get him familiar with his prey. So, give him rabbit decoys to play around with at home. You can also play tug of war and fetch. Both will help him practice the skills he will need later on.
The Lead By Example Method
Stealth
Head out into fields regularly and walk quietly, searching for rabbits. Dogs mirror their owner's behavior, so you need to show him how to stealthily stalk his prey.
Get animated
When you spot a rabbit, point, shout and draw his attention to it. The more worked up he sees you getting by rabbits, the more worked up he will get. You may look bizarre, but it will pay off in the long run.
Give chase
Once you've drawn his attention, start charging towards the rabbit, shouting and waving your arms in the air as you go. This is you showing him how it is done. Do this every time and he will soon follow your lead.
Reward
He will soon start chasing the rabbits himself. When this happens, make sure you give him a reward each time he returns. Even if he doesn't succeed, you must reward him, especially to start with. Otherwise he will quickly give up.
Never punish him
It is important you use positive reinforcements only. Shouting at him or punishing him will only make him aggressive and then potentially dangerous. So, stay calm and encourage only.
Decoy preparation
Spend a few minutes each day playing around with a rabbit decoy. Apply some scent spray to it too. You are going to appeal to your Beagle's strong sense of smell. Play tug of war and leave the toy in his bed each night.
Setting up
After several days of this play, he should recognize their smell and get excited whenever you take the decoy out. Now head out into the yard and create a trail with the scent spray, leading to a hidden decoy.
Application
Secure him to a leash and take him to the beginning of the trail. Encourage him to follow it by pointing to the ground and leading him the correct way. Try and encourage him to do the work and just bring him back on track when he needs it. Make sure he follows it all the way to the decoy at the end.
Reward
When he gets to the decoy, hand over a treat and play around with the decoy for a minute. Practice this a few times a week. Once he gets the hang of it, you can create scent trails in nearby fields. Make them longer and harder. With regular practice like this, he will soon naturally start sniffing out rabbits.
Team work
Make sure when he does start sniffing them out on his own, that you go with him to encourage him. Dogs are pack animals, so if he feels like you are working as a team he will be more motivated. Plus, always make sure you give him a reward when he catches a rabbit.
By James Barra
Published: 01/15/2018, edited: 01/08/2021
---