How to Train Your Dog to Hunt Woodcock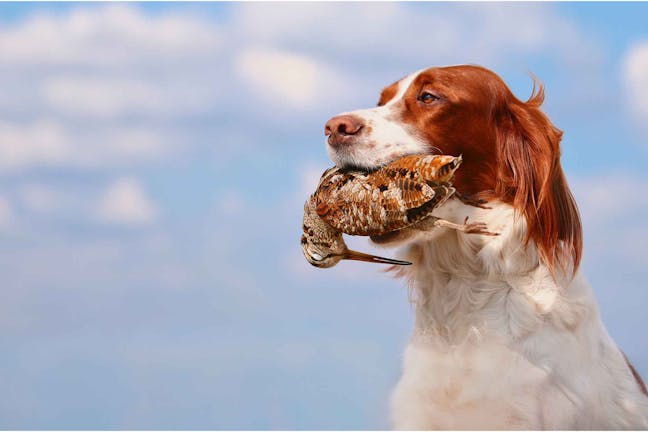 Introduction
With cute, black-button eyes and a characteristically long, thin beak, woodcock birds are easy to identify, but not so easy to find. Their preferred habitats are lightly forested areas, with plenty of shrubs to nest and hide in and moist terrain where plenty of earthworms, their favorite snack, reside. Their brown and tan feathers allow them to blend in expertly while staying cozy and safe in thick brush. In addition to their camouflage, woodcocks are known as remarkably composed, making them difficult for hunters to scare into the air so that they can aim for a flying target. 
All of these reasons help explain why woodcocks are a popular game bird; the challenge makes the hunt all the more fun and rewarding. It's these reasons also, however, that many hunters prefer the company of a dog when hunting specifically for these ground-nesting birds. The canine nose allows for the ability to smell out the bird rather than finding it by sight, and its loud bark serves better to flush or scare the game into the air. 
Top
Defining Tasks
If you and your dog have been on many hunts together and you live in the eastern region of the U.S., chances are you've encountered or at least heard of the woodcock. Considering training your hunting companion to hunt specifically for this elusive critter will call for some extra training, no matter their level of expertise. 
Your hunting companion most likely already knows basic commands such as 'no', 'stay', 'heel', 'here' and 'whoa'. All of these are essential to a hunter's verbal toolbox and when uttered their loyal dog performs trained tasks to help in the hunting and retrieving processes. 
For the task of hunting for woodcock, it may not be that new verbal commands are added to this toolbox, but that some already existing ones are brought more to the forefront or revisited so that your dog's strength in that command is elevated.
Top
Getting Started
The woodcock's keen sense to hide in brush rather than an open field combined with his stubbornness to leave the roost will give your hunting dog a new challenge. The good news is with the right attitude and dedicated amount of time, dogs of any breed and age can be taught to hunt for woodcock.  

An extra dose of time spent outdoors will need to be part of your routine schedule in the coming months, especially in young wooded areas near rivers or lakes, where woodcock are typically present. Even hiking through these habitats without the intention of hunting is helpful to you and your dog, giving them time to become accustomed to layouts and scents. 
The most important thing to remember is to be patient, both with yourself and your loyal friend. No hunt is ever the same; conditions are ever-changing and some days you may be more or less pleased with your dog's progress than others. Try not to look at it as a step backward or forward, but simply part of the process and part of the fun of hunting and learning together. 
Top
The Seasoned Hunters Method
Use a bell
A bell on the collar is a great way to communicate distance with your dog. Many hunters, whether hunting woodcock or not, utilize these simple tools. A soft tinkle in the distance can help a hunter track their dog while their dog tracks the game.
Teach ground coverage
Woodcocks ground-rest and typically near each other. Huddled low and nearly invisible, they know they have the best ability to remain safe from potential predators, which in this case, are you, your gun and your dog. Many hunters recommend surveying the area in a grid. Walking in a tight grid pattern, one you might employ when mowing the lawn, for example, is the best way to find and flush out woodcock.
Practice the grid
Practice this routine with your dog, leading them in a grid while on walks, reward their progress with lots of treats, head scratches, and verbal affirmation. You may even try introducing a new verbal command to accompany this new method of covering ground, such as "Walk" or "Search".
Adjust distance learning
If you and your pooch have been hunting together already, chances are you've already developed some tricks and habits along the way. Woodcocks may require a little re-wiring in the dog-training department, however, calling for you to adjust some already learned behavior. Every hunter knows that a good hunting dog is obedient and understands distance. They won't stray too far, ensuring that when game is flushed you're within the right amount of distance to gain a good shot.
Stay close
For woodcocks, who are so notoriously non-skittish that many hunters report nearly stepping on them during a hunt, distance isn't as much of a problem as it might have been when hunting over vermin or birds. Let your dog lead and stay close behind, you could stumble upon a nest of woodcock at nearly any time.
Recognize tracking patterns
As the years go on, you may begin to notice patterns in your furry companion while hunting different game. Different animals and birds move in different ways, which means while your dog is tracking them, their healthy, super-powered noses to the ground, they're likely following the exact moving pattern of the animal they're tracking. Woodcocks are odd creatures, often roaming the muddy, soft ground for earthworms in erratic patterns. If your dog is leading you to something and doing so while practically running in circles, chances are you're about to run into some roosting woodcock.
Ease over-excitement
Because their senses are so much more elevated than our own, it's easy for dogs to become overexcited or overwhelmed by new sights and smells. If you've taken your dog with you on hunts in different habitats than what woodcock prefer, introduce these areas to your dog before the hunt. The more they are familiar with a new hunting ground, the more focused their nose will be when the real hunt begins.
Re-visit the flushing command
Many hunters will utilize a whistle to initiate their dog to "flush" out game. Flushing is the action of scaring bird out of their roosts or nests so the hunter gains a better shot. When it comes to hunting woodcock, flushing is potentially the most important aspect of the hunt. While your dog may already be a great or even natural-born flusher, no amount of further improvement could be a bad thing.
Try different commands
Some trainers reveal that common commands such as "Whoa" or "Heel" confuse their dogs rather than reap benefits. This could be caused by the dog associating certain words with their name or another command altogether. An example of this is with the common dog name, Bo or Beau, which can sound like "Go" or "No", or the fact that "Here" and "Heel" can sound very similar. Exchange a new word for a common command in order to avoid anything that could be impeding their progress as a hunting companion.
Recognize flushing and flushing on command
This step is more for you than it is for them. Some hunters don't teach flushing on their command, meaning they let their dog lead the hunt from beginning to end, allowing them to flush as soon as they spot potential prey. There isn't anything empirically right or wrong with this, it's simply up to the hunter. However, most hunters will likely prefer a dog that flushes exclusively on command as it betters their chances of hitting a target. For game birds like woodcock, however, flushing on command may be less efficient as the dog is likely to find the bird before you do. Practice both of these means of flushing to determine which you or your dog prefers.
Practice
Practice with live birds or scented dummies out in the field to see how your dog best performs. Some dogs won't act out any part of hunting, retrieving or flushing without the command of their owner, while others don't take initiative. You want to find a balance, which can sometimes take years. What you want to achieve during practice is mainly teaching the virtue of patience. Patience will make a hunting dog more willing to wait and listen for commands. This comes with time and with repetition, which is why practice is always key.
Follow up
After each practice take a moment to reiterate the goals you have with your pet. You can communicate this to them by having them perform a simple task, such as the 'sit' command. Once they sit, reward them with a treat and verbal affirmation. Immediately following this completed task, have them perform a more difficult one, one related to hunting, such as "Get 'em" (a popular verbal flushing command). Again, if completed correctly, reward them. These tasks completed back-to-back will reiterate to your dog that their obedience is always rewarded and that no task is too difficult for them to achieve.
The Retrieving Dogs Method
Re-visit the retrieving command
Whether your dog is a natural retriever by pedigree or just an exemplary retrieving-learner, their skills will come in handy during woodcock season. After a successful hit the hardest objective is to find the wounded bird. A proper retrieving dog will utilize his or her expert nose to sniff out your prize and bring it to you as easily as they bring you the newspaper. When revisiting this command, what you're really doing is fine-tuning the progress your hunting dog has already achieved.
Re-learning 'fetch'
The 'fetch' command almost doesn't even need to be said. Dogs love to fetch and chase. Hunters know that what's most important in when training retrieving is to ensure that the dog understands the difference between playing fetch with a ball and fetching your prized shot bird. Often we see the dogs that love to catch balls so much that they aren't willing to give it back to be thrown again. When hunting, this would be an incredibly frustrating habit. If your dog has this habit with balls, it's likely they will have it with birds. To break this, practice reward and punishment tactics during training and practice sessions. Utilize the 'drop' or 'give' commands until they're followed.
Recognize retrieving and retrieving on command
Just like the flushing command, retrieving needs help finding balance between doing and waiting. Some prefer their dog to just do what feels natural when they witness the gun shot and the falling bird, sprint towards it, while others encourage the dog to wait for the command, 'get', 'bring', 'go' or some other variation. In some sense, it really doesn't matter and all comes down to personal preference. The main benefit of having your hunting dog wait for your command to retrieve is that it creates more structure for them. They understand, without doubt, that they are always to wait for your command on all aspects of the hunt.
Practice
Training is all about repetition. Repetition helps dogs learn efficiently and quickly. Being the intelligent companions that they are, it doesn't take many times for a dog to learn that sitting on your bed, peeing in your shoe, or running wild during a hunt are all frowned-upon habits. When practicing retrieving in preparation for woodcock season, always be outdoors and always recognize their good behavior and their bad.
Follow up
Following up is an important step for any dog training teaching any dog trick or task. This step helps the dog understand the goal of his or her actions. Dogs aren't often categorized as selfish creatures, but they are animals and all animals are driven by core necessities, such as food. When practicing this step, reiterate tricks you know they can perform and happily reward them for it with yummy treats. When they successfully complete a hunting task, and they're rewarded, they will find that completing any command you give results in something delicious for them.
By Candice Littleton
Published: 12/15/2017, edited: 01/08/2021
---