How to Train Your Dog to Jump Over a Stick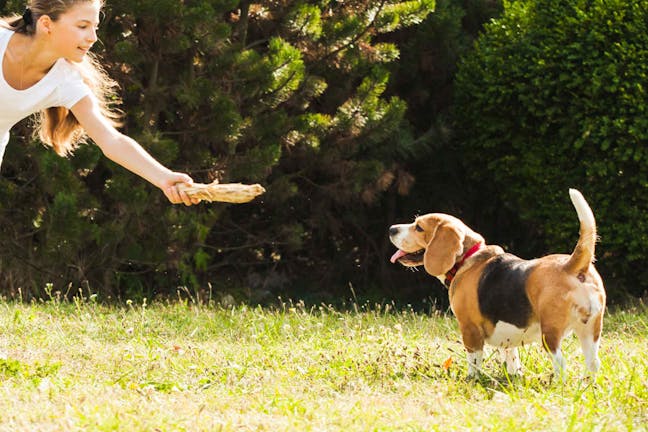 Introduction
If your dog is like most, he loves to play and learn new tricks. By now, he can probably play fetch, get in and out of the car, play ball, and a few others. If so, then now is the perfect time to teach him how to jump over a stick. Before you can teach him this one, he does need to be able to follow the basic commands without fail and without the need for constant treats. You should, however, not try to teach your pup to jump until his body has had a chance to mature.
Be sure to check with your vet to make sure your pup is old enough and developed enough for this type of training. If they aren't, teaching your dog to jump can lead to serious injuries such as damaged muscles, torn ligaments, or broken bones. You should not try to teach this trick to a dog with a history of hip dysplasia, as it could exacerbate the condition. 
Top
Defining Tasks
The command itself is relatively simple, you want your pup to jump over a stick when you are holding it out in front of you on command. You can use a simple command such as 'jump', 'jump over', or 'over', whichever one works best for you. No matter which one you choose, be sure to stay consistent in order to avoid confusion and making training take longer than it should.
While this command is a staple for professional show dogs, it can also be a lot of fun for both you and your pup. Not only this, but what a great way to show off the tricks your puppy knows in front of the rest of your family and, of course, your friends! Not to mention how much fun the two of you can have at the local dog park showing off. 
Top
Getting Started
Before you start, it pays to make sure your dog is physically healthy enough and capable of jumping. If you don't, you risk permanently injuring your pup. Beyond this, you need a place to practice, a stick, and of course, plenty of treats to give your pup each time he gets things right. Be sure the place you have chosen to practice is nice and quiet as distractions can only make it hard for your pup to concentrate and learn this amazing new trick you are trying to teach him. Most of all, remember you need to be patient with him and start out slow. Not only will this make the training more fun, it will also make it go much faster. 
Top
Sit – Stay
Give your pup the 'sit' and 'stay' commands, then lay the stick on the ground in front of him.
Crossover
Move until you are standing on the other side of the stick and call your pup. When he steps over the sick, click the clicker and give him a treat.
Repeat
Repeat this step several times, slowly raising the stick off the ground using a number of rocks or bricks to increase the height. Be sure to reward him each time he gets it right.
Increase the height
Once he has become used to working at these heights, keep raising the stick a little at a time, introducing your command word each time he is ready to jump.
Keep going
Keep doing this until you are able to hold the stick out and he will jump over it whenever you give him the command.
Set up low hurdles
Start out by setting up a series of low hurdles made from sticks, PVC pipe, or wooden dowels sitting on books at varying heights.
Walk through
Walk your dog through this "training" course encouraging him to 'jump over' each of the hurdles. Be sure to give him a treat when he does.
Gradual increases
Slowly raise the height of the hurdles until he can leap over one that is close to waist height. Give lots of praise and rewards before moving on.
Hold the stick
Now it's your turn to hold the stick out in front of you and give the command to 'jump over' the stick. Be sure to shower him with praise when he does and have lots of treats ready.
Practice, practice, practice
The only thing left to do is practice this trick until he does it every time without fail. Just be sure to make it fun for both of you and thrill your audience with your pup's feats of daring.
Just like high jump
Build a portable high jump using PVC pipes and bolts to hold the crossbar at varying heights.
Introduction
Bring your dog to the jump and let him sniff around it and get used to it.
Low starting point
With the bar at the lowest height, walk your pup over it giving him the 'over' command you have chosen. This lets him get truly used to it.
Raise the bar
Start raising the bar and going over the jump with your pup, using the 'over' command. Reward him when he does it with you. Repeat until he will do it with you every time.
Move outside the jump
Repeat this process with you walking on the outside of the jump and your pup going between the poles and over the bar. Be sure to reward him with treats when he does.
Switch to a stick
Now that he fully understands what is expected of him when you give the "over" command, get rid of the jump and try using a stick. You may need to start lower again until he gets used to it. But in a few weeks, he should have no problem jumping over any obstacle, including a stick, when you give the command.
By PB Getz
Published: 10/20/2017, edited: 01/08/2021
---