How to Train Your Dog to Jump Over Objects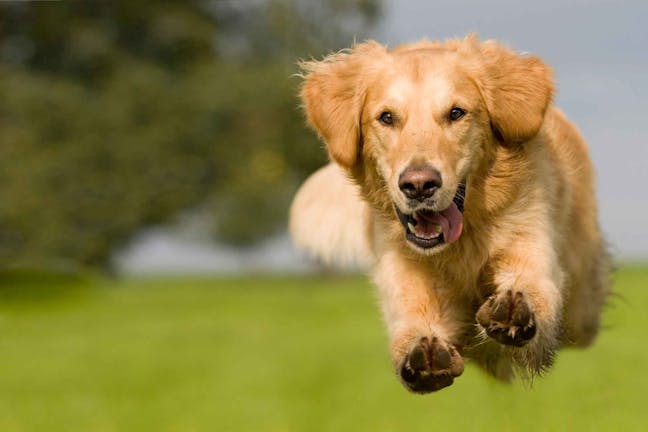 Introduction
You've taken him out for a long walk today, but your dog remains full of energy and is bounding around the house. You've got a BBQ going on and family and friends around that love seeing your canine pal. Why not kill two birds with one stone and help him dispel some energy while creating an entertaining spectacle for guests? A dog that can jump over objects is guaranteed to get guests grinning and even your energetic pup can't compete in the high jump all day and not need an afternoon nap. 
Teaching him to jump over objects may also serve a practical purpose too. If you've got young kids in the house you've probably got gates on your doorways. But getting up to constantly to let your dog get through the house isn't half a pain. A jumping dog could clear your gates and allow you to enjoy those short periods you get to sit down with a hot drink and Gossip Girl.
Top
Defining Tasks
The good news is, this type of training can yield results in just a week or two. If you've got a young and acrobatic dog he'll probably want to be leaping over objects anyway and may need just a few days. If he's older and not quite all there upstairs, with arthritis and dodgy knees, then you may need to take training slower and give him a couple of weeks to catch on.
The training itself is pretty simple. It consists partly of obedience commands but mainly encouraging him and guiding him to start with. If he thinks it's a game, he'll be eager to play and succeed, making training fun! 
Apart from allowing him to jump obstacles in the house like baby gates, it will help him quickly use up that excess energy and be a fantastic party trick for guests.
Top
Getting Started
Before you enter him into the doggie Olympics you'll need to gather a few bits. A stick, toys, and objects for him to jump over will be essential. It is also important you find a large space where he isn't likely to land on something that's going to cause injury. A big yard or a quiet field often work well.
Also get his favorite food and some treats together. The more he loves the food or treat, the higher he'll be willing to jump to get his mouth around it. Once you're all sorted, head to your acrobatic arena…
Top
Setting up
Head outside and have him sit in front of you. Hold a treat in your hand if you haven't got his full attention--this will soon bring his eyes to you. Make sure there aren't any noisy distractions around, you want him to learn quickly.
Incentivize with a treat
Hold the treat just above him and when he leans up to get it, let him have it. Don't hold it so far away he can't get it, you can gradually increase the height later.
Make it harder
Slowly increase the height he has to jump to get to the treat. Practice this for 10 minutes a day, until he can leap right off the ground. Once he can do this with ease, you're ready to introduce an obstacle.
Introduce a stick
With one hand hold a stick, in the other hold the treat above and ahead. Then encourage him to jump and be sure to reward him when he clears the stick. If he doesn't clear the stick, position the stick lower so he has to jump over it to get to your treat-filled hand. Practice this daily and change up the angle and height of the stick until he gets the hang of it.
Use different obstacles
Once he knows what to do you can experiment with anything from fences and bushes, to baby gates and chairs. Simply use the treat to lure him over. With enough practice, he'll soon be a fully fledged high jumper. Just always remember to give him praise and reward him when he successfully makes a jump.
Getting ready
Stand in front of him with a treat in hand. You aren't just going to train him to jump over an object, you're going to teach him to jump on command. A simple verbal cue will let him know he needs to get leaping.
'Jump'
Hold the treat above him and issue a 'jump' command. You don't have to use the word 'jump', you can use any word as long as it hasn't already been used in relation to another trick. Dogs can learn over a 1,000 words, so be as creative as you like!
Praise and reward
As soon as he jumps up, give him the treat. To start with, reward him whenever he shows any signs of trying to jump, even if he doesn't get close to the treat. At this stage, it's important to encourage any signs he's going in the right direction.
Up the stakes
Increase the height you hold the treat and keep using the command. Over the next few days, keep holding the treat higher until he is comfortable launching right into the air to get it. When he can do this, you're ready to introduce obstacles.
Start small and get big
Place a stool or a low chair in front of him. Then hold a treat in front of and slightly above the object. Issue the command and encourage him to jump. Give him lots of verbal praise as well as the treat when he's successful. Don't increase the height of the objects too quickly, it's important he builds up his confidence slowly. Once he gets the hang of it and can clear gates and fences, you can slowly reduce the frequency of treats.
The Obstacle Course Method
DIY
Build a series of obstacles in your yard, gradually increasing in height. It is important you use something really small to begin with. You can buy adjustable hurdles online and from some stores. Alternatively, you can build a course out of cinder blocks and whatever you've got in your garage.
The first hurdle
Take him to the first hurdle and stand alongside him. Make sure you have his undivided attention; you may need to hold out a treat to get this.
The arch
Hold the treat in front of his nose and then arch it over the hurdle to encourage him to jump. You may need to give him lots of words of encouragement and really lead him with the treat to get him to make the first jump. This is the hardest step, so don't be disheartened if it takes a couple of days before he finally jumps that first hurdle.
Lead by example
If he is really reluctant and struggling, give him a demonstration. Dogs often mirror their owners, so jumping the obstacles yourself may give him the inspiration he needs. When he does finally make the jump, be sure to give him a generous reward and loads of praise. Really emphasize how happy you are with him and he'll be eager to do it again.
Practice makes perfect
Practice the first obstacle a few times and then work your way through the course. Give him a treat after each cleared obstacle, or leave a treat on the floor after each hurdle. Then run alongside him and encourage him as he goes. Practice this everyday until after a week or two he can skip, leap and bound without hesitation. Then you can use the same technique to get him to jump over any obstacle you like!
By James Barra
Published: 10/15/2017, edited: 01/08/2021
---