How to Train Your Dog to Jump Over Obstacles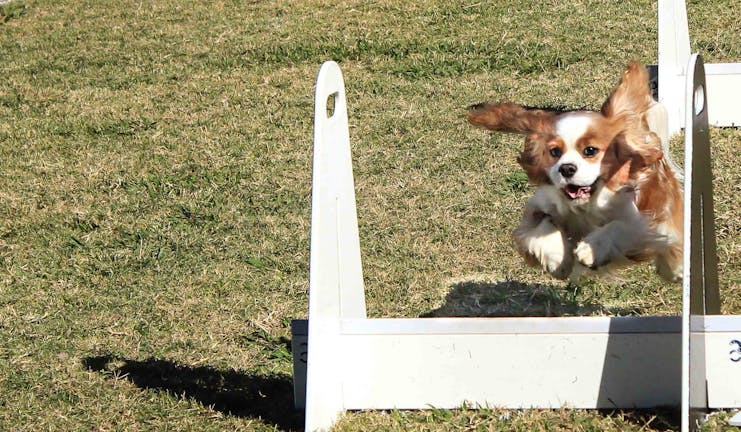 Introduction
He charges around the house causing trouble almost every day. The kids love playing with him and your partner goes all cute and soft around him, too. Your dog is full of energy though, and you want to put it to good use. While you love having him wreaking havoc, you think there's a safer way to channel his energy. Not to mention, you're always on the look out for a neat party trick. Training him to jump over obstacles is one such behavior that's guaranteed to put a smile on guests' faces. You could even have him leaping around a carefully laid out obstacle course in the yard.
The benefits to this include, but are not limited to, not having to worry about things getting broken in the house anymore. Plus, both your kids and dog will be left knackered by the end of the day. That means napping instead of charging around the kitchen while you try and cook.
Top
Defining Tasks
Training your dog to jump over obstacles isn't as challenging as you might think. The biggest hurdle comes in finding the right incentive. If he's like most dogs, the best motivator will be a smelly bit of food. Cheese is often a good choice. You'll then need to gradually build up his jumping confidence. This can all be done with consistent practice. You will need to make sure training takes place in a safe environment, though. You want to avoid any injuries.

If he's a puppy he should be raring to go and keen to please. This means you could see results in just a few days. If he's older and his acrobatic days are behind him then you may need a couple of weeks before you see consistent results. Succeed and if you have steps, ledges or anything else around your home, he'll be able to get around easily.

Top
Getting Started
Before you start you'll need to gather a few things. The first thing you'll need are the obstacles for him to jump over. A stick is often a good place to start. For one of the methods you can either buy a mini obstacle course online, or you can build one in your yard.
You'll need to stock up on a generous supply of treats. A toy will also be needed for one of the methods. Set aside 10 minutes each day for training. You can practice in the yard, or in a large room, away from anything that might get broken.
Once you have all that, just bring a positive attitude and training can begin!
Top
The Obstacle Course Method
Setting up
Head out into the yard and build an obstacle course. Make sure there is plenty of space between each obstacle. Also, make sure the obstacle course gets steadily harder. You're going to make training fun.
Lead by example
First of all you're going to show him how it's done. Dogs mirror their owners' behavior, so if he sees you doing it he'll be more inclined to give it a go. Make sure you're happy and animated as you're doing it in front of him.
His turn
If he doesn't naturally follow you around, jumping over each obstacle, then you need to guide him. Hold a treat out and run alongside him to encourage him. He will follow the treat over each obstacle. Don't do the whole course in one go. Start with one, then do two, then go back and try three, and so on.
Reward
Make sure he gets a big reward after each successful obstacle. The greater the reward the more likely he will be to do it again. Once he gets better you can give him a treat after two obstacles, then three, and finally only when he's finished the whole course.
Mix it up
Once he's mastered the course it's important to check he's comfortable jumping over other obstacles, like steps and ledges in the yard. So, take him there and show him how it's done. Then use the treat to guide him over until he's fully got the hang of each obstacle he needs to be able to jump.
Play time
Spend a few minutes each day playing with a particular toy. Be animated and get him as worked up as possible. You want him jumping up and down at the mere sight of it.
Sit down
Now take him to a quiet room or the yard. Sit down with your legs outstretched in front of you and the toy in your hand. Now use the toy to get him to jump over your legs. Hold it in front of his face and slowly guide him across.
Reward
As soon as he's cleared your legs, give him the reward and plenty of verbal praise. Make sure he gets the toy within 3 seconds of jumping, otherwise he won't associate the reward with the action.
Increase the height
Keep practicing this for a few minutes each day. However, gradually increase the height of your legs, until he's comfortable fully jumping over them. There's no rush, you want his confidence to grow steadily.
Other obstacles
Once he's comfortable with your legs you can try getting him to jump over other obstacles. Use the toy again to lure him over. Make sure he always gets his toy at the end and he'll soon get into the habit of jumping over certain obstacles. Once it is habit, you can slowly cut out giving him a toy at the end.
Head out
Take him out into the yard. Bring a stick with you and a pocketful of treats. You're going to start by getting him to jump over a very small obstacle. Place the stick flat on the ground.
Treat lure
Now hold a treat out in front of his face and lure him across the stick with it. Make sure he walks directly over the stick on the ground. Once he's walked over, give him the treat and shower him in verbal praise.
Raise the stick
Now hold the stick slightly off the ground and repeat the procedure. Be sure to lead him with the treat, but also make sure he realizes he now needs to step over the stick. Again, make sure you give him the treat as soon as he's jumped over.
Gradual increase
Practice this over the next few days, steadily increasing the height of the stick each time. The trick is to build his confidence up slowly. So, don't make it too difficult, you'll only set back the end result.
Be safe
Make sure you don't use anything as an obstacle that could hurt him. That means nothing sharp or too hard, like metal. You don't want him injuring himself. That will only scare him and deter him from jumping over obstacles in the future.
By James Barra
Published: 01/03/2018, edited: 01/08/2021
---