How to Train Your Dog to Jump Through a Hoop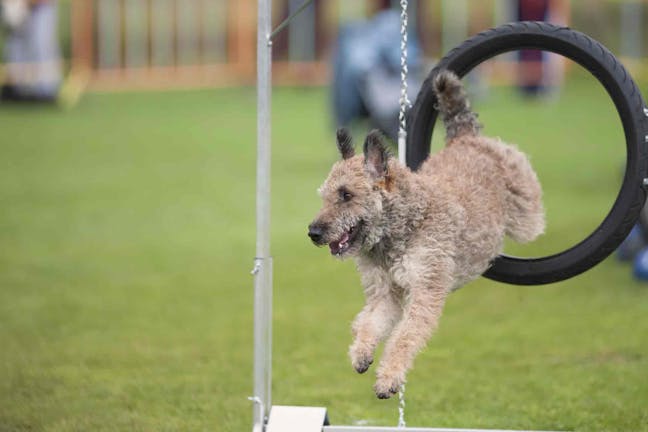 Introduction
Imagine entertaining your family and friends as your clever pooch jumps through a hula hoop on command. Drum roll please... your dog runs, launches, and glides effortlessly through a colorful hoop, just like a circus dog! Ok maybe not quite; don't give up your day job, but, a hula hoop adds a fun dimension to the jump trick. It is visually exciting and fun for dogs and spectators alike. You can even decorate your hula hoop and put a matching color on your dog's collar or harness for a little more razzle-dazzle.  Your dog will be a show business star in no time!
Top
Defining Tasks
You can use a hoop as a jump, and teach your dog to jump through the hoop at varying heights according to his ability.  This is a fun trick for your dog, and builds confidence.  Besides being a fun attention getter, teaching your dog tricks like jumping through a hoop also builds your relationship with your dog, which can be applied to lots of other obedience commands and tricks. You may want to introduce your dog to jumping without a hoop first, and get him used to the hoop as an obstacle to make your dog's transition to jumping through the hoop easier. Puppies and very young dogs should not jump significant heights as their joints and bones are not fully developed, and injuries can result from strain caused by exertion during jumping. Dogs should be 1-2 years old before learning jumping ticks--large dog breeds should be older, usually close to 2 years before jumping is introduced.
Top
Getting Started
Make sure, prior to training, that you have a surface with good traction, such as a carpeting, a rubber mat, or grass, not linoleum or hardwood, so your dog does not slip when jumping.  You will need a hula hoop, which you can get from a toy store or dog agility supply stores, and lots of treats to reward success. Treats will be appreciated by your dog and make this a fun trick for your dog to learn. Also, make sure your dog does not have any joint or orthopedic problems that would make this trick too difficult for him or cause further strain or injury. Sessions should be kept short, from 5-15 minutes long.  If your dog shows signs of fatigue, stop immediately and proceed another time.
Top
The Shape Hoop Jump Method
Introduce hoop
Leave the hoop out for a few days so your dog gets used to it. Lean it up against a wall or a piece of furniture and let your dog sniff and investigate it.
Walk over hoop
Put the hoop flat on the ground and lead your dog over it on a leash. Give a treat to your dog when he steps over the hoop.
Set hoop upright
Set the hoop on its edge. Support it with stakes on the ground or have an assistant hold it.
Put lead through hoop
Have your dog sit in front of the upright hoop with a leash on. Toss the leash through the hoop opening.
Guide with leash
Pick the leash up on the other side of the hoop, call your dog, guide with the leash as necessary.
Reward through hoop
When your dog comes to you through the hoop, reward with a treat. If he resists, go back to step 2.
Raise hoop
Raise the hoop a few inches on a stand or have an assistant raise and hold it.
Guide through raised hoop
Repeat tossing leash through and guiding your dog through. Reward.
Practice
Gradually raise the hoop and repeat. Reward.
The Provide Target Method
Set hoop upright
Place a hoop upright on a stand, or have an assistant hold it in place.
Set your dog
Have your dog sit/stay in front of the hoop.
Set target
Place a treat or favorite toy on the ground, about 3 feet away on the other side of the hoop.
Retrieve reward
Tell your dog to "get it" directing them to the reward or treat, so your dog walks through the hoop to retrieve his reward.
Reinforce
Give your dog another reward to reinforce the behavior.
Add command
Repeat, adding a command word for going through the hoop.
Raise hoop
Raise the hoop a few inches and repeat the process.
Increase height
Continue to raise the hoop a little at a time, until your dog is confident traveling through the hoop and jumping to retrieve his reward.
The Follow the Treat Method
Set vertical hoop
Set a hoop up, touching the ground but vertical.
Present treat
Put your dog on a loose leash and hold a treat in front of his nose.
Move treat
Move the treat away from the dog so he follows your hand right up to the mouth of the hoop.
Toss treat through
When your dog follows to the hoop, toss the treat through the opening and tell your dog to "get it".
Reward and reinforce
If your dog goes through the hoop to retrieve his reward, let him have the treat and reinforce by providing another treat and lots of praise. If your dog balks or tries to go around the hoop, restrain him with the leash. Try again.
Raise hoop, repeat
Repeat several times, then begin raising the hoop a few inches from the ground, remove the leash, and repeat the process so your dog has to step over the hoop to retrieve his reward.
Add command
Gradually raise the hoop higher, so your dog has to hop, and then jump. through the hoop to get their reward. Add a command for jumping through the hoop that you can use later to command the trick.
Use command only
Once your dog has had sufficient practice, present the hoop and give the command to jump through the hoop. When your dog successfully completes the task reward him with a treat.
By Laurie Haggart
Published: 10/11/2017, edited: 01/08/2021
---