How to Train Your Dog to Jump Up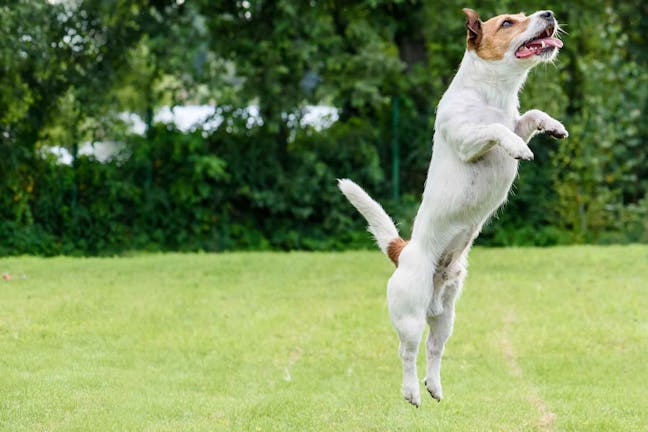 Introduction
Teaching your dog to jump up gives you the opportunity to take the jumping one step further. You can teach him to jump through hoops, over hurdles, into your car or truck, as well as up on the bed or couch. Just to be on the safe side, before getting started training your dog to jump up, you should consider having his vet make sure his body has matured sufficiently not to be injured by jumping and that he is healthy enough.
While most breeds can be taught, at least to some extent, to jump, there are a few that should not be taught this particular trick such as those that have a long spine and short legs. This is because jumping puts them at risk of serious spinal injuries. If you are not sure, talk to your vet first. Others like Border Collies, German shepherds, and Spaniels are among the best jumpers. Remember, this trick is supposed to be fun for everyone, so make sure that the training is fun as well. 
Top
Defining Tasks
Training your dog to jump up is the basis of several other jumping tricks, including jumping rope. Teaching him this can be just a natural extension of his natural instincts. Most dogs like to jump as part of play, a behavior thought to be leftover from their ancestors hunting through the forests and fields. The trick is not so much to teach him to jump (he already instinctually knows how), it is to train him to jump when you want him to do so. That's the hard part and yet it really isn't that difficult.
Most people use a simple single word command such as "Jump" or "Up" for this trick. Whatever word you plan to use to have your pooch jump, just make sure you stick to using the same command each time. If you keep changing the command word, your pup could easily end up being so confused he doesn't know what to do. Remember, it is supposed to be fun. 
Top
Getting Started
Getting started training your dog to jump up doesn't really take much in the way of preparation. Once you know your pup is mature and healthy enough to perform the trick, you just need a few supplies:
Your pup: Gotta have the little guy to train him, right?

Treats: No training is ever going to go right without a few treats.

A quiet place to train him: You need a quiet place to train him free of distractions.

Time and patience: You need plenty of both if you want his training to be successful.

The biggest thing to remember when it comes to training your dog to jump up is that the whole process from start to finish is supposed to be fun. Try being excited about the training and you'll find your pup will feel the same way. Jumping is exciting all on its own, but when you get excited as well, your pup will find this trick irresistible. 
Top
Pick a stick
Choose some type of stick or pole that you will use during the entire training period.
Aim high
Call your dog over and hold the stick high up in the air over his head.
When he jumps
Your pup should naturally try to jump up and reach the stick on his own. If he does, give him a treat.
If he doesn't jump
If your pup doesn't jump up to the stick, try lowering it a little at a time until he starts jumping at the stick. Be sure you reward him with treats when he does.
Moving on up
If your pup doesn't jump up to the stick, try lowering it a little at a time until he starts jumping at the stick. Be sure you reward him with treats when he does.
Moving on up
Now you can start slowly raising the stick and introducing the command when he starts to jump up.
Eliminate the stick
Time to put the stick away and use just the command word, when he starts jumping on command, reward him with plenty of treats and praise.
Bribes work
Grab one of your pup's favorite treats or toys, something you know your dog will work to get.
Show the bribe
Call your dog over to a quiet spot in the yard and show him the bribe.
Hold it up
Hold the "bribe" high up over his head, making sure he can see it clearly. If he follows his instincts, tell him he is a good boy and give him a treat.
Tell him to jump
Now hold the treat up and as he goes to jump up, introduce the command "Jump".
Repeat the process
Keep doing this until your pup seems comfortable jumping up.
Ditch the treats
It may take some time for him to master this trick, but when he does, be ready to have lots of fun.
Call your pup
Call your pup over to where you plan to train him.
Jump up and down
With your pup sitting in front of you, start gently jumping up and down in front of him.
Encourage him to join in
Now start saying "Jump" and encourage your pup to join in the fun. You can use a toy or a treat to help.
Rewards
When he starts joining in the fun, be sure to praise him and give him the treat.
On his own
Now it's your turn to stand still, give your pup the "jump" command holding the treat above him. If he obeys, give him the treat.
Keep practicing
Keep practicing with the treats until he jumps on command every time, then start cutting back on the treats until he will simply jump by command only.
By PB Getz
Published: 10/20/2017, edited: 01/08/2021
---