How to Kennel Train a Chihuahua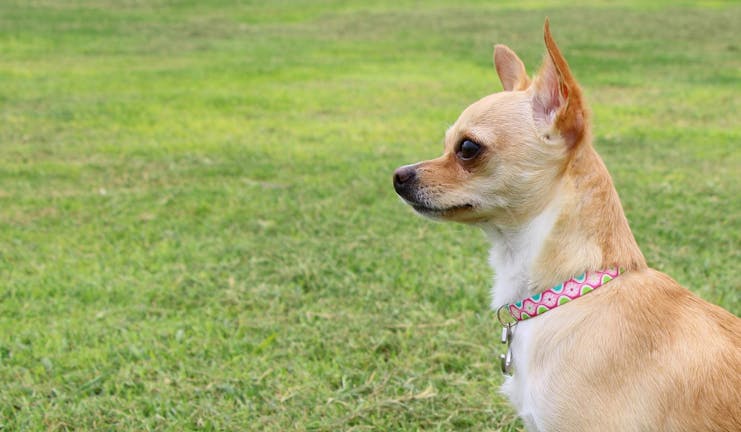 Introduction
There is nothing quite like the pitter patter of tiny feet that comes with having a Chihuahua in your house. Chi's are a lot of fun, very playful, intelligent and full of the "joie de vivre" or 'joy of life." The question is what do you plan to do with him when you must go to work or run an errand? Where will he sleep at night? A crate or kennel might just be the perfect place for your pup.
In the wild, dogs tend to seek out caves to create their den in.  If you do things right, your pup will happily spend time in his "den" whenever he can. Remember though, at no time should you ever use your dog's kennel as a form of punishment, this will only lead to his refusal to go into his kennel when you need him to. 
Top
Defining Tasks
You can use kennel training for a number of purposes, from potty training to providing your pup a safe place to go when he is scared or a comfy place to take naps and sleep at night. With the right training and patience, you can teach your pup to stay in his kennel while you are sleeping at night or during the day when you need to work.
Remember that while your pup is young, he will not be able to hold himself for long periods of time. With this in mind, you should not leave your pup in his kennel for extended periods of time, he needs to be able to go outside and go potty as well as get a little exercise. The actual intent of kennel training is to create a den for your pup that he will come to see as his private place.
Top
Getting Started
Start out kennel training your pup by purchasing the right kennel. It needs to be big enough for him to stretch out in and turn around in. At the same time, it mustn't be so big that your pup feels lost in it. If the kennel is too big, your pup may end up creating his den at one end and going potty at the other end. Pick one that fits him perfectly. If it's a little big, you can block off part of it until your Chi grows and needs the space. You need a few supplies to kennel train your pup.
Potty pads – For accidents

Tasty Treats – As lures and rewards

Doggy bed – Somewhere comfortable for your pup to sleep

Toys – For your pup to play with

The most important things you need for any type of training are plenty of time to work with your pup and the patience to see the training through to a successful end. 
Top
The Home Sweet Home Method
Your pup needs a home
In the wild, your pup would find a convenient cave in which to build a home or den. Since this is a natural behavior for your dog, giving him a crate to turn into a den is simply supplying what he would do in nature. Be sure to place the kennel in a quiet place in your house, then carpet it, add a bed, and put a few toys in it.
Add one Chihuahua
Next up, encourage your pup to go into his new home using a suitable cue word such as "kennel" or "home." Once he enters, quietly close the door and let him explore his new den.
What if he whines?
It is only natural for your pup to fuss a little at being "stuck" in his kennel, and you can be sure he is going to let you know about it. Given time he will stop fussing and when he does, be sure to praise him and give him a treat.
Free at last
After you give him the treat, be sure to let your pup out of the kennel and immediately take him outside to do his business and get a little exercise.
Build endurance
Keep working on this training, extended the amount of time he spends in his kennel until he can stay in there while you are at work or at night when you are trying to sleep.
The Check Out Your Den Method
Set up his den
Start by placing your pup's new den in a convenient spot out of the general flow of traffic. Then add the carpet, a nice bed, a few of his favorite toys, and a pee pad.
Relocate his food dishes
This is also a good time to move his food and water dish to a spot just outside the door to his kennel. Leave the door open and encourage your pup to wander in and out of his new home. Leave things like this for several days, give your pup plenty of time to explore his new home.
Behind a closed door
The next time you see your pup walk into his kennel, go ahead and close the door. Let him bark and whine until he gets tired of hearing himself make so much noise. At this point, he will finally settle down, and when he does, be sure to praise him and give him a nice treat.
Time for a potty break
Once your pup has settled down and enjoyed his treat, open the door and take him straight outside for a potty break. Then let him run around to stretch his legs.
Over and over and over again
Keep working on this training, extended the time between when he stops fussing and you give him a treat. With lots of practice and time, your pup will learn to enjoy spending time in his den.
The One Step at a Time Method
Build your pup's den
It all starts with building your pup's new den complete with carpet, a bed, and a few toys. Be sure to place the kennel in a quiet spot out of the main flow of traffic. You can even cover the top and sides of the kennel to give it a more "den-like" feel.
Pup, say hello to your new home
Call your pup over to his kennel and use a few treats to encourage him to go inside and explore. Give him plenty of time to explore it and get used to it on his own terms. Leave the door open and allow your pup to wander in and out of the kennel on his own time.
Be sure to use the cue word
Each time you lure your pup into his new den, be sure to use your cue word. This will help your pup associate the cue with the action and getting a reward. (You must eventually wean him off the treats unless you want a fat Chi.)
Cue training continues
Keep working with your pup using the cue and treat method until he will go into the kennel upon command and without a treat every time.
It's all about repetition
The only way your pup will ever master this, is just to keep working with him frequently. In time, you will find him napping in his den all on his own. When he does this, you know you have succeeded.
By PB Getz
Published: 01/24/2018, edited: 01/08/2021
---