How to Kennel Train a Golden Retriever Puppy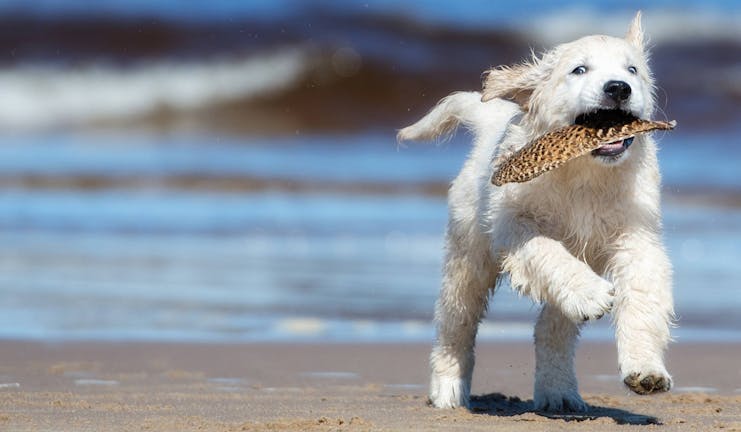 Introduction
Many consider the Golden Retriever to be the ultimate family dog--they have a very pleasant manner, a ton of energy, and are extremely loyal. On top of all this, Goldens are highly intelligent and learn very quickly. Using a kennel can give your pup a safe place to rest both night and day. It is a dog's nature to find a den in the wild. If you handle his training properly, he will quickly come to see his kennel as his den.
Once your pup sees his kennel as a den, you will find that he likes to sleep in it at night, take naps in it during the day, and sometimes simply go there to get away from it all and relax. You can also use the kennel as part of his potty training and as a place for him to remain safe when you are out of the house. 
Top
Defining Tasks
What you are trying to achieve here is to teach your pup to obey a simple command or cue word such as "kennel" or "go crate". Take your pick, but once you choose the right word, stick with it. Rather than simply demanding that your dog goes into his kennel without giving him a good reason, you need to make him see the kennel as his den, a place where he actually wants to be as much as you want him to be there or more.
One way to do this is to make his kennel as comfortable and "den-like" for him. This will make it far more appealing to him, which of course should make it that much easier to successfully "kennel train" your Golden. The rest of it, like most forms of training, relies on you. You need to have the time and the patience to work with your pup until he masters this skill. 
Top
Getting Started
It all starts with going shopping for the right size kennel. If your Golden is a pup, you may need to start with a smaller kennel and work up to one that will fit him when he is full-grown. Alternatively, you can start out with the larger kennel and create a makeshift wall to shrink the kennel to fit your pup's size. A kennel that is too big could make your pup nervous. It could also be so big that he treats one area as his den and then use a corner or spot as a bathroom, something you really don't want. However, there are a few supplies you will want.
Potty pads

Tasty Treats 

Doggy bed

Toys

Blankets 

Since you will be training your dog to stay in a kennel with the door closed you need to be patient and prepared to work with him for a while until he is quite happy with his new den. 
Top
Start with an open-door policy
With your pup's crate sitting in its new home, tie the door open or, if you can, completely remove it.
Sit by the crate
Sit down by the crate to a point where you are close enough to be able to toss his favorite treats inside. Show your pup the treats, let him sniff them, and then toss one in the kennel while saying "kennel" in a firm voice.
Once he is in
Once your pup goes into his kennel, give him lots of praise and another of those tasty treats.
Step back
Now step back so your pup can walk out of his kennel. Wait patiently for him to decide to come out. When he does, give him the cue "come out" and give him plenty of praise. No treat this time, you want your pup to understand he gets the goodies only when he goes into the kennel.
Rinse and repeat
The rest of the training course is all about rinse and repeat until you can close the door and your pup won't have a problem being in his kennel when you need him to be there.
The I Can't Hear You Method
Place his kennel
Place your pup's kennel in a spot where you can see him, and he can see you. Try to avoid putting the kennel in a location where there is constant traffic flow.
Place your pup
Using your cue phrase such as "kennel" or "get in your kennel", put him in the kennel, close the door and lock him in.
He is going to squeal
You can bet your pup is going to let you know how he feels about being locked in. That's just fine, let him have his say. Go about your daily routine, if it's dishes – do them, if it's making phone calls – go ahead and make them. But no matter what, do not pay your pup any attention or talk to him.
When to get him out
Before you decide to let him out of the kennel, you need to wait until he is calmed down and quiet. Then and only then should you let him out and take him outside to pee.
Extend the duration
From this point, start extending the time he spends in the kennel in small increments until he will happily stay there for several hours at a time. Mission accomplished.
The At Your Own Pace Method
Find a place for his kennel
Start out by finding a good place for his kennel that is out of the way but within easy sight. Turn it into a nice comfy den with plush wall-to-wall carpeting, a comfortable bed, a supply of toys, and a blanket over the top and sides to block the light.
Bring out the chow
This is a good time to move his food and water bowls to outside the kennel as close to the door as possible. At this point, go ahead and tie the door open. Allow your pup plenty of time to get used to the kennel being there, he will eventually start wandering in and out of it on his own.
Close the portal
With your pup inside, go ahead and close the door. He may not like this move, but it is necessary. When he starts to bark, simply ignore him. It won't take long for him to stop fussing and calm down. When he stops, be sure to heap on the praise and give him a treat.
In through the out door
Once your pup has finished chewing on his reward, open the door and let him come out. Take him outside immediately so that he can go potty and get a little exercise. This is also a good way to work on potty training your pup at the same time.
It takes time
The only way your pup is going to master the fine art of enjoying time in his kennel is by continued repeat training. But the end result will be a Golden Retriever who has no problem with spending some time in his kennel. In fact, you may even find him taking naps on his own in there.
By PB Getz
Published: 01/25/2018, edited: 01/08/2021
---