How to Kennel Train a Husky Puppy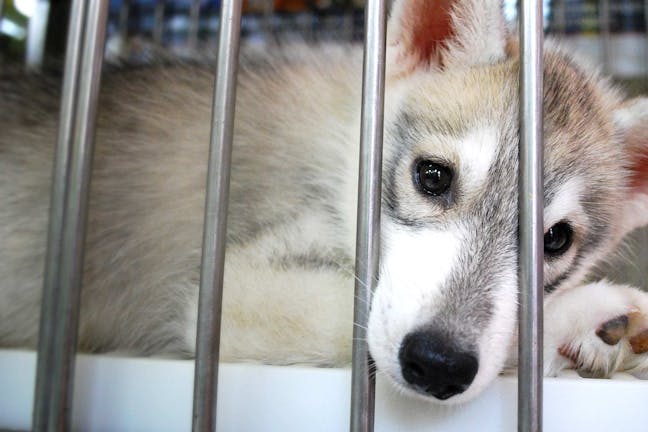 Introduction
If you are looking for a dog that is one big ball of energy, likes to play, and makes a great family dog, then a Husky might be just what you are looking for. Huskies are very intelligent dogs who like to work and at the same time are full of curiosity, mischief, and it seems, the desire to constantly be getting into some kind of trouble. If your Husky isn't trying to give himself a frizz by chewing on power cords, he is chewing on his favorite spot on your carpet.
Kennel training your Husky is a great way to keep these hijinks to a minimum, keeping you, your house, and your pup safer. The key to successful kennel training is to teach your pup to think of his kennel as his den. Once he sees it this way, you will find he has no problem spending time in his "den" even when you haven't asked him to. 
Top
Defining Tasks
The task at hand is to be able to give your pup a simple command such as "kennel" and he will happily go into his crate and allow you to close the door without throwing a fit. While you could eventually train him to go in there simply by making him go there against his will, this is not the best way to achieve anything. What you are really trying to do is find a way to make your Husky think of his kennel not as a cage, but as his den, a place of his own, somewhere he can kick it and relax.
One of the best ways for you to make your Husky see it this way is to turn that metal wire crate into a comfortable den that he will be happy to call home. Lay down some carpet, put a nice comfy bed inside, add a few new toys for him to play with. In other words, make his kennel into a place he can enjoy spending time in. This will make any training method that much easier. 
Top
Getting Started
Start by purchasing the right size kennel. The people at your local pet store can help you with this. This is very important, as a kennel that is too small will be too cramped and uncomfortable. Be sure it has an easy-to-use latch that your curious Husky won't be able to figure out how to open. Along with this, there are a few extras needed for training.
Plenty of treats

Dog bed or crate pad

Toys

Blankets

The rest is all about time and patience. You need time to practice this several times a day and the patience to put up with your unhappy pup as he learns to accept his new den and that he must spend time in it. 
Top
Set up the kennel
Place your pup's kennel in a quiet spot out of the main flow of traffic. Set it up as described above. Secure the door in an open position.
Sit behind the crate
Find a spot to sit behind his kennel or to the side of it where you can easily toss treats into it. Show your pup a treat and then toss it into the kennel. While doing this, give your pup the cue word, "Kennel!", using a firm voice.
Let him go in
Let your pup go into the kennel to get the treat. When he does, praise him and give him another treat. Repeat this over the course of a few days until he is comfortable going in and out of his kennel.
Move away
Now move away from the kennel. Use a treat and the cue to send your pup into the kennel. This time as he is coming out, introduce the second cue, "come out" and praise him when he comes out. This lets him associate going in with a treat and coming out with just praise. He will see going into the kennel as a positive experience.
Add time
Start extending the time between giving him the treat for going in and when you open the door. In time, he will learn to stay in his kennel for as long as you need him to.
Set up his new home
Start out by setting your pup's new den in a quiet, convenient spot in your home. Be sure you can see him without being obvious about it.
Insert one Husky
Let the fun begin. Place your pup in his kennel with his toys and close the door.
He's gonna love this
No, he's not, in fact, your Husky is going to be quite vocal about it. That's okay, let him have his say. It will only last so long. While he does this, ignore him completely, just go about your normal day.
All quiet on the western front
When your pup finally stops trying to wake the dead and calms down, you can let him out and take him outside to pee.
Time is on your hands
The rest of it consists of extending the amount of time your pup spends in his kennel. In time, he will stay there without complaint for as long as you need him to.
Set up his den
Find a nice safe place for your pup's kennel and set it up as a nice comfy den for him to chill out in.
Set up his food station
Place his food and water bowls outside his kennel near the door. Secure the door in an open position. Step back and watch what happens, your pup will soon start wandering in and out of the kennel as curiosity gets the better of him. Let him enjoy doing this for a few days while he gets comfortable with the kennel.
Close the door
Catch your Husky while he is in the kennel and close the door. Oh man, is he going to be unhappy with you and is sure to be quite vocal about it. Let him speak his piece and then when he finally quiets down, praise him and give him a treat.
Time to leave
Let your pup enjoy his treat and then let him come out of his kennel. Be sure to take him outside so he can pee and run off a little of his endless supply of energy.
Practice makes perfect
Or so they say. Spend time every day working with your pup on this, adding time to how long he spends in the kennel until he will stay there for as long as needed. In time, you are likely to find your pup snoozing in his den at all times of the night and day.
By PB Getz
Published: 01/25/2018, edited: 01/08/2021
---