How to Train Your Barn Dog to Leave It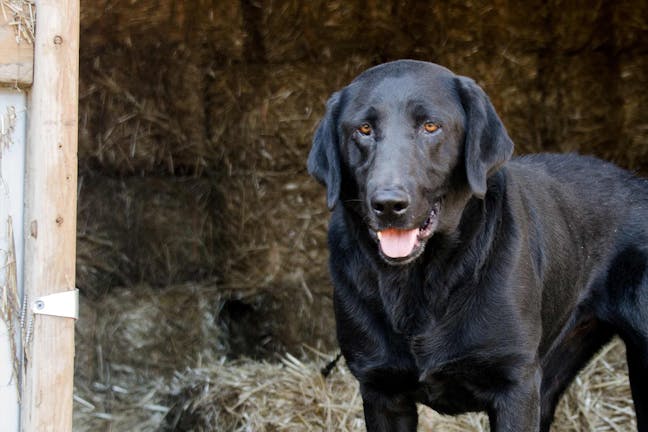 Introduction
Barns are fascinating and enriching places for dogs, full of many scents, sounds, movements, and things to put in the mouth. But for your barn dog--and the other animals-- to be safe, he needs to learn a critically essential command: 'leave it'.
At the barn, your dog may place his nose where it doesn't belong, chase after small or large animals, or even try to eat various items such as equipment, livestock medications, or even horse manure! The 'leave it' command is a life-saving instruction and one your barn dog needs to learn to stay safe and sound.
Top
Defining Tasks
The 'leave it' command is one of the most valuable skills your dog can learn. It not only teaches a dog not to put the disgusting cow manure in his mouth but it also prevents dogs from chasing other animals. This skill is especially helpful for dogs with a high prey drive who enjoy chasing chickens or mice, or more dangerously, goats, cows, or horses.
This command diverts your dog's attention away from chasing or eating something, and that's not only foundational, but it can potentially save your dog's life if he puts himself in harm's way while in the barn environment. With some practice, patience, and repetition, you can teach your barn dog to 'leave it,' and everyone will be safer for it.
Top
Getting Started
Begin the process of training the 'leave it' command in a quiet, enclosed area, preferably in your home. You want your dog to confidently respond to the command before you relocate your training to the barn itself. This environment will allow your dog to focus on you instead of being overwhelmed and distracted by the sounds and sights of the barn.
For the three training exercises below, you'll want to have two kinds of treats, low value and high value (your dog's absolute favorites), a leash, a favorite toy, and some sturdy footwear, especially for work inside the barn. The 'leave it' command means overriding some of your dog's natural instincts, so it may take some time for your dog to master this command. Be patient, consistent, and confident in every step of the process, and your dog will learn to leave items and animals in the barn alone.
Top
The By Hand and Leash Method
Tempting treats
Get down on the floor next to your dog. Have low value treats in one hand and high value treats somewhere separate but quickly accessible. Make a fist around the treats and present them to the dog.
Reward for leaving your fist alone
Your dog may try to lick or paw at the hand with the treats. As soon as he stops, praise him and reward him from the high value treat stash. Don't give treats from your closed fist as your dog needs to understand those treats are off limits.
Give the 'leave it' command
Once your dog is no longer paying attention to your fist full of treats, open your hand, expose the treats, and give the 'leave it' command. If your dog rushes to get the treats, make a fist again and reward the dog when he leaves your hand alone.
Place the treats on the floor
Put the low value treats on the floor under your cupped palm in front of your dog. Give the 'leave it' command and treat your dog once he leaves your hand alone. Try the same thing but leave the treats exposed on the ground with your hand in reach to cover them. When your dog doesn't go for the treats, reward him.
Use the leash
Put your dog on a shorter leash. Hold the leash and toss a toy on the floor, right out of your dog's reach. Give the 'leave it' command, and reward your dog once he stops straining to go after the toy. Repeat the same sequence with treats instead of a toy. Eventually, move this process into the barn for extended practice.
The Leave It & Recall Method
Place a treat under your shoe
Once you put the treat under your shoe, let your dog lick, paw, or scratch at it but don't let him have the treat.
Reward when the dog turns away
When your dog becomes bored and moves away from your shoe, give him a positive reaction ("Yes!") and reward him with a separate treat from your hand (not from under your shoe). Repeat this step 5 - 10 times.
Add the cue 'leave it'
When your dog notices the treat under your shoe, say 'leave it'. When he walks away from your foot, praise and reward him. Repeat this process 5 - 10 times.
Drop the treat on the floor
Take the treat and drop it on the floor. Give the 'leave it' command before your dog begins to move. If he stays away from the treat, praise and reward him. If he goes for the treat, go back to Step 1 and practice some more.
Take the show on the road
Graduate your dog to working in small areas of the barn with treats, and then if he is successful, with safe items from the barn, like stirrups or pieces of leather. Eventually he will associate the command with whatever you tell him to leave alone.
The Obstacle Course Method
Know the basics
For this training session, be sure your dog has mastered the basics of the 'leave it' command in your home with treats and/or toys.
Create an obstacle course
Set up a section of temptations for your dog in a safe area of the barn. Place the items in a row, roughly five feet apart, from least tempting to most tempting.
Give the 'leave it' command
When your leashed dog notices the first item in line, say 'leave it' in an upbeat, positive tone. Restrain your dog if he tries to get the object. Once he stops paying attention to it, praise and treat him.
Repeat
Continue to bring your dog past the line of temptations until he is able to successfully respond to your 'leave it' cue without pulling on the leash.
Cold practice
When your dog has mastered Step 4, begin to bring him through other areas of the barn on leash where he may run into unexpected and unplanned attractions. Tell him "leave it," and once he turns away from the item, praise and reward. Eventually you want your dog to be able to encounter anything and respond immediately to the "leave it" cue.
By Erin Cain
Published: 12/15/2017, edited: 01/08/2021
---