How to Train Your Chihuahua Dog to Lie Down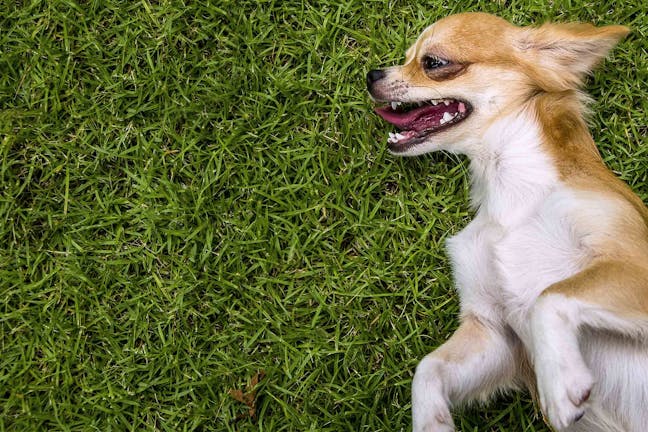 Introduction
 Training your Chihuahua basic commands is important for establishing the leader of the pack in your household. Trying to get your Chihuahua to lie down should only come second to training him to sit on command. You will want your pup to know to lie down so that he knows a task to do when he needs to be settled and calm. Calm is not something Chihuahuas do quickly or easily. This is a command you can give to your Chihuahua that will tell him it's time to settle down and be still in the down position. Training your Chihuahua to lie down also sets him up to learn other tricks such as rolling over or playing dead. 
There is a set of basic commands you want your Chihuahua to know right off the bat as soon as you bring him home and he's ready to start learning so you can have better control over not only his actions but also his behaviors. Teaching your Chihuahua commands such as to lie down also teaches him to obey you. Setting boundaries during training sessions also sets boundaries in his behavior. Teaching this command help to set your Chihuahua up for behavior-based training as well.
Top
Defining Tasks
There are a few ways you can train your Chihuahua to lie down. You can lower your Chihuahua down to a down position using treats. You can also clicker train Chihuahuas. Like most other dogs they will work for the tiniest morsel of food and the clicker training adds a bonus click reward that they will get used to and want to earn. You can also shape your Chihuahua into the down position by conditioning him to understand when he lies down he gets a treat. Younger dogs are easiest to teach, however, you can also train an older Chihuahuas the down position.
Top
Getting Started
Training your dog to lie down will require some scheduled times for training and some tasty treats. Keep your sessions fun and short. If your Chihuahua loses interest, give him a break. Entice him while training with treats. Because Chihuahuas are energetic dogs, consider offering training in a quiet room with no distractions.
Top
Nose treat
Get a tasty treat and hold it close to your Chihuahua's nose. Do not give him the treat, just let him sniff and know you have it. If your dog snaps at your hand to retrieve the treat, close your hand and keep the treat hidden but allow him to sniff.
Lower treat
After your dog has acknowledged the treat, lower it down toward the ground and then pull it towards your body.
Follow treat
Your Chihuahua should follow the treat and begin to lower his body down to the ground to try to get to it. Bringing the treat closer to your body after your hand has touched the ground will encourage your dog to stretch out to the 'down' position.
Belly on the ground
When your Chihuahua's belly touches the ground and he's in a down position, say the command "lie down" and give him the treat.
Practice
Repeat these steps over and over. Over time, your Chihuahua will connect the down position with the words 'lie down' and the reward of the treat.
Without lure
When your Chihuahua can get into the down position several times by using a treat lure, begin to take away the lure and only use the command. Be sure to offer the treat to your dog once his belly touches the ground after you have asked him to lie down, as long as he is successful.
No distractions
Take your Chihuahua into a quiet room with no distractions. Because he is a Chihuahua, he will likely be excited. Sit down and ignore him. Read a book or sit back with your eyes somewhat closed until he settles down. Be sure you can peek and hear when he lies down.
Lie down
As your dog learns you didn't go into that room for fun, he will lie down.
Treat
As soon as he lies down, give him a treat. This is conditioning or shaping him to believe he can lie down to earn a treat. You want to be able to treat him while he is in the down position for him to make the connection.
Redirect
Once he sees you move to give him a treat, he will probably jump up. If he does, keep the treat to yourself and go back to relaxing.
Repeat
Whether he actually earned the treat from the down position or you had to go back to ignoring him, repeat this process several times. Remain calm and quiet and when your Chihuahua mimics you and lies down, give him a treat.
Reward
Remember to only give a treat while the dog is in the 'down' position. This will help him connect 'lie down' with a treat.
Name it
As he gets used to earning treats by putting himself in a 'down' position, begin to name the position as you treat him. After several tries connecting lying down with a treat, say the command 'lie down' as you give him the reward. Repeat this several times teaching him the name of the action of lying down by giving him a treat and naming it each time he does it.
The Clicker 'Lie Down' Method
Sit
Sit in front of your Chihuahua, so you are closer to his height.
Hand signal click
Use your hand to get your dog's attention. Place a treat against your palm, but hold it down with your thumb. Hold your hand flat, palm and treat down.
Lower hand
Lower your hand toward the floor keeping the treat under your thumb against your palm.
Follow down
Your Chihuahua should follow your hand down to see or get to that treat. If he does not follow down, bring your hand and the treat closer to his chest forcing his head down to sniff. Keep moving your hand down, enticing him to follow you down.
Lie down
As soon as your Chihuahua lies down, click and give him the treat from your palm.
Repeat
Repeat this several times for practice.
Name it
Once your Chihuahua has gotten the hang of this trick, practice more, but this time, as soon as he touches the ground in a down position, name the command 'lie down' and click and treat.
Practice
Keep practicing until your Chihuahua knows the command and can lie down by command rather than the lure of a treat lowering his body to the ground.
By Stephanie Plummer
Published: 12/20/2017, edited: 01/08/2021
---