How to Train Your Dog to Look Away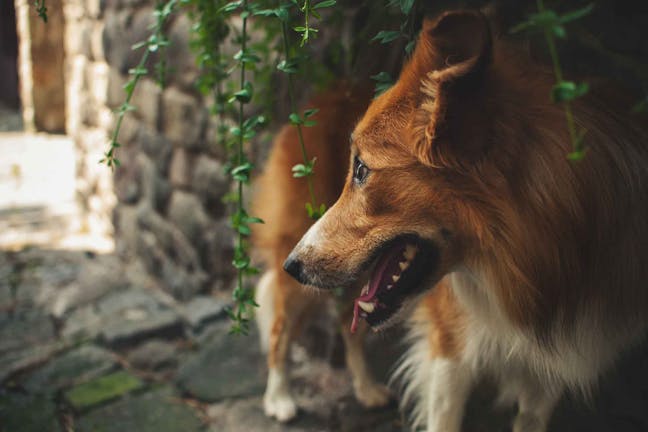 Introduction
You're out on your daily walk when you can see a dog approaching on the horizon. You haven't got your dog on a leash and you know if he catches a glimpse of the other canine in the distance he'll be off like a shot in their direction. If you can train him to look away, you'll be able to quickly secure him to his leash before he realizes what he's missing out on. It also comes in handy if you want to get ready for a walk and get his leash together without him going berserk at the sight of it and turning your getting-out-of-the house procedure into World War 3. 
This training can come in handy in a variety of situations and is also worthwhile because it makes training other commands easier too. You'll be able to have him 'wait', 'roll over' and 'paw' much sooner.
Top
Defining Tasks
It might sound complicated, but training your dog to look away isn't as challenging as you might think. The biggest obstacle is conveying precisely what you want him to do. Once he understands, it's just about reinforcing the behavior with delicious treats. Some methods also train the command by also teaching him to look at you on command too, giving you another useful instruction. If he's a puppy, he should be a quick learner and able to get into the swing of it in just a few days. If he's older and not quite as eager to please as he was in his youth, then be prepared to invest up to a week or two into training.
Get this training right and you'll be able to quickly divert his attention away from anything problematic. It will also help channel his energy into something productive that gets his brain going, instead of chewing your favorite slippers.
Top
Getting Started
One of the best things about this type of training is that it requires very little. You will need some space to practice where you won't disturbed, but the living room during a quiet period in the day should do the trick. You will also need 5-10 minutes to spend training every other day until the regime is successful. 
Your dog's favorite food broken into small chunks or treats will also play an essential role, so make sure you have a generous supply. Once you've ticked those boxes, just bring a pro-active attitude and you're good to get going!
Top
The You & A Friend Method
Stand in front of your dog
Have your friend stand directly in front of him and hold his attention by playing with a toy or holding out a treat. While he does this, position yourself at a 90 degree angle from your dog so you're mostly out of his view.
'Look away'
Have the friend issue the command in a clear voice. You can use any phrase you like, dogs can learn hundreds of different commands.
Step into his eye line
As your friend gives the command, quickly step into view or make a distinctive sound. It's important he notices you as soon as the friend gives the command. You will need to work harmoniously as a team to succeed.
Reward
As soon as he looks over to you, have the friend drop a treat onto the floor and give him some praise. You can then also go over to praise him. The happier he feels, the more keen he will be to do it again.
Practice makes perfect
You now need to practice this religiously over the next week or so. He will slowly start to associate looking away with the command and the treat. During this time, you can swap over roles and change your method of catching his attention. Once he's got the hang of it, lose the friend and just use the command to get him to look away.
Get down on his level
Dogs mirror their owners' behavior so you're going to show him what you want him to do and then he'll follow. Make sure you're in a quiet space where you won't be distracted and ensure his attention is fixed on you.
Look directly in his eyes
Stare intently at him for a few seconds. He will gaze straight back at you, wondering what on earth is going on. That's good, that shows he'll follow your gaze.
'Look away'
Give the command in a clear voice. At exactly the same time, look ahead in the distance and point at the same time. All of these things need to happen at once. This will make him instinctively look to where you're pointing and staring.
Reward
As soon as he looks up, give him a treat and lots of praise. Really show him he's behaved in the way you want him to. Practice this several times for the first couple of sessions. Really exaggerate the looking away to start with so he catches on.
Lose the other cues
After several sessions, you can slowly start to lose the pointing and the intent staring. He will gradually be getting the hang of it, but be sure to lose them one at a time and slowly. Keep removing cues until the command alone works. Alternatively, lose the verbal cue and stick with the pointing if you want that to be how you instruct him to look away.
The Irresistible Lure Method
Setting up
Place a truly delicious treat or piece of food on the floor. Then have him sit patiently a few feet away from it. He will be keen to get to the food, so make sure you instruct him to 'wait' or 'stay'.
Place an even better treat out of sight
At the same time, make sure you have an even better treat at the ready. This needs to be his favorite food or something truly irresistible, that will make him take his eyes off the food on the floor.
'Down here'
Instruct him to look down at the food on the floor and, at the same, time point to it. He will naturally look at it because he's probably been itching to get to it for the last 30 seconds. As soon as he does, slip him an average treat and give him a quick 'well done'.
'Look away'
After a couple of seconds, give the second command, but point to where his favorite treat is hidden away. As soon as he looks away, even if he doesn't look in the spot the best treat is in, tell him 'well done' and give him the favorite treat. Really hammer home that he's behaved correctly.
Consistent practice
Practice this technique for a few minutes every other day for at least a week. As the days pass, he will learn to associate both commands with the different actions. The key to this is practice. He will quickly catch on, at which point you can use your commands in any situation to either bring his attention to you, or away from you.
By James Barra
Published: 11/01/2017, edited: 01/08/2021
---