How to Train Your Dog to Loose Leash Walk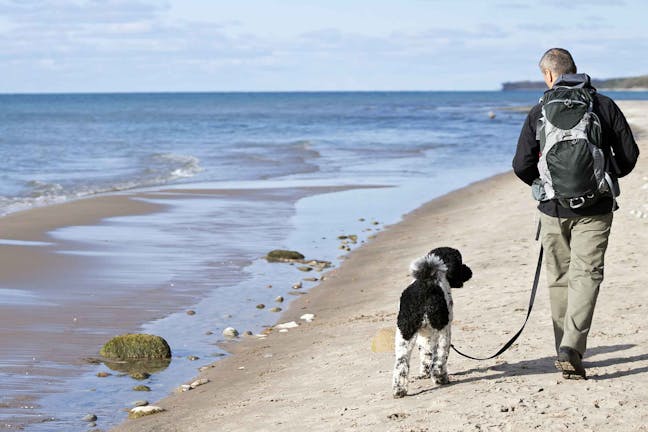 Introduction
Having your dog pull on his leash while you're on walks can be extremely frustrating. Maybe you have been on walks yourself and seen dogs walking their owners rather than owners walking their dogs. Watching an owner lose control of their dog can also be a scary thing to witness. Dogs who overpower their owners can lead owners straight into a street or face-planted on a sidewalk or asphalt. And dogs who walk their owners rather than the other way around can become a nuisance and possibly injure other animals. 
Teaching your dog to loose leash walk gives you control with the leash while also keeping your dog close to you. However, the goal with loose leash walking is to teach your dog not to be distracted when he is walking with you and stay by your side so he is not pulling you along on walks. Loose leash walking gives you and your dog both the freedom to walk together without tugging on one another.
Top
Defining Tasks
When you train your dog to loose leash walk, you are essentially teaching him to walk beside you without pulling on his leash. This is an easy training to do, especially with young dogs. But you can certainly teach any dog to loose leash walk. It just takes time and effort along with repetitive training. Loose leash walking will prevent your dog from pulling you along and walking you. You and your dog can walk side-by-side or your dog can heel next to you or just behind as you walk him along. Loose leash walking focuses on avoiding distractions and listening and obeying. When you teach your dog to loose leash walk you will have control over how your dog behaves on his leash. A well-mannered dog with specific leash manners will walk with a loose leash and not pull his owner along.
Top
Getting Started
Be prepared with a leash appropriate for your dog's size and strength. Some high value-treats will help to keep your dog's attention during training. This isn't a difficult task for many dogs, but others may need additional time to learn leash manners and how to walk with a loose leash. Plan training sessions often so your dog does not have time to forget his leash manners.
Top
The Start Off-Leash Method
Yard walk
Take your dog for a walk around your yard off-leash. This gives him the freedom to roam within the confines and safety of your yard. It also teaches him that he could have freedom while staying by your side.
Ignore
Walk around your yard, ignoring your dog. Then while you're walking, very enthusiastically call your dog over to you. When he comes to you give him a treat.
Conversation
While you're walking, hold your dog's attention by having a conversation with him. You can talk about anything. Just talk to your dog so he has the desire to stay with you as you walk around.
Reward
Every few steps, reward your dog by giving him a small treat. Every five treats, ignore your dog and allow him to walk away from you.
Recall and repeat
Once your dog walks away from you, call him back over and repeat the steps above, starting with a simple conversation to hold his attention.
On-leash walk
Put your dog on a leash and go for a walk outside of your backyard. Anytime your dog pulls to get away from you, stop and stand still. After getting his attention and standing still, take a few steps backward.
Enthusiasm
Again, with an enthusiastic voice, talk to your dog and call him back to your side. When your dog comes back to you, take a few steps forward. As long as he stays with you give him a treat.
Practice
Continue to practice these steps until your dog can walk by your side with the leash left loose between you two. Anytime your dog pulls away from you, stop and step backward. Over time, you can decrease the frequency of the rewards you're giving your dog for a job well done. But continue to treat him every so often as you walk together.
Leash introduction
Put a leash on your dog and stand still. You can have your dog sit in front of you or next to you, but remain still. After a few moments of relaxed sitting, offer him a treat.
Step away
Step away from your dog ,tightening the leash, and stand still again. If your dog does not move towards you, call him to loosen the tension of the leash between you. Repeat having your dog sit with a loose leash and offer him a treat once he obeys.
Entice
Encourage your dog to step away from you, tightening that leash, by tossing a treat behind him. He will likely pull on the leash to go get the treat. Allow him to do this and wait for him to come back to you. He will likely be looking for more treats.
Turn and walk
When your dog begins to come back to you, turn and walk away from him. He should catch up quickly, loosening the leash between you.
Practice
Repeat the steps above until each time your dog is on the leash he knows to stay near you with the leash loose between you two. Entice your dog with treats, challenging him by tossing treats to tighten the leash between you and encouraging him to come back to you.
The Clicker Training Method
Introduce leash
Prep your dog with a collar or harness already on, and let him sniff his leash before you put it on him. Click and treat once he acknowledges the leash with a sniff.
Slack
Stand next to the dog and attach the leash, leaving slack.
Stand still
Because your dog may be excited, stand next to him very still until he calms down. Once he has settled down, click and treat.
Command
When your dog is calm, give a command such as "let's go," and begin to walk forward. If he doesn't follow, encourage him with excitement and enthusiasm. After a few steps, as long as he is by your side, click and treat.
Practice
Take small walks together, practicing keeping your dog's attention with a click and treat every so often to keep him near your and not pulling on the leash.
Redirect
If your dog becomes distracted or pulls, redirect him back to you by stopping and calling him back. Once you get his attention, click and treat. If he isn't by your side before you click, he will come back for that treat.
Keep at it
Keep taking your dog on short walks and build your way up to longer walks using this method. Remember to click and treat for a job well done. As he gets used to loose leash walking and not pulling, you can click and treat less often but still offer a reward every now and then.
By Stephanie Plummer
Published: 10/26/2017, edited: 01/08/2021
---