How to Train Your Golden Retriever Dog to Not Bark at Bikers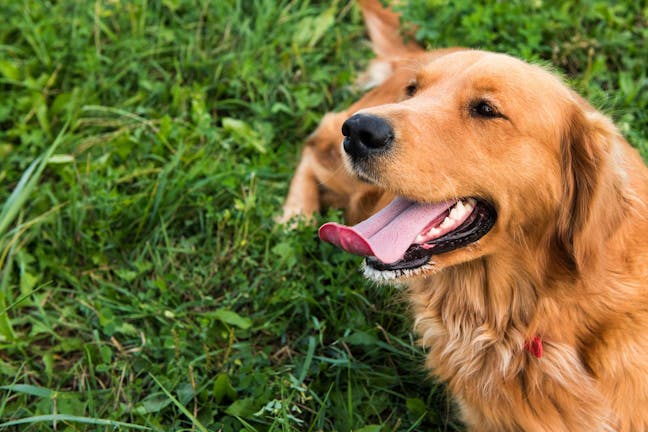 Introduction
Golden retrievers are dogs with prominent personalities and unwavering loyalty to their owners. The boisterous nature and friendly, smiling face of this breed can cause owners and neighbors alike to be taken aback when it turns into a snarling, barking visage.
Although Goldens are associated with happiness and warmth, they are dogs--and like any other dogs, they can bark at people or objects nearby. Bikes are one thing that often set off Golden Retrievers, and aside from the noisy nuisance it causes, a sudden dog bark can also startle cyclists and potentially cause accidents. But with consistency, proper training and patience, you can teach your golden to ignore bikes altogether.
Top
Defining Tasks
Reactive dogs, like Golden Retrievers, often bark at bicycles out of fear and stress. They don't understand what the object is or how it is moving or why a person is on it. A dog's natural instinct is generally to run away from a frightening object; however, if your golden is in a fenced yard or on a leash, there is nowhere to run away.
So your dog reacts by barking at the bike. When the bike continues and disappears from your Golden's view, he thinks that barking at the bike has driven away the source of his fear. He has learned that barking solves this problem.
You can train your Golden to react to bikes differently, or preferably not at all, by following the training methods provided below. With dedicated practice and patience, your Golden won't bat an eye at the next bike he sees.
Top
Getting Started
The three training methods below will help you reduce or eliminate the reactivity your Golden Retriever experiences when he sees a bike go past his yard, the front of his home, or while on a walk or at a park.
Have a leash and treats with you for these methods. Additionally, patience, consistency, and a calm demeanor are important, especially when you are training a dog who is fearful or stressed and barking like crazy. If at any point you find yourself angry or frustrated, stop training and pick back up after a short break. The best way to get your Golden to listen to you is if you are not as stressed out as the dog.
Top
The Reacting to Reactivity Method
Remove your dog from the scene
You want to get your Golden into a calmer state of mind, so prevent him from seeing any bikes going by your house by gently removing him from the situation.
Work toward desensitization
When your dog is calmer, take a bike (your own or a neighbor's) and let your dog go up to it, sniff it, and investigate it.
Reward your dog for remaining calm
If your dog is able to check out the bike without exhibiting fear or stress, praise and reward him with a treat. This helps your dog associate the bike with a tasty goodie.
Move to a bike in action
Let your dog see a bike go by your house. If he reacts by barking, remove him from the scene until he calms down. When he doesn't react with a bark, praise and reward him. This step may need to be practiced multiple times over a few weeks.
Enlist some help
Ask a family member or neighbor to do some test rides by your house. Have them stop and let your dog sniff them and the bike. If your dog is able to do this without barking, praise and treat him. If he continues to bark, go back to Step 1 and start again.
Teach your dog the 'look' command
With one of your Golden's favorite treats in hand, get him to look at your face and say "look." Once he does, praise and treat him. Repeat this step several times.
Bring in a bike
Ask a neighbor or family member to ride a bike nearby. When your golden notices the bike, make him sit and give him the 'look' command. Once he gives you his attention and looks at your face, praise and reward him.
Continue for five minutes
Continue to repeat Step 2 until your dog is barely giving any attention to the bike or its rider.
Getting closer
Ask the bike rider to gradually move closer to you and your dog. Continue to practice Step 3 until your dog doesn't react to the bike moving nearby in closer proximity.
Repeat as needed
Repeat each step of this training process whenever your dog regresses until you have a Golden who no longer barks at any bike he sees.
The Stress Reduction Method
Bike-free zone
Remove your dog from any area with bikes. Take your dog away from the source of his stress and fear for about a week.
Relax with pet massage
Follow some basic pet massage instructions and help your Golden learn to relax and de-stress.
Strengthen the bond
Spend more time playing with your dog or taking him on walks in areas where you are unlikely to encounter bikes. Games like fetch or tug-of-war can build trust between you and your Golden.
Try counter-conditioning
If your dog is still exhibiting stressful or fearful behavior around bikes, counter condition him by giving him a treat each time he sees a bike. Do not do this if he barks, however! Eventually he will associate a tasty treat with the bike and not see it as a threatening object.
Make new friends
Let your dog get to know a frequent cyclist in your neighborhood. Ask the cyclist to stop occasionally to greet your dog, and as long as he remains calm and doesn't bark, praise and reward him.
By Erin Cain
Published: 12/15/2017, edited: 01/08/2021
---