How to Train Your Cocker Spaniel Dog to Not Bark at Skateboarders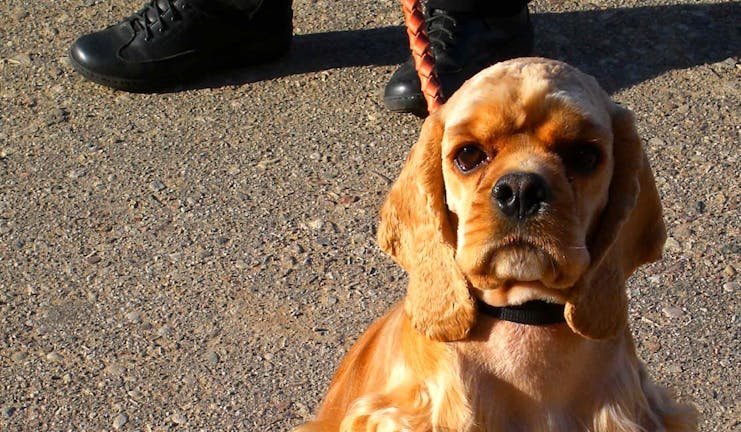 Introduction
Some of the local teens like to skateboard in the steep driveway beside the home of Honey, the Cocker Spaniel. To Honey, they might as well be zombies come to destroy her and her family. When the skateboarders start riding, Honey goes crazy and starts barking uncontrollably. This is disturbing for her household, but even worse, the other day when out for a walk Honey and her owner encountered a girl on a skateboard. Honey's barking startled the girl so that she lost her balance and fell, scraping her knee badly.  Fortunately, the girl was not seriously injured but Honey's owners felt terrible. Honey is normally such a friendly family dog who loves kids, the thought that her actions resulted in a kid getting hurt is very upsetting. Training their Cocker Spaniel not to bark at skateboarders just moved to the top of the to-do list!
Top
Defining Tasks
Because skateboarders, cyclists or roller bladers move quickly and make strange noises, your Cocker Spaniel may be frightened and alarmed by the sight and sound of these odd vehicles.  If your dog barks at skateboarders, he can easily startle a skater and cause them to lose balance and have an accident. Teaching your Cocker Spaniel that skateboards are not a threat and to act calmly around skateboarders will not only be more peaceful for you and your neighbors, but will reduce the chance of a skateboarding accident caused by a wildly barking dog.  You can teach your Cocker Spaniel to be quiet in response to skateboarders, to perform an alternative behavior incompatible with barking, or get your dog so used to skateboards that he or she does not react to them by barking.  All can be effective tools to prevent your dog barking at skateboarders.
Top
Getting Started
You will need to enlist the help of someone that can skateboard in order to teach your dog not to bark at skateboarders. This may be a bit more of a challenge then finding someone who can ride a bike or other create barking triggers, as not everyone is as proficient at skateboarding! It is important to have an assistant skateboarder during training as you do not want to frighten a skateboarder you run into by chance during the training process. You might need to learn yourself!  
Have treats ready, and try to avoid punishment when your Cocker Spaniel barks at the skateboarder during training, as an already excited dog is usually just further agitated and excited by yelling or punishment. Also, avoid pulling back on a leash, as this just creates tension and causes the dog to lunge and bark at the target more. Corrections from the side, or by putting your body between the skateboarder and your dog are more effective in emergency situations for correcting behavior.
Top
The Barking on Command Method
Trigger barking
Allow a trigger for barking to occur, that is less intense than a skateboarder, and say "speak" when your dog starts barking. Let him bark a few times, then provide a treat. Repeat until established.
Command 'quiet'
Find a quiet environment, free of distractions. Give the 'speak' command, let your dog bark a few times, then say "quiet". Do not raise your voice for the 'quiet' command. When your dog stops barking, wait a few seconds, then give him the treat. If he continues barking, wait for him to stop barking, repeat the 'quiet' command and then reward.
Introduce skateboarder
Have an assistant approach you outside with a skateboard and your Cocker Spaniel on a leash.
Command 'quiet'
When the skateboard is still some distance off and your dog starts barking, have the skateboarder stop and command your dog "quiet", then reward him for being quiet. If your dog continues barking, have the skateboarder back off a distance and wait until your dog stops baking, repeat "quiet" and reward. Repeat several times over a period of days until your Cocker Spaniel is responding to 'quiet'.
Increase proximity
Continue to practice with the skateboarder coming closer and closer each time until your dog responds to "quiet" with the skateboarder nearby.
The Alternative Behavior Method
Teach alternate behavior
Teach your dog to turn, sit, and look at you. Give a command such as "look at me". Provide treats, and use a clicker if appropriate to establish the behavior in a quiet environment free from distractions.
Add distractions
Take your dog outside on a leash. Periodically provide the "look at me" command when distractions are present.
Introduce skateboarder
Have an assistant approach with a skateboard, several feet away from you, with your dog leashed. When your dog sees the skateboarder approaching and starts barking, give the "look at me" command. Have the skateboarder stop approaching.
Establish alternate behavior
Reward when your dog complies. If your dog barks, repeat your "look at me" command, have your assistant skateboarder increase their distance away until your dog responds to your command appropriately.
Increase proximity
Have your skateboarder come closer, as long as your dog responds to the "look at me" command. Stop approach if barking starts, until your Cocker Spaniel responds to the 'look at me' command. Repeat until your dog responds to alternate behavior command even with skateboard in close proximity.
Associate treats
Put a skateboard on the ground. Place some treats nearby and take your Cocker Spaniel over to investigate and retrieve treats.
Move skateboard
Have an assistant take the skateboard and roll it around near your dog. If your dog is calm around the moving skateboard, give treats. If your Cocker Spaniel starts barking, stop and wait for quiet then treat, ignore barking.
Ride skateboard
Have your assistant start riding the skateboard nearby.
Ride next to dog
When your dog is quiet around the skateboard, treat, ignore barking. Bring the skateboard gradually closer, until your assistant can ride it right beside your dog without barking occurring.
Walk with skatebaord
Start walking your dog beside your assistant riding the skateboard. rot your dog alongside, making the skateboarder part of your "pack" . If you are really adventurous and your dog is responding calmly, you can try riding the skateboard while trotting your dog on a leash alongside. Now this is a fun game for your Cocker Spaniel, and a great way to get exercise!
By Laurie Haggart
Published: 01/11/2018, edited: 01/08/2021
---